Four days into his historic visit to the United States, Pope Francis has kept a whirlwind schedule of events in Washington and New York, with throngs of cheering crowds everywhere he goes and cameras watching his every move.
Frequently smiling, the 78-year-old pontiff has met with world leaders -- including President Barack Obama and United Nations Secretary General Ban Ki-Moon -- celebrated hours-long Masses, blessed children and waved to his thousands of fans from the popemobile and his Fiat 500L. Beginning Saturday, he'll be in Philadelphia, where he'll celebrate an outdoor Mass the next day.
So how does Francis, whose visit to the U.S. is his second stop on a tour that included three days in Cuba, keep such a hectic schedule?
His secret, said Vatican officials, is simple: a strict regimen of sleeping, naps, prayer and meditation.
"Whether it's at the Vatican or he's traveling, he's got discipline" when it comes to sleep and how Francis spends his time, said the Rev. Manuel Dorantes, a Vatican spokesman traveling with the pope in the United States.
Just as he does at the Vatican, the pope has retreated to his bedroom by 9 p.m. during his U.S. visit. The pope, who once admitted he hasn't watched TV since 1990, usually reads for an hour before dozing off. When he wakes up at 4 a.m., the first thing the Roman Catholic leader does before meeting with anyone is to spend two hours by himself in prayer.
"That's where he meditates and really connects to God. His deep relationship to God is what allows him the freedom he has, what sustains him through the day," said Dorantes. "Before anyone comes in, before the (Vatican) secretary of state tells of him of any crisis, he connects with the Lord."
The pope's U.S. schedule typically has him starting each day's public events between 8:30 a.m. and 9:30 a.m. and ending between 6 p.m. and 8 p.m. Each day has included several hours of unscheduled time. In New York on Friday, that included about four hours between attending a late-morning interfaith service at the September 11 Memorial & Museum in Lower Manhattan and a late-afternoon visit to a Catholic elementary school in Harlem.
The gaps are no mistake, church officials said. Not only does the pope value his sleep at night, but he also is a fan of rest during the day, including naps. When not on the road, the pope usually takes a midday nap of about 40 minutes to recharge.
"I take off my shoes and I lie on my bed for a rest," the pope told La Voz del Pueblo, an Argentine newspaper, in May when speaking about his naps.
Church officials said Francis tries to do the same when away from the Vatican City, though it's unclear if he's been able to squeeze in daytime shuteye every day while in America.
The pope isn't perfect when it comes to getting rest.
"He is a little tired," Vatican spokesman, the Rev. Federico Lombardi, said during a press conference Friday evening in New York. "He has regular physiotherapy and this cannot happen during the visits, during the long trip. And also he feels the weight of the days, but it is not a particular problem. It is a natural situation of working."
What is known is that when Francis sleeps, he does it quite well.
"I sleep very deeply," he told the Argentine publication. He also said he missed going on walks now that he's become an international celebrity.
The pope uses no alarm clock for his pre-dawn wakeup. "It's my biological clock," he told the paper.
At the Vatican, the pope stays in room 201 at the Domus Sanctae Marthae, the a modest Vatican guesthouse that includes permanent residents as well as visitors, such as when it was the housing for the cardinals who elected the pope in March 2013. In his suite, the pope has a bedroom equipped with a dresser and night stand, as well as a living area with a desk, a cabinet, closet and three chairs. There's also a private bathroom.
In the U.S., he's perhaps sleeping in a bit more style than usual.
In D.C., the pope followed custom and slept at the Apostolic Nunciature of the Holy See to the United States, the Vatican's embassy across from the vice president's residence, the Naval Observatory.
In New York, he is staying on the Upper East Side at the home of the apostolic nuncio and Permanent Observer Mission of the Holy See to the United Nations. While the 11,000-square-foot building is extravagant and located on coveted real estate near Central Park, little is known about the pope's quarters, except that he asked only that bananas and water to be kept by his bed.
While in Philadelphia, the pope will stay at St. Charles Borromeo Seminary, where workers have been cleaning and preparing a new custom memory-foam mattress for him. He'll slumber there Saturday night before celebrating Mass in front of an expected 1.5 million people on Sunday afternoon on the Benjamin Franklin Parkway.
This article has been updated to include a comment from a Vatican spokesman, the Rev. Federico Lombardi.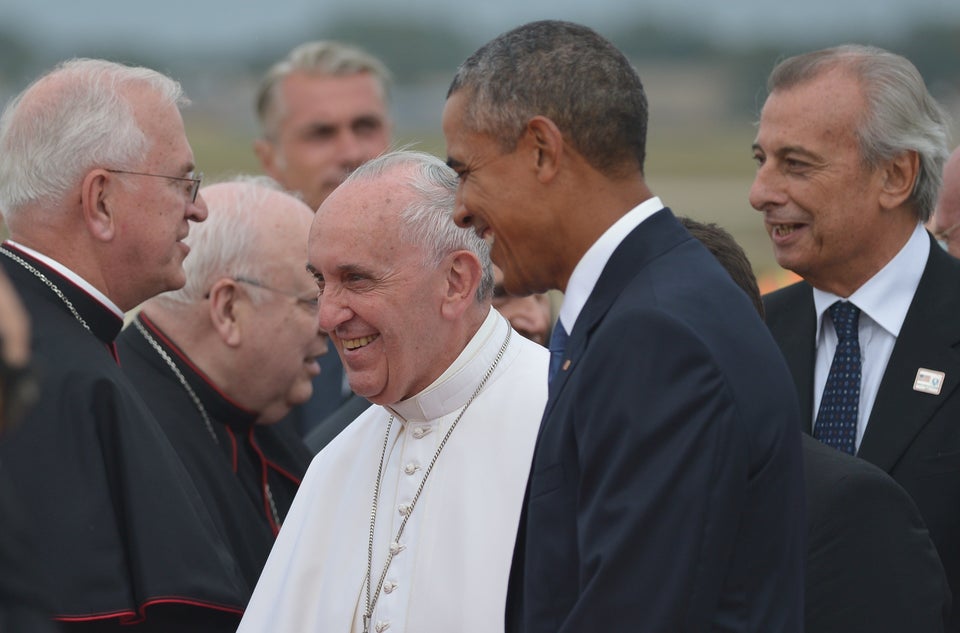 pope in US
Related
Popular in the Community