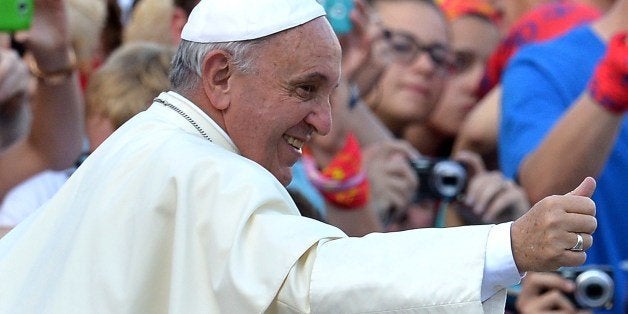 (RNS) Pope Francis departs next week (Aug. 14) on a five-day trip to South Korea, his first to Asia and the start of an important new papal focus on the region: In January, Francis will return to visit Sri Lanka and the Philippines, and a trip to Japan — where the pope wanted to go as a young priest — is reportedly under consideration.
"I must go to Asia," the pope said a year ago as he returned from a visit to Brazil, adding that his predecessor, Benedict XVI, never traveled there during his eight-year pontificate. Now Francis will get his chance, and Asians will have their first opportunity to see their new pope up close.
But more than evangelizing missions or personal pilgrimages, the Asian trips also highlight Francis' push to globalize and reform a Catholic Church that is still very much centered on what happens in Rome, and anchored in a European mindset that is accustomed to the privileges of a majority status and often preoccupied with matters of doctrine and ecclesiastical politics.
Asian Catholicism, by contrast, is younger, less rooted in the surrounding culture and less interested in looking to the Vatican for answers to every question.
While 130 million Asian Catholics represent only 11 percent of all Catholics worldwide, the church in Asia is growing faster than any place else except Africa, and almost half the population of Asia is under 25. In fact, Francis is going to South Korea to take part in Asian Youth Day, a Catholic jamboree that will draw young people from 29 Asian countries.
Asian churches also benefit by being so distant from the Vatican, and from the internecine concerns of the Roman Curia. For example, bishops in Asia are often freer to tell Rome when they disagree with certain policies or decisions and they have a better chance of Rome letting them do their own thing — a dynamic of decentralization that Francis says he wants to encourage.
"Their sense of Catholicism is unburdened by the weight of things about the church that preoccupy European and North American Catholics and can be a distraction from following Jesus in the very new circumstances of the 21st century," said the Rev. Michael Kelly, a Jesuit (like Francis) and executive director of the Union of Catholic Asian News, or UCANews, an independent wire service based in Hong Kong.
"In the Western model, we look at ourselves as under the aegis of Rome, in a pyramid structure," said Tom Fox, publisher of National Catholic Reporter and author of "Pentecost in Asia: A New Way of Being Church."
"The starting point of the Asian church has always been the local church."
Fox will be in South Korea for the papal visit, and said that country is a good example, since Catholicism was not so much imported from Europe but took root thanks to the efforts of lay Korean Catholics.
Issues of social justice are also front and center for Asian Catholics, as they are for Francis, who has been urging Catholics, especially in the industrialized West, to emphasize gospel teachings on poverty and income inequality rather than focusing so much on questions of sexual morality.
Taken together, this combination of factors means that Asian Catholicism often displays a vitality and flexibility that Old World Catholicism lacks, and one that Francis says he wants to see more of in the wider church. "The church in Asia holds great promise," as the pontiff told an interviewer in June.
Yet Asian Catholicism also poses a number of serious challenges for Francis, and the church.
A chief one is that Catholics in countries beyond Korea and the Philippines are usually a tiny minority, just 1 or 2 percent of the population. As a result, they are viewed as "outsiders" in the culture, a phenomenon that can reinforce their Catholic identity but also make them a target of bias or outright persecution.
That reality, said Kelly, "can have one of at least two effects — make Catholics bold in facing a big challenge or induce a meekness and submissiveness so as not to arouse the hostility of the majority in places where the church's presence is small."
The minority status also affects Asian-influenced theologians and church leaders, who are forced to try to translate Western Christianity into an Eastern idiom in order to make the faith comprehensible to cultures where the indigenous religions, like Buddhism and Hinduism, sometimes predate Christianity.
As Rome took a sharp turn toward doctrinal conservatism under St. John Paul II and then Benedict XVI, Asian theologians who tried to construct an "Asian Jesus" faced harsh scrutiny by Vatican authorities; the most recent example is the Vatican's current investigation of the Rev. Michael Amaladoss, an Indian Jesuit.
Francis, on the other hand, doesn't seem to share the doctrinal worries of his predecessors, and he has praised Matteo Ricci, the 16th-century Jesuit missionary to China, who made great strides in adapting the faith to Chinese ways. Ricci, the pope said recently, "did so much good."
That's actually not the way Rome saw Ricci at the time. After his death, the Vatican effectively shut down the Jesuit mission to China over concerns about watering down traditional doctrine and adapting the Roman liturgy to Chinese ways.
The legacy of that decision continues to play out in the pope's biggest geopolitical headache in Asia: China. The Vatican and Beijing remain in a stalemate over the freedom of the so-called "underground church" and a state-sponsored Catholic Church that many say serves the government's interests, not Rome's.
China, as Francis carefully put it, "is a great cultural challenge, very great."
An opening to China, with its huge population and enormous potential for converts, likely won't happen on this Asian trip; relations are so delicate that Vatican officials won't even say whether Francis will follow the usual protocol and send a telegram of good wishes to the government when he flies over Chinese territory on his way to South Korea.
Even so, Beijing is allowing the papal plane to cross Chinese territory, a first, and another tea leaf for Sinologists and Vaticanistas to read. Even a marginal parting of the Bamboo Curtain would be a coup on par with John Paul's historic contribution to bringing down the Iron Curtain.
What Francis can do right now, however, is to push Rome to be more open to Asian Catholicism. That alone could have an enormous impact on the church, in terms of how the institution operates, how the faith interacts with the wider culture, and how Catholics view themselves.
"It behooves the older churches, especially in the West, to develop an attitude of respectful listening to these churches that have much to teach people for whom a traffic jam in the church parking lot seems to be an insurmountable obstacle to Christian living," said the Rev. William Grimm, an American Markynoll priest in Tokyo and publisher of UCANews.
To be a Christian in Asia "takes a degree of commitment that would be heroic in the West," Grimm said. "It would be easy, and even sensible, to just fade into the dominant culture. But they don't."
Related
Before You Go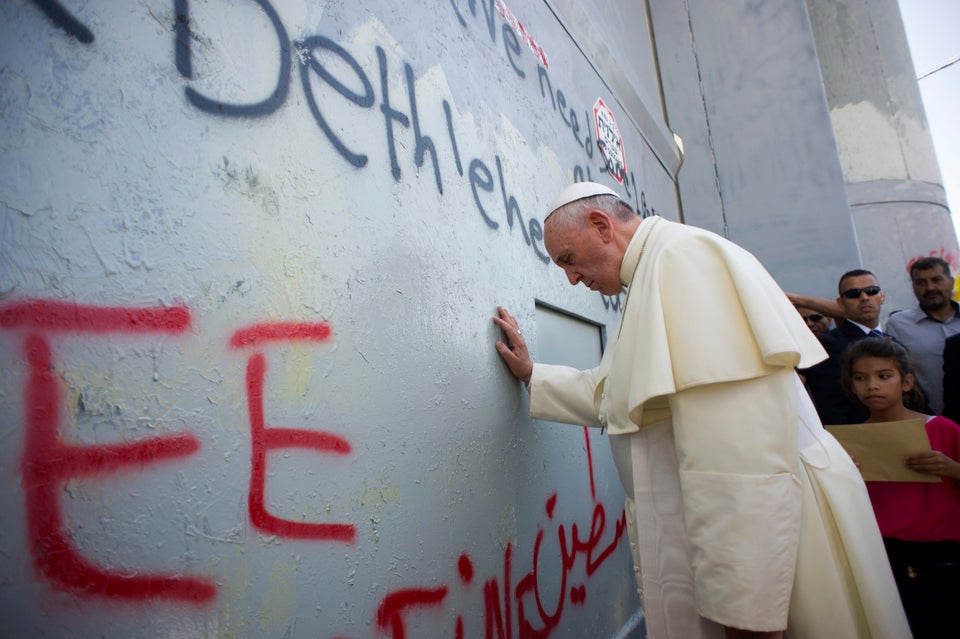 10 Iconic Photos From Pope's Middle East Trip
Popular in the Community