To be sure, alongside familiar calls to increase economic opportunity and help the poor, safeguard the environment and abolish the death penalty, the pope did offer veiled condemnations of abortion and same-sex marriage.
But the pope's disproportionate emphasis on social justice issues and paeans to left-leaning Catholics and civil rights leaders will serve progressives as they push for dramatic government action to curb income inequality and climate change.
It's telling that the pope spent little time discussing the conservative priorities of abortion and same-sex marriage, compared to his lengthier remarks on the economy, the environment and the death penalty. The pope didn't explicitly mention abortion or same-sex marriage, and as The Huffington Post's Jaweed Kaleem reported, his references to the two topics amounted to 75 words in a 3,404-word address.
Francis singled out four Americans for praise in his speech -- Abraham Lincoln, Martin Luther King Jr., Dorothy Day and Thomas Merton -- for championing social justice and peace. Day, the socialist founder of the Catholic Worker Movement, and Merton, a Trappist monk and author, are both from a radical Catholic tradition sometimes marginalized by the church establishment, and they remain relatively unknown figures in American history.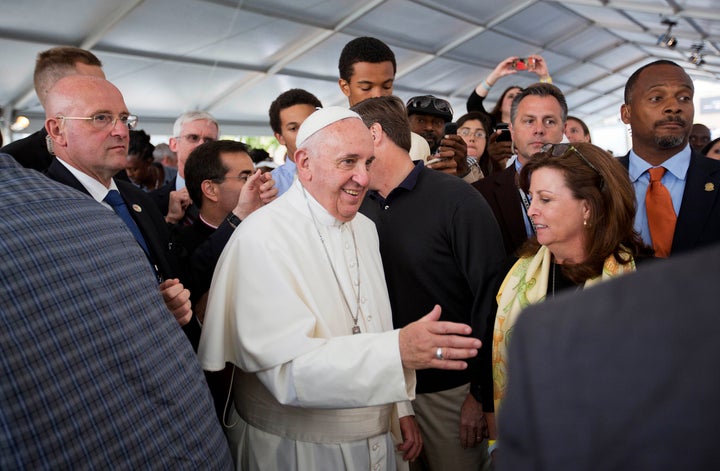 The enduring theme of the pope's speech was the New Testament's Golden Rule: "Do unto others as you would have them do unto you."
No politician would dispute the Golden Rule, which comes from the Book of Matthew. But the pope cited it as the basis for his opposition the death penalty: "I am convinced that this way is the best, since every life is sacred, every human person is endowed with an inalienable dignity, and society can only benefit from the rehabilitation of those convicted of crimes," he said.
Francis' position on capital punishment immediately elicited the opposition of members of Congress, a sign of the support that the death penalty still enjoys among members of both parties, but particularly congressional Republicans.
Likewise, though conservatives continue to applaud Francis' emphasis on helping the poor, they are sure to have more trouble embracing his proposed solutions. The pontiff explicitly called for a more equal distribution of wealth in order to reduce poverty. He cited his own recent encyclical, Laudato Si', praising business as a "noble vocation," but noted that this is especially true when business "sees the creation of jobs as an essential part of its service to the common good."
And the pope offered little relief for conservatives already struggling with his call for action to curb man-made global warming. He framed the fight against climate change -- which he referred to as "the most serious effects of the environmental deterioration caused by human activity" -- as another way in which we must ensure capitalism serves the "common good." "This common good also includes the earth," he noted.
Many congressional Republicans and presidential candidates deny the reality of climate change or reject the overwhelming evidence that it is caused by human activity. Even before the pope's speech on Thursday, his commitment to addressing man-made climate change was enough to dissuade Rep. Paul Gosar (R-Ariz.) from even attending the address.
Francis was perhaps most unequivocal in calling for peace, however, offering stinging criticism of war profiteers. "Why are deadly weapons being sold to those who plan to inflict untold suffering on individuals and society? Sadly, the answer, as we all know, is simply for money: money that is drenched in blood, often innocent blood," the pope said. Here, the pope's comments may be difficult for politicians of both major political parties to hear. The United States is the largest arms exporter of any country in the world, and Democrats and Republicans alike benefit from weapons manufacturers' campaign donations.
The progressive slant of the pope's remarks was evident in the divergent reactions to his speech from prominent Democrats and Republicans. While top Democrats tended to celebrate the policy substance of Francis' remarks, Republicans lauded his address in vaguer terms, or strained to emphasize the conservative aspects of his speech. Some Republican members of Congress were openly critical of the speech.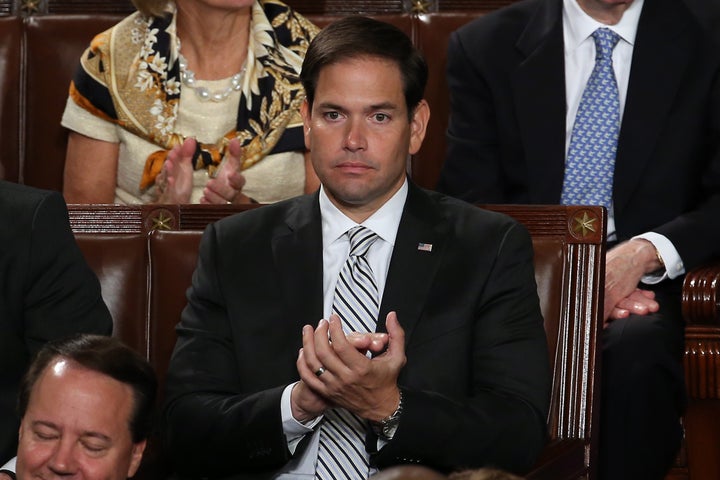 Sen. Marco Rubio (R-Fl.), a Republican presidential candidate and a Catholic, focused on the pope's broad praise for the U.S. as a vindication of American exceptionalism. "At a time when so many of our people are gripped with uncertainty about the future, the Pope reminded us that America has a special calling as a nation that is guided by high ideals and the moral aims to build a more perfect union and to make the world a better place," Rubio said in a statement. "He reminded us that, whatever our policy differences might be, we are all called to put the good of our people above all."
Rubio, a Cuban-American who opposes resumed diplomatic relations between the U.S. and Cuba, had stronger words for the pope about his key role in the rapprochement when it was announced in December 2014. "I would also ask His Holiness to take up the cause of freedom and democracy," he told reporters then.
Republican presidential candidate Sen. Ted Cruz (R-Tex.) characterized the pope's speech as an affirmation of Republican opposition to abortion and same-sex marriage. Cruz also insisted that the pontiff's call to embrace immigrants applied to legal immigrants only. "When we speak of welcoming immigrants, I believe that should refer to legal immigrants," Cruz told reporters after the speech, according to Bloomberg.
Some conservative Catholics were more open about their disappointment with the pope's relative inattention to abortion and same-sex marriage compared to other issues. "Yesterday, Pope Francis said that promoting life and family were the major reason he came to America this week. Yet, disappointingly, the pope did not mention abortion by name in his address to Congress," John-Henry Westen, the editor-in-chief of LifeSiteNews, a conservative Catholic website, told HuffPost's Jaweed Kaleem.
By contrast, Hillary Clinton, a Democratic presidential hopeful, provided very specific praise for Francis' speech. "Thank you, @Pontifex. We have much to do to care for our planet, strengthen economic opportunity, and defend the rights & dignity of all," Clinton tweeted, signing her message "H" to indicate she, rather than someone from her staff, had written the message.
Sen. Bernie Sanders (I-Vt.), Clinton's main rival in the Democratic presidential race and a non-religious Jew, was even more effusive. "Pope Francis is clearly one of the important religious and moral leaders not only in the world today but in modern history," Sanders said in a statement. "He forces us to address some of the major issues facing humanity: war, income and wealth inequality, poverty, unemployment, greed, the death penalty and other issues that too many prefer to ignore."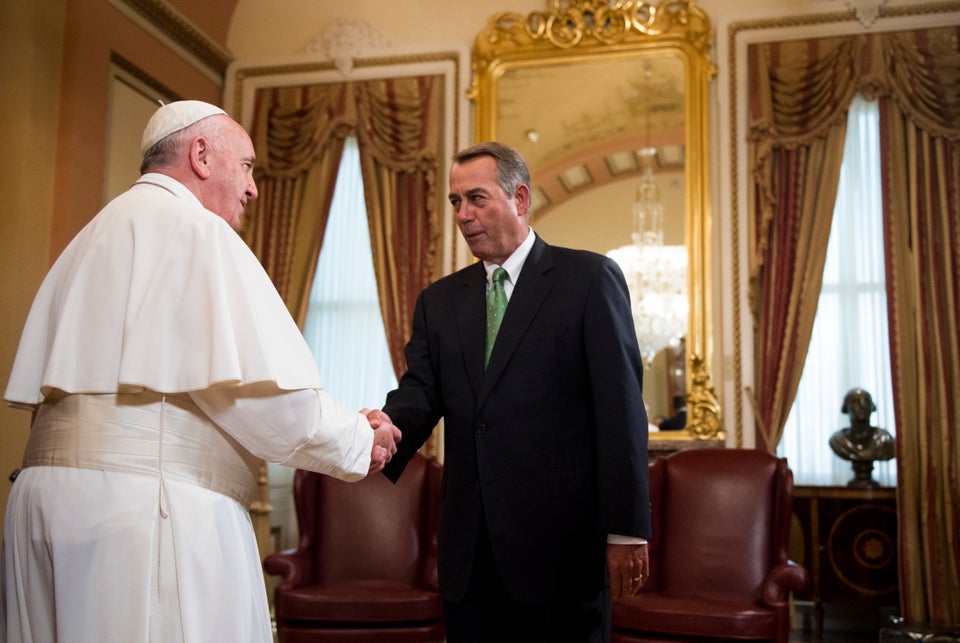 Politicians React To Pope Francis' Address To Congress
Popular in the Community