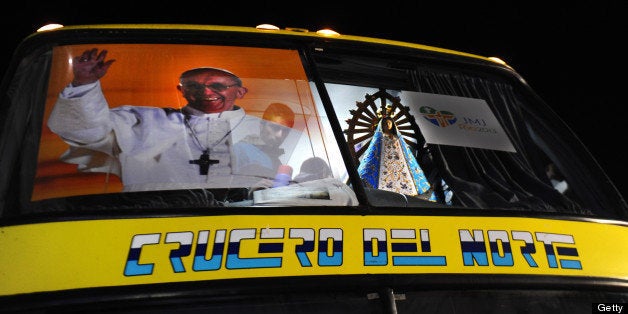 Pope Francis went out on social media to greet young pilgrims who are traveling to Rio de Janeiro for World Youth Day that starts next week.
The Pope tweeted from his wildly popular twitter account @Pontifex:
The Vatican made news last week when it explained that those who cannot make the trip to Rio can still reap the benefits including indulgences.
Hundreds of thousands are expected to take part in the celebration, that also marks the first major trip that the pontiff has taken since being elevated to Pope earlier this year.
Pope Francis is reaching out over social media to young followers gearing up for World Youth Day in Rio de Janeiro.

Francis posted a message on Twitter Saturday touching base with young Catholics en route to Rio and wishing them a safe journey.

Francis leaves Monday for Rio, where more than a million young Catholics are expected to celebrate their new pope.

The 76-year-old Argentine became the church's first pontiff from the Americas in March, and the trip to Brazil is his first international journey since becoming pontiff.

Catholic youth festivals are meant to reinvigorate the faithful, and Francis is expected to inspire young people with his humble ways.
BEFORE YOU GO
PHOTO GALLERY
World Youth Day 2013