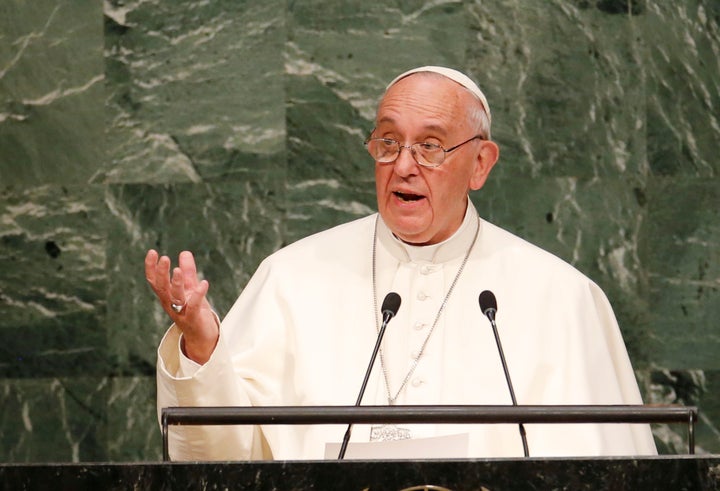 UNITED NATIONS -- Pope Francis urged world leaders to "set aside partisan and ideological interests" and work together to protect the environment and care for all of humanity on Friday in his address to the United Nations General Assembly. 
Francis acknowledged the necessity of the world body as a tool for international collaboration, but also offered a blistering critique of the U.N., which celebrates its 70th anniversary this year.
"In wars and conflicts there are individual persons, our brothers and sisters, men and women, young and old, boys and girls who weep, suffer and die," he said, citing Ukraine, Syria and Iraq, among other places, during the speech he gave in his native Spanish. "Human beings who are easily discarded when our only response is to draw up lists of problems, strategies and disagreements."
"The consequences of economic and social exclusion," including child sex abuse and slavery, are too costly to ignore, he said. Francis made an impassioned plea for countries to tackle drug trafficking, which he said is "silently killing millions of people" and "is taken for granted and poorly fought."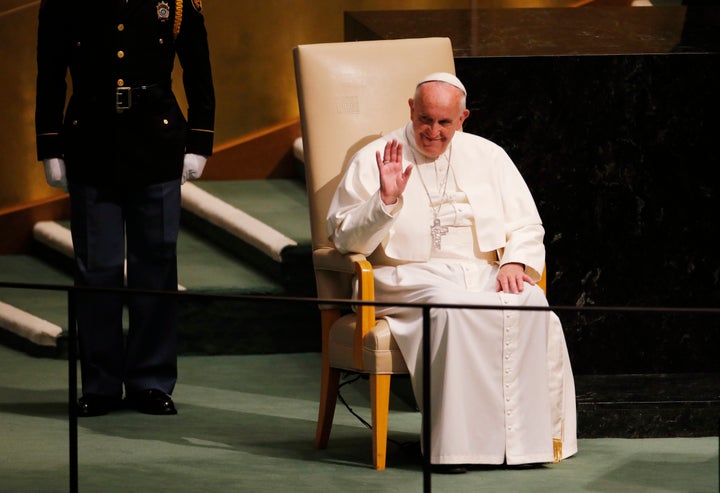 The pope lambasted the international community's response to war-torn countries in the Middle East and Africa, where Christians, Muslims, and other cultural and ethnic groups have been persecuted for their faith. 
"[They] have been forced to witness the destruction of their places of worship, their cultural and religious heritage, their houses and property, and have faced the alternative either of fleeing or of paying for their adhesion to good and to peace by their own lives, or by enslavement," Francis said. "These realities should serve as a grave summons to an examination of conscience on the part of those charged with the conduct of international affairs." 
Amid his critiques, he did take a moment to applaud international efforts to secure the Iran nuclear deal, calling it "proof of the potential of political good will and of law, exercised with sincerity, patience and constancy."
Like his predecessors, the pope highlighted the importance of taking urgent action on environmental degradation, saying any harm done to the environment is "harm done to humanity."
He referred on multiple occasions to "Laudato Si," an encyclical on the environment that the Vatican released earlier this year. The U.N. is preparing to hold a landmark summit on climate change in Paris this December. Francis has said that he wants to make a "contribution" to those talks.
He also stressed the importance of education, particularly for women and girls, and especially for people living in poverty. 
"To enable these real men and women to escape from extreme poverty, we must allow them to be dignified agents of their own destiny," he said. Malala Yousafzai, who attended Friday's speech, clapped animatedly during these remarks. 
Francis, the fourth pope to speak before the U.N., had a private meeting with U.N. Secretary-General Ban Ki-moon, and separate meetings with U.N. and Vatican officials, as well as current and former presidents of the U.N. General Assembly. Before the speech, he spoke privately to U.N. staff members, praising them for their "quiet and devoted work."
Pope Paul VI was the first pontiff to speak before the General Assembly. His 1965 speech came in the middle of the Cold War, as the threat of nuclear war gripped the world, and his message was one of peace. 
"It is enough to recall that the blood of millions, countless unheard-of sufferings, useless massacres and frightening ruins have sanctioned the agreement that unites you with an oath that ought to change the future history of the world," Paul told world leaders. "Never again war, never again war. It is peace, peace that has to guide the destiny of the nations of all mankind."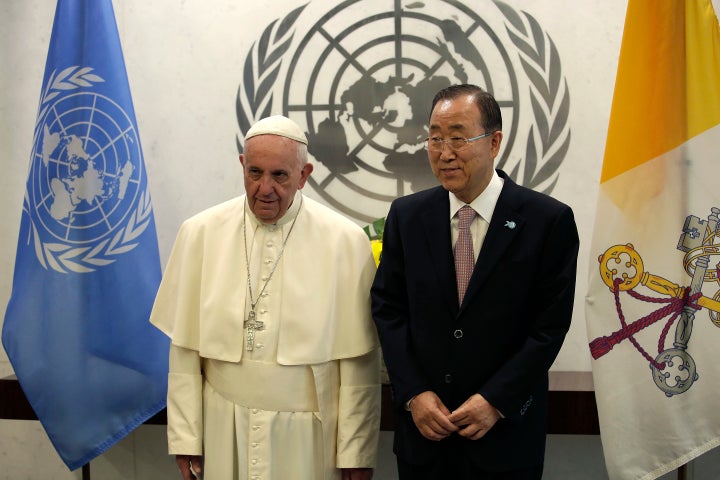 Pope John Paul II continued that quest for peace during a speech at the General Assembly in 1979, while the United States and the Soviet Union were locked in an arms race. John Paul held up the Universal Declaration of Human Rights as a guide for action, calling it a moral imperative to protect human life by avoiding war.
In 1995, John Paul spoke to the U.N. again, this time against the backdrop of ethnic tensions in the Balkans and Central Africa. The pope underlined the "fundamental commonality" of all people.
"Different cultures are but different ways of facing the question of the meaning of personal existence. And it is precisely here that we find one source of the respect which is due to every culture and every nation: Every culture is an effort to ponder the mystery of the world and in particular of the human person; it is a way of giving expression to the transcendent dimension of human life. The heart of every culture is its approach to the greatest of all mysteries: the mystery of God," he said.
During Pope Benedict's 2008 speech to the U.N., he stressed the importance of protecting life and of leaders working together to solve the world's problems. Like his successor, he talked about the need to care for the environment, injecting morality into the debate about climate change.
"International action to preserve the environment and to protect various forms of life on earth must not only guarantee a rational use of technology and science, but must also rediscover the authentic image of creation," Benedict, often called the "Green Pope," said. 
Pope Francis is on day five of his six days in the United States. After his address to the U.N., he will be attending an interfaith service at the 9/11 Memorial and Museum in New York, speaking with elementary school children and immigrant families at a Catholic school in Harlem, and leading Mass at Madison Square Garden. He heads to Philadelphia on Saturday to participate in the World Meeting of Families, a Catholic conference focused on strengthening family bonds.
Calling all HuffPost superfans!
Sign up for membership to become a founding member and help shape HuffPost's next chapter