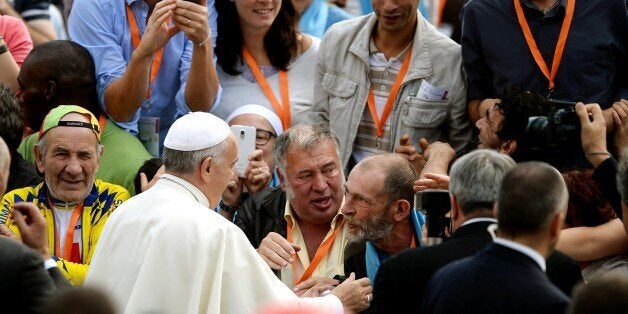 "Following Francis" is a monthly blog on the latest happenings of Pope Francis. It is prepared exclusively for The WorldPost by Sébastien Maillard, Vatican Correspondent for La Croix, Rome
ROME -- Visitors had to leave the Sistine Chapel earlier than usual on the afternoon of March 26 -- before 4:00 p.m. -- and not because of some exclusive VIP event. A group of around 150 homeless were granted a private visit before being offered supper inside the Vatican Museums' cafeteria. They were separated into three groups, with a guide showing the masterpiece of Michelangelo as part of a tour of the Vatican's museums and gardens. The session also included passing close by Santa Marta's residence, where Pope Francis lives and works.
After the visit, Francis greeted the homeless: "Welcome, this is a house for all. Your house." He then spent 20 minutes meeting his special guests, one by one.
Homeless people don't appear as just words in a speech or a prayer for the "pope of the poor." They have become part of the Vatican's daily life. On March 22, 400 of them helped deliver pocket Gospels that Francis was offering to the crowd gathered on St. Peter's Square for the Angelus prayer at noon. One hundred homeless people also did the same a month before, handing out another booklet for Lent.
The Vatican not only attracts tourists worldwide but also beggers standing around Bernini's colonnade. At night, some homeless find shelter at the doorstep of Vatican offices. In Buenos Aires, Jorge Bergoglio used to walk all by himself, as cardinal, inside the slums surrounding Argentina's capital. He cannot do this anymore as the bishop of Rome, so he told Monsignor Konrad Krajewski, whom he appointed as almoner, "You can sell your desk. You don't need it ... You need to go out and look for the poor."
Free haircuts
Krajewski has taken several initiatives in Pope Francis' name. The visit to the Vatican museums is only his latest. Earlier this year, he organized hot showers under Bernini's colonnade and, on Mondays, hairdressers from training schools offer a free haircut.
This makes the Vatican not only a place where one can contemplate some of humanity's finest art collections, but also a place to witness Christian compassion for the poor. Thanks to actions such as the ones developed by the pope's almoner, headlines in the press are not only about scandals within the Vatican Bank; now they also celebrate the Vatican's charities. In January, the pope organized a raffle to benefit the poor, giving away a car, a bicycle and other gifts he had received. The Vatican plans another such event for June.
Such actions are common among parishes and dioceses, but developing them at the level of the central government of the Catholic church sends local churches a signal to do even more, in a creative way, by themselves. Pope Francis has a kind of DIY approach on social matters. He asks priests not only to preach and confess but also to take part directly in finding concrete solutions for the unemployed, migrants and homeless surrounding them. He once asked nuns in Rome to welcome asylum seekers: "Empty convents are not for the Church to transform into hotels and make money from them," he said. "Empty convents are not ours, they are for the flesh of Christ: refugees."
By offering showers, haircuts and cultural visits to homeless people or asking them to deliver the Gospel, Pope Francis underlines another dimension of his approach to charity: not giving "just" food, but also restoring human dignity. This esteem was demonstrated when Krajewski brought four homeless men to have breakfast at Santa Martha on Pope Francis' birthday.
In January, when a homeless man of Flemish origin, Willy Herteller, died near the Vatican due to the winter cold, Francis was compassionate yet again. Swiss Guards and Vatican clergy used to know Willy well. Funerals were held for him, and he was granted a grave in a cemetery near St. Peter's Basilica, within the Vatican City, that is normally reserved for clergy and VIPs. Willy thus lays among the celebrities, buried in one of the city's most revered graveyards. And just a couple of meters from Pope Francis' residence.
More From Following Francis:

PHOTO GALLERY
Pope Francis Visits Rome Shantytown
Calling all HuffPost superfans!
Sign up for membership to become a founding member and help shape HuffPost's next chapter