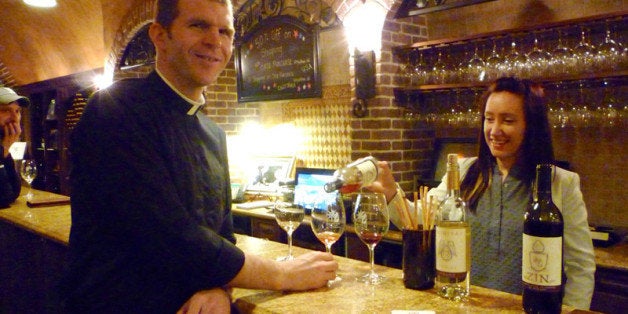 NAPA, Calif. (RNS) It was a good thing for Trinitas Cellars that Cardinal Jorge Mario Bergoglio took the name Pope Francis, and not, say Pope Malbecius.
When the Argentine cardinal became pope in 2013, Trinitas didn't have any malbec — the famous Argentine grape — in its cellars. But it happened to have a few barrels of cabernet franc.
Behold! Thus was born "Cabernet FRANCis," a 2012 red wine from Trinitas, a Catholic-owned winery nestled behind the iconic grape crusher statue at the southern foot of the Napa Valley.
"People kept asking me, 'Why didn't you make the pope a malbec?'" said Garrett Busch, the 28-year-old CEO of Trinitas, as he spoke in the winery's book-lined library tasting room, a bottle of the wine before him. "And I'm like, 'Come on guys, he made it easy on us.'"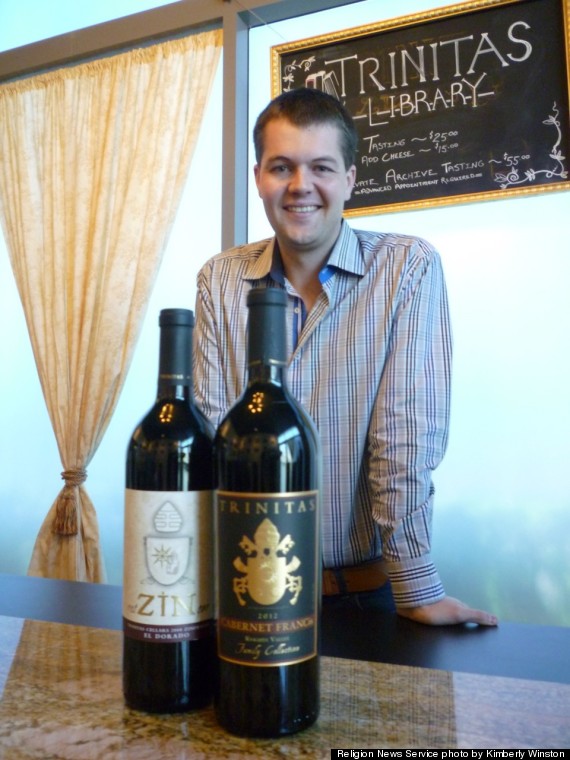 Garrett Busch, CEO of Napa Valley's Trinitas Cellars, with two wines that honor popes — RatZINger Zinfandel and Cabernet FRANCis.

Actually, the story is a bit more complicated. Trinitas, which is owned by Garrett's parents, Tim and Steph Busch, made the family's Catholic faith a part of business since its founding in 2002. Meetings and special events begin with prayer, winery dinners start with grace, and the winery's website announces the family's intention to "serve God in all they do."
Even its name is Latin for the Trinity of Father, Son and Holy Ghost.
Thanking popes with namesake wines began in 2008 when Tim Busch, a trustee of the charitable organization The Papal Foundation, wanted a wine to present to Pope Benedict XVI at a papal audience. Trinitas produced RatZINger, a zinfandel, that Benedict reportedly drank and liked. Another vintage was produced two years later.
When Pope Benedict XVI retired, Tim Busch called his son on the day of the new pope's election in March 2013 and asked for a namesake wine he could present one month later.
Garrett Busch initially demurred. "I said, 'Dad, you know how this wine thing works. I can't make a wine in 30 days. I can't even get the label approved by then.' So I said, 'Take him the RatZINger. He'll understand.' And that's what Dad did."
But when the elder Busch was preparing for another papal audience in April 2014, Garrett and Trinitas winemaker Kevin Mills tapped a few barrels of cabernet franc that were a sort of pet project of Garrett's. They hand-bottled and hand-labeled one case of Cabernet FRANCis — 12 bottles in all. The rest of the wine — 250 cases — would not be bottled until the fall.
Tim Busch presented Pope Francis with a bottle — a picture of the exchange graces Trinitas' library wall — and gave the rest as thank you's to various Vatican friends.
And then came a call from a Vatican butler: The pope drank his at lunch and liked it so much, he'd like some more, please. Tim Busch made a round of calls, and those friends who had not already downed theirs were glad to hand them over to the pontiff.
Now, the rest of the wine — complete with Pope Francis' own gold-embossed crest on the label — is ready for release and will be available in the winery and its online store. It joins the winery's "Faith Collection," six bottles that run from "Psalms," a sauvignon blanc blend, to "Revelation," a port-style dessert wine. There is also "Rose'ary," a rose, and "Father Matthew Cabernet Sauvignon," named for a popular retired Napa priest. Sales from that wine benefit Matthew's charities in his native India.
"Anyone who thinks we are trying to profit off this is welcome to see our books," Garrett Busch said. "That is not the intention."
And there's no ulterior motive behind the fact that Cabernet FRANCis costs more than twice as much as RatZINger. Their price tags — $75 and $35 respectively — reflect the cost of the grapes used to grow them. Like many Napa Valley winemakers, Trinitas buys the majority of its grapes from other growers.
So is Francis the wine anything like Francis the pope? Garrett Busch looked surprised for a second, then said, "Big. Bold. Rich. Approachable."
In the Trinitas tasting room, snuggled in the winery's caves carved out of a hillside covered with vines, both the wine and its Catholic origins were appreciated this week by the Rev. Jonathan Meyer, a Catholic priest attending a class reunion with four fellow priests. Meyer said he and his fellow priests — all graduates of the Pontifical North American College in Rome — came to Trinitas because they knew it was Catholic-run.
"Everything is a gift from God — the grapes, the water, the sun, the laborers," he said as he sipped the pink Rose'ary. "We can look at these (bottles of wine) as offerings back to God. It is a great way for me to participate in that gift."
Garrett Busch said two of the Faith Collection's wines — Psalms and RatZINger — will not be pressed again, and he has no plans to add to the collection until the next papal election.
"We are going to make a wine for each pope," he said. "I just hope the Holy Fathers keep having names that relate to wines."
Related
Before You Go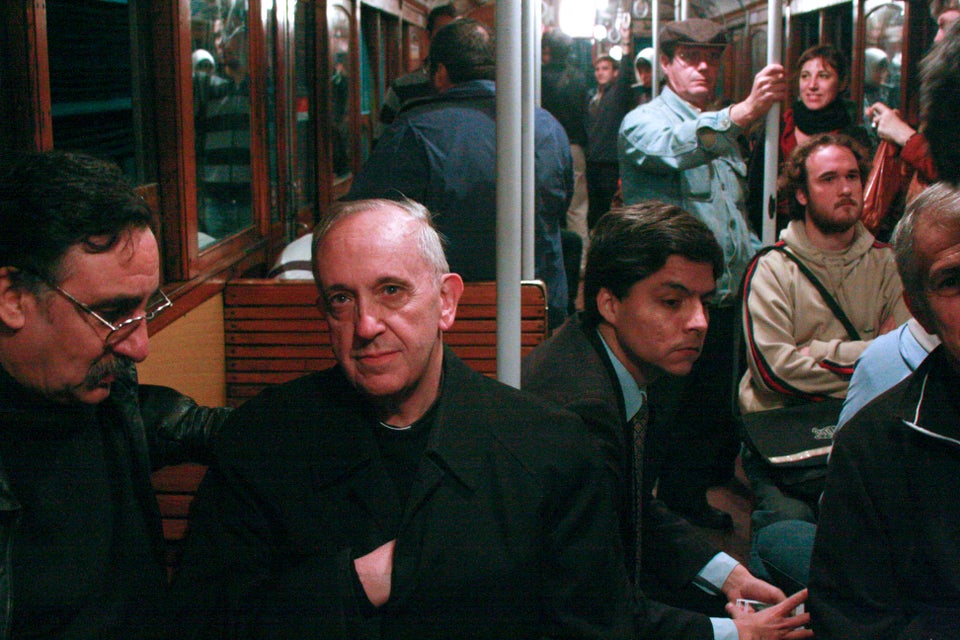 Before He Was Pope: Jorge Mario Bergoglio
Popular in the Community