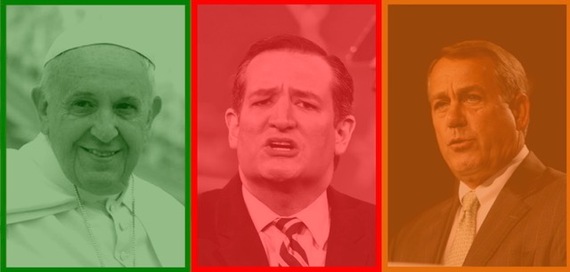 Republicans who don't believe in climate change were in holy hell last week, as Pope Francis made an earth shattering statement on the issue.
In a short missive of 184 pages long, the Pope did not beat about the burning bush. In summary, he said: "I believe that climate change exists, it's man made, it's destroying our planet and anyone who thinks differently is a wind bag, so help me God!"
The Pope's statement came in the form of an encyclical -- a special letter compiled by the best scientific, theological and scholarly minds in the whole world. Thus it is safe to assume that Sarah Palin, Michelle Bachman and Rick Perry played no part in writing it whatsoever.
News of the Pope's announcement spread immediately on social media, where millions of people hailed him with hash tags -- including #popegoesgreen, #welovepope and the most popular one of all, #popeFsGOP.
Indeed, the #popeFsGOP hash tag was constantly retweeted by every Democrat on the planet, and most notably by @potus and @whitehouse.
As acclaim for the Pope grew, conservative republicans rushed to justify their position on climate change -- and with a lot of environmentally unfriendly energy too.
Ted Cruz was the first to go on the record. Speaking in 185 degrees of heat, a parched and sweat drenched Cruz, said: "There is absolutely no evidence of climate change in Texas or anywhere else for that matter. So I have to say the Pope's full of hot air on this one."
Donald Trump also weighed in angrily: "These are deadly, poisonous omissions from the Pope and they threaten our ability to really go green -- as in, go get greenbacks baby! So when I become President, I'm going to frackin' ensure that we take out this little Mexican immediately! And I don't mean for dinner!"
Not to be outdone, Sarah Palin spoke out too -- straight from the set of her family's' new TV show, Dumb Dynasty. Palin said: "I have never been impressed with the Pope's intellect. The next thing he'll be telling us is that the earth is round. I mean, seriously!"
Speaker of the House, John Boehner was uncharacteristically quiet on the subject of the Pope's announcement. However a source close to him, speaking on condition of anonymity, said: "Given John's preference for the color orange, I can categorically confirm that he will have real trouble relating to anything green."
Pope Francis meanwhile appeared undeterred by the angry backlash from some republican quarters. In fact, this holy 78 year-old fossil proceeded to add fuel to the fire. He declared:
"I believe passionately in recycling, and I am going to keep recycling my encyclical to all 1 billion Catholics until something's done about climate change. So, my conservative Republican friends, you can put that in your pipes and smoke it! Well, figuratively speaking of course!"
REAL LIFE. REAL NEWS. REAL VOICES.
Help us tell more of the stories that matter from voices that too often remain unheard.