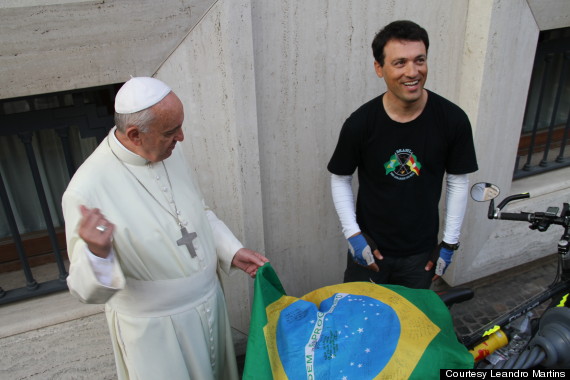 Martins, who is cycling 6,200 miles from Amsterdam to Asia, was thrilled to gain a rare audience with the pope - particularly as he is not Catholic, but simply admires the pope's goodness and commitment to social justice. He also considers them neighbors of a sort, as Martins' home state of Rio Grande do Sul shares a border with Pope Francis' native Argentina.
Martins knew that the prospect of meeting the pope was a very long shot, as he wrote in one of fifteen letters to the pope's secretary, "I know it's going to sound ridiculous and you are going to laugh at me but... I really would like to meet him." His persistence paid off, and he rode into the Vatican by bike, to the surprise of the Swiss Guard.
After celebrating morning mass in a small chapel, Pope Francis prayed individually for a few minutes before greeting Martins. He relates the story in his blog, Leandro By Bike:
"The Pope knew I was not catholic, and I know that he's a very simple guy who doesn't care much about protocol and stuff. So I treated him in the same way I treat everyone I meet on this trip: with a smile, kindness, and affection.

I didn't kiss his ring, instead we shook hands and hugged.

We talked about a lot of things while we walked outside to where my bike was. We spoke in Spanish, and I gave him the greetings sent by the priest of Santiago of Chile, where I lived and have friends that I had called yesterday.

He knows Porto Alegre, my city, he said he has relatives in Pelotas, another city in my state. In fact when he lived in Buenos Aires he went to my state many times to visit his family."

They spoke with each other about the Santa Maria tragedy in Brazil, where a deadly nightclub fire took the lives of 235 young people in a grisly scene described as "like a war zone." Though the pope will not be visiting Santa Maria on his Brazil trip, he said he would remember it during his visit.
Of course, Martins couldn't go without showing the eco-friendly pope his bike.
"When we got outside, the Pope shook hands with the guys of the Swiss guard who were by the door and I did the same. I showed him my bike and spoke about my trip. I said, "this is my house, the bed, kitchen, and so on. He asked me questions and we both laughed when I said that you find crazy people everywhere including in Porto Alegre, the Pope said, "life is crazy!!"

I gave him the drawing that a little Czech boy, nephew of a nun from the monastery where I'm staying, had sent him. And as I do with all the nice people I meet on my trip, we took a picture together and he signed my Brazilian flag, where he wrote

"Que Dios te acompañe - Francisco - 18-7-13" (May God accompany you)."
Martins' letters were extremely touching, showing his innocent hopes and commitment to goodness despite his lack of religion. He said:
"I know I am not an important person, a head of state, an authority or even a Catholic, but maybe I am also a sheep of God (or at least a neighbor of the Pope) and that makes me feel that if I believe from the bottom of my heart that it is possible, it really van happen. As everything I got in life, as this trip that was a huge impossible dream, but now it is happening. So I thought: why not try?

And that is why I am writing you this letter, after some research I found out you are the private secretary of Pope Francis, and if this letter gets to you there is a real chance that you would be kind enough to let the Pope know that there is a 'gaucho' traveling the world by bike that would be 'molto felice' to meet this wonderful man."
See more amazing photos here:
PHOTO GALLERY
Pope Francis Meets Bicyclist