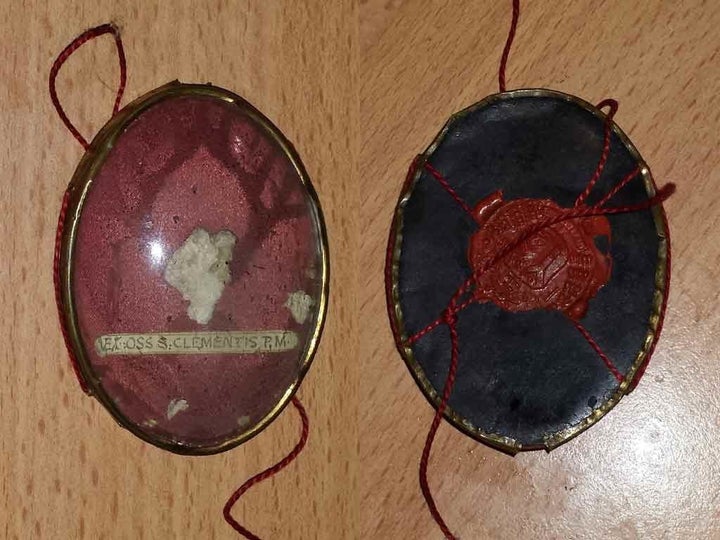 A U.K. waste disposal firm is turning to the public for help after realizing that one man's trash could quite literally be another man's treasure. 
The London-based Enviro Waste company claims its workers discovered a relic ― bearing a Latin inscription that identifies it as a bone of St. Clement, one of the earliest popes of the Catholic Church ― in a pile of trash collected from central London. 
Employees reportedly found the wax-sealed leather case containing the relic while sorting through the trash to find recyclable items last year. On April 25, Enviro Waste's blog called for suggestions from the public about what to do with the relic. 
Religious relics are physical items associated with a saint or with Jesus Christ ― such as a fragment of bone, a shirt, or something the saint touched during his or her life. Catholics believe relics are vehicles through which God can work miracles. Relics are often kept inside churches and venerated by the faithful. 
James Rubin, Enviro Waste's CEO, told HuffPost he suspects the case came from commercial premises, but because workers collected it on a run through several sites, it's hard to pinpoint exactly who disposed of it. Rubin said he's seeking help from a U.K. university's carbon dating laboratory to confirm the relic's authenticity.
Rubin said no one has reached out to claim the item, but he's heard from 150 people who have ideas about where it should reside.
"I had a few ideas where it should end up, with the British Museum being the best idea," Rubin wrote in an email. "We have had a historic churches adviser in Central London recommend that it should be handed back to the Church of San Clemente in Rome."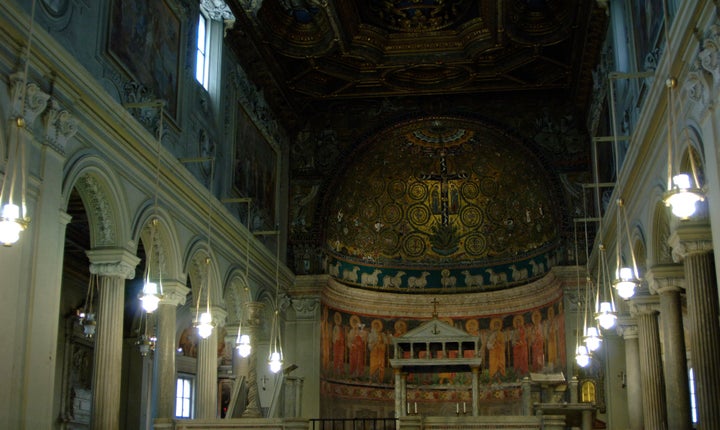 The story of St. Clement dates back to the earliest days of the Christian church. He is considered to be either the third or fourth pope of the Catholic Church and a companion to the early Christian leaders, Saints Peter and Paul. According to Catholic tradition, Clement died as a martyr around the year A.D. 100, after a Roman emperor ordered him to be thrown into the sea near Crimea with an iron anchor tied to his body. 
The Basilica of St. Clement in Rome and an abbey in Abruzzo, Italy, house relics they attribute to Clement.
It's rare for relics that undergo carbon dating tests to date back to the period they're supposedly from. They're more likely to come from a later historical period.
Rev. Dennis O'Neill, a Catholic priest in the Chicago area who collects Christian relics, told HuffPost that he has relics of St. Clement in his Shrine of All Saints in Morton Grove, Illinois.
O'Neill said that the relic Enviro Waste found could be authentic, given its red threads and red wax seal. But he also said the relic's container and inscription did not appear to be older than the 19th century. 
The biggest problem the relic faces, however, is that its certification may have been misplaced, O'Neill said.
"What is missing is an accompanying document, which would have been issued at the time it was certified, with the signature and the seal of the bishop who certified it," O'Neill wrote in an email. "Without this document, it is unlikely that anyone will re-certify it."
Joyce Ann Zimmerman, a theological consultant for the Maria Stein Shrine of the Holy Relics in Ohio, told HuffPost that the relic couldn't be displayed for public veneration if the certificate is missing. In addition, the wax seal on the item didn't appear to her to be intact ― another requirement for relics. 
"Given that it was encased in a rather nice box ... with some obvious care, this could quite possibly be authentic," Zimmerman wrote in an email. "However, no mention is made of a certificate, which means the relic is best buried and forgotten."
Calling all HuffPost superfans!
Sign up for membership to become a founding member and help shape HuffPost's next chapter
BEFORE YOU GO
PHOTO GALLERY
13 Women Mystics Who Helped Shape Christianity