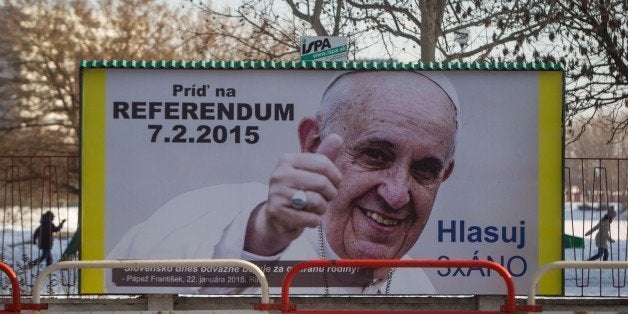 As Slovakia gears up for a referendum on same-sex unions this coming weekend, Pope Francis gave his blessing to the country's efforts to block marriage and adoption rights for gay couples.
Speaking at his weekly general audience on Wednesday, the pope said: "I greet the pilgrims from Slovakia and, through them, I wish to express my appreciation to the entire Slovak church, encouraging everyone to continue their efforts in defense of the family, the vital cell of society."
Alliance for the Family, a Slovak conservative group, has gathered more than 400,000 votes -- representing nearly 10 percent of the country's electorate, according to Reuters -- on a petition calling for a national vote that could block any future efforts to overturn Slovakia's existing ban on same-sex marriage.
"In many countries you feel that people are walking away from the family, they do not consider it to be an important value," Anton Chromik, an attorney and advocate involved with the group, told Reuters. "Slovaks want to say that for them it is the most important thing in their life."
In the days leading up to Saturday's referendum, the Slovak Catholic Bishops Conference released a pastoral letter encouraging voters to support the measure.
"Children are our hope for the future," the letter stated. "Not every generation is given a chance to decide about the future of its homeland. We stand face to face with challenge to express our attitude towards the key values of life."
In a recent interview with BuzzFeed News, Father Martin Kramara, a spokesman for the bishops' conference, sidestepped questions about the conference apparently fundraising for Alliance for the Family through its website. Kramara told BuzzFeed that "the referendum itself is an initiative of civil society; it's not primarily of the church."
Both the conference and Alliance for the Family have also denied sponsoring pro-referendum billboards in Slovakia that depict Pope Francis giving a "thumbs up" with the caption: "Slovakia's courageous fight for the protection of the family. Recommendation: 3x yes."
Marianne Duddy-Burke, executive director of the LGBT Catholic group DignityUSA, told The Huffington Post that she believes the pope's comments are a "response to pressure" from conservative factions in the church to backtrack on earlier "supportive trends" for same-sex acceptance.
Still, Duddy-Burke said, she is hopeful that Slovakia's 73 percent Catholic majority will come out against the referendum.
"I am certainly hopeful that Catholics in that country, as in others, will see this for the perversion of Catholic values that it is and will vote against these anti-family, anti-child, anti-equality measures," she said.
Barbora Cernusakova, Amnesty International's researcher on Slovakia, said the referendum could signal "a significant step back" for the country, which is already more conservative on same-sex rights than most other European nations.
"If the public says yes to these questions and they're adopted into law," Cernusakova said in a statement this week, "Slovakia bolsters homophobic discrimination and undermines sexuality education."
Amnesty notes that voters will be asked on Saturday if they agree with the following proposals:
• "No other cohabitation of persons other than a union between one man and one woman can be called marriage."
• "Same-sex couples or groups shall not be permitted to adopt and subsequently raise children."
• "Schools shall not require children to participate in education in the area of sexual behaviour or euthanasia if their parents or the children themselves do not agree with it."
Over 50 percent of the country's 5.4 million people must turn out to the ballot in order for Saturday's vote to be legally binding.
Related
Before You Go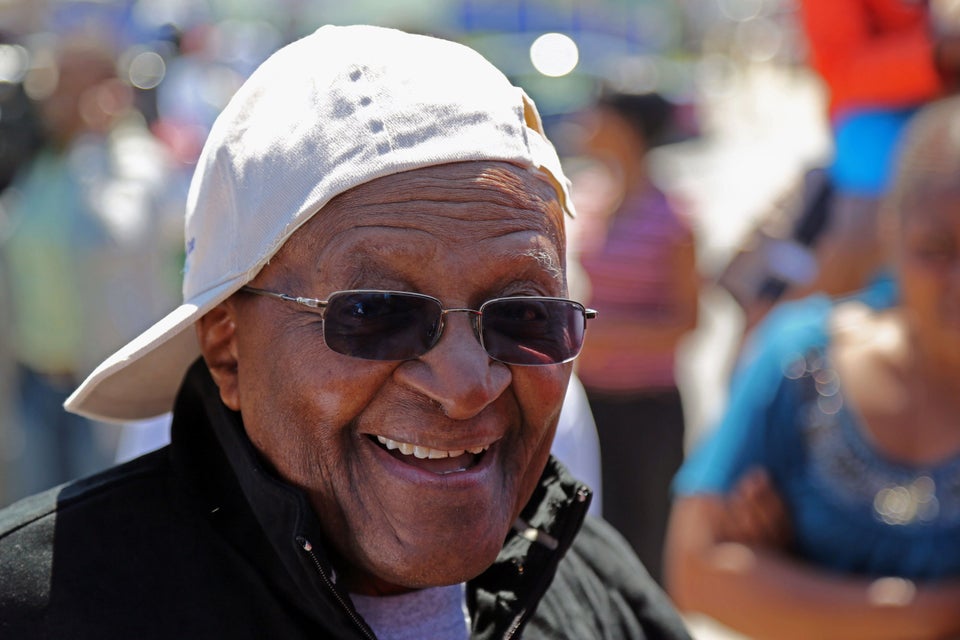 Statements On LGBT People From Faith Leaders
Popular in the Community