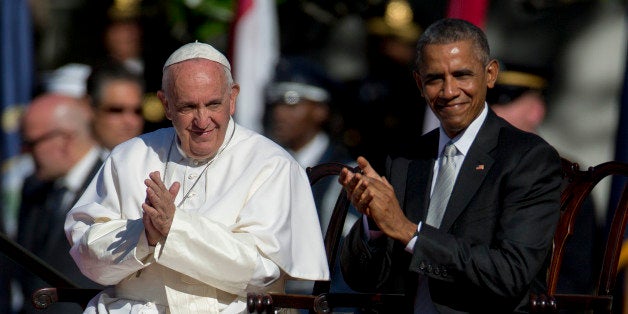 President Obama offered warm words for the pope on a beautiful September morning. The president noted the pontiff's concern for the "least of these in society" and his advocacy on behalf of immigrants and the environment.
In return, Pope Francis congratulated President Obama's efforts to address climate change and stressed the moral imperative of welcoming strangers who are immigrants and refugees.
Both also addressed the need to combat poverty.
The crowd gathered at the White House was diverse. Of course, many Roman Catholics were in attendance. It was wonderful to see so many students at the ceremony. Today will be a day they tell their children about.
It was also an ecumenical and interfaith crowd and that made perfect sense considering the way Pope Francis has gone out of his way to be inclusive.
On Sunday, I used the opportunity of Pope Francis' upcoming visit to the United States to preach on Christian unity (and disunity) at Ainsworth United Church of Christ in Portland, Ore.
The reality is that there will always be issues that divide Catholics and Protestants (and Orthodox Christians) concerning authority and doctrine. We will also find issues - such as abortion and rights for gay and lesbians - where we disagree.
Still, I believe firmly that good people of good faith can come to different conclusions on difficult issues and still find common ground on other issues.
When we find that common ground, and climate change and fighting poverty are two issues were common ground clearly exists, we should work together in common cause.
Pope Francis is clearly a religious leader who sees the values in unity over conflict. We should welcome that as we welcome him to the United States.
The problems of climate change and poverty are too vast to wait for Christians to come to a consensus on all issues. We must tackle these critical issues now even as individual Christian bodies continue to chart different courses on other issues of major concern.
Popular in the Community