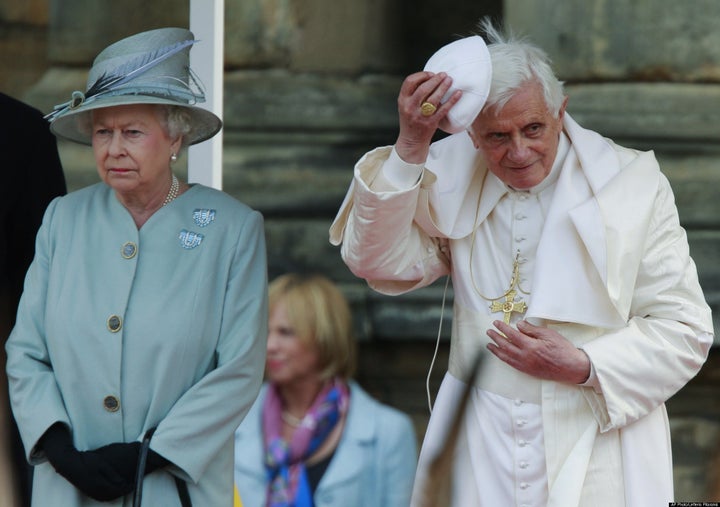 By Francis X. Rocca
Religion News Service
LONDON (RNS) Arriving in Scotland for the start of a four-day trip to Britain, Pope Benedict XVI on Thursday (Sept. 16) reiterated the threat of "aggressive forms of secularism" and deplored the abuse scandal that has provoked the greatest crisis of his papacy.
At a welcoming ceremony hosted by Queen Elizabeth II in Edinburgh, and later at an outdoor Mass in Glasgow, Benedict returned to a consistent theme of his papacy by urging Britain to rediscover the Christian roots of its noblest values.
En route from Rome, the pope told reporters traveling with him that Catholic leaders had been "insufficiently vigilant" in dealing with the sexual abuse of children by priests, which he called a "perversion" that caused him "great sadness."
The sequence of statements underscored the public relations challenge facing Benedict amidst intense and widespread outrage over sex abuse, especially in decidedly skeptical and secular Britain.
That challenge has loomed especially large over this trip, following months of controversy over the use of British tax money to subsidize the papal visit, and even suggestions that Benedict should be arrested for human rights abuses.
"These revelations have been a shock for me, they are a great sadness," Benedict said in answering a reporter's question about sex abuse. "It is hard to understand how this perversion of the priestly ministry was possible."
"It is also a great sadness that the authority of the church was not sufficiently vigilant and not sufficiently quick, decisive in taking the necessary measures," the pope said.
While stressing that the highest priority was caring for victims, Benedict also spoke of the need to prevent further abuse through better screening of would-be priests, and by excluding "every possibility of access to young people" by past abusers, "because we know that ... free will does not function where this illness exists."
A spokeswoman for American abuse victims swiftly dismissed the pope's words as "disingenuous" and "hurtful."
"It's not that bishops haven't worked hard on abuse," said Joelle Casteix of the Survivors Network of those Abused by Priests (SNAP). "It's that they've worked hard to hide it, not stop it."
Meanwhile, Archbishop Diarmuid Martin of Dublin, Ireland, blamed fellow church leaders for aggravating the pedophilia crisis, saying that "abuse was reinforced by covering it up."
Martin, who took over his archdiocese following revelations of long-term abuse and cover up by church and civil authorities there, told a Dublin audience on Thursday that there is still "no adequate monitoring of perpetrators who are living in society" and that "many may constitute a serious ongoing risk to children."
Benedict is expected to meet with British abuse victims at some point during his visit, as he has done on three previous international trips.
On Thursday, however, he tried to focus attention on some of the major themes of his papacy, with specific reference to the British context.
In his remarks at Queen Elizabeth's official Scottish residence, Holyroodhouse, the pope noted the "deep Christian roots that are still present in every layer of British life," and urged the nation to recall the "Christian foundation that underpins its freedoms," in spite of "aggressive forms of secularism" that threaten "traditional values and cultural expressions."
Benedict's speech to the queen also touched on two other themes that are expected to return during his visit: ecumenism and the contribution of religion to civil society.
Benedict praised the historic accomplishments of 18th century abolitionist William Wilberforce and nursing pioneer Florence Nightingale, both British Protestants.
The German-born pope also paid tribute to British resistance during World War II to a "Nazi tyranny that wished to eradicate God from society and denied our common humanity to many, especially the Jews."
The queen also paid tribute to what she called "our common Christian heritage," and the "Christian contribution to the encouragement of world peace," including the role of Catholic charitable and educational institutions.
Following his meeting with the queen, Benedict rode his "popemobile" through the streets of Edinburgh, passing an estimated 125,000 people, many of whom cheered and waved the Scottish flag. Protestors were estimated at fewer than 150.
Benedict later celebrated an outdoor Mass at Bellahouston Park in Glasgow, calling for an "evangelization of culture" to combat a "dictatorship of relativism" which threatens to turn society into a "jungle of self-destructive and arbitrary freedoms."
Organizers had originally predicted 100,000 attendees at the Mass that featured Scottish singer Susan Boyle, but police estimated the total was closer to 65,000. Pope John Paul II drew about 300,000 to the same spot in 1982 during the only other papal visit to Britain in modern times.
Benedict later boarded an evening flight for London, where he will spend the next two days. The visit will conclude on Sunday in Birmingham, where the pope will beatify Cardinal John Henry Newman, a 19th-century Catholic theologian and convert from Anglicanism.
Calling all HuffPost superfans!
Sign up for membership to become a founding member and help shape HuffPost's next chapter