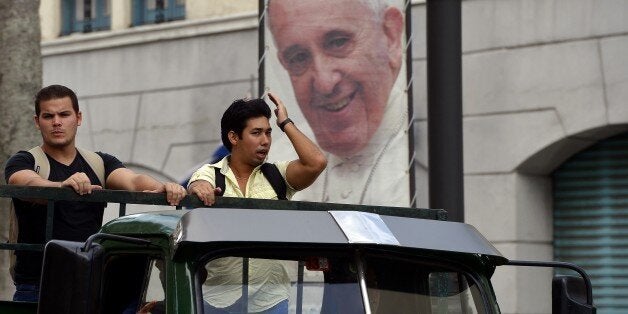 On Saturday, Pope Francis will embark on a historic trip to Cuba followed by a visit to the United States, including an address to a joint session of Congress. The Pope was a trusted broker in the behind-the-scenes negotiations that led to an official rapprochement between our two countries, so we're confident that he'll speak favorably about warming U.S.-Cuba relations on his trip.
Here are just a few things we're looking forward to seeing during the Pope's trip:
1. A humanitarian message for Cuba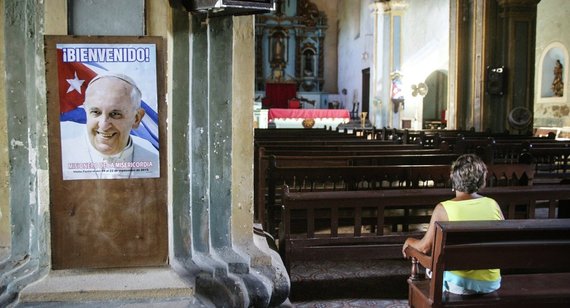 View of a poster of Pope Francis at a church in Santiago de Cuba province. (AFP)
Pope Francis will be the third Pope to visit Cuba. (He was preceded by Pope Benedict XVI in 2012 and Pope John Paul II in 1998.) In humanitarian gestures, the Cuban government has released prisoners ahead of each pope's visit. Just last week, the Cuban government announced it would release 3,552 prisoners as a nod to Pope Francis' upcoming arrival.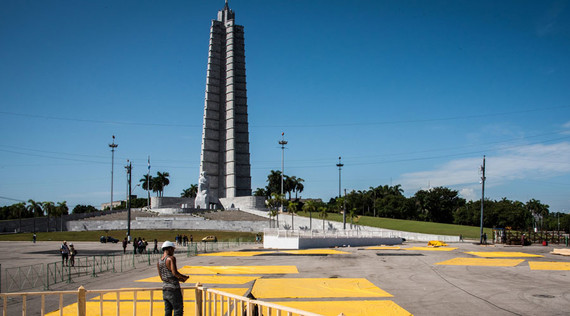 Cuban workers prepare the altar where Pope Francis will give a mass next September at the Revolution Square in Havana, on August 3, 2015. (Adalberto Roque / AFP)
Some human rights groups have noted that political prisoners were not broadly included in this recent prisoner release. However, given that the Pope hasn't even landed on the Island yet and is already prompting humanitarian gestures, we are optimistic that his time in Cuba will bring further attention to human rights issues.
2. Empower religious communities in Cuba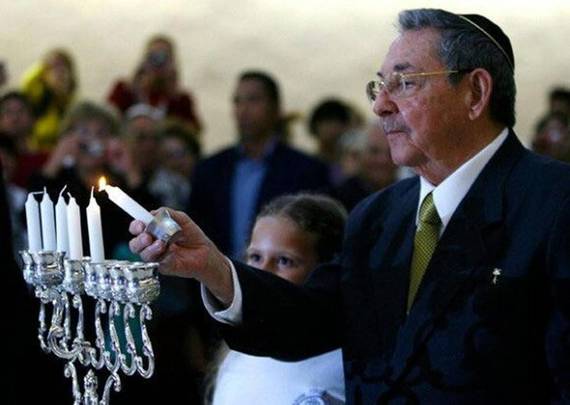 Cuban leader Raúl Castro takes part in the Hanukkah celebration at El Patronato on Dec. 5, 2010. (Ismael Francisco / EFE)
Millions of Cubans are expected to come out to receive mass when the Pope visits three cities throughout Cuba (Havana, Holguin and Santiago). However, Catholics on the Island aren't the only ones excited by His Holiness' trip. Individuals of all faiths are hoping that the Pope's visit will empower their religious communities. Adela Dworin, President of the House of the Cuban Hebrew Community, says she plans to attend "Papa Francisco's" mass in Havana on Sunday. Dworin explains, "I think he is a pope of our times and progressive."
3. Personal meetings with Presidents Obama and Castro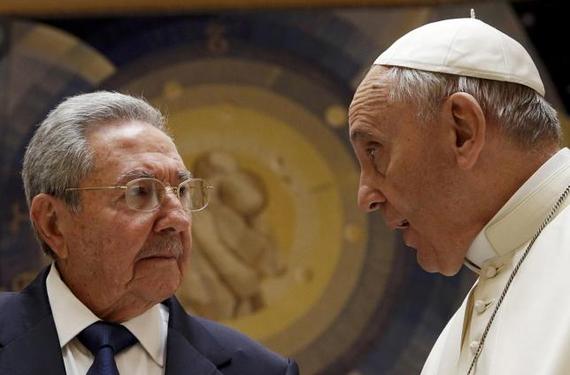 Pope Francis talks with Cuban President Raúl Castro during a private audience at the Vatican May 10, 2015. (Gregorio Borgia/Pool/Reuters)
His Holiness will have the ears of Presidents Castro and Obama in both countries. Last summer, the pope personally wrote to both presidents, imploring them "to resolve humanitarian questions of common interest...in order to initiate a new phase in relations."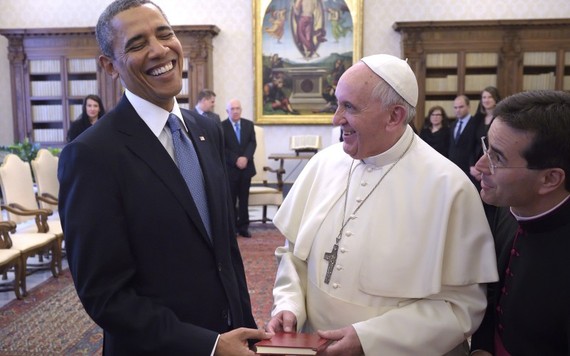 US President Barack Obama shares a laugh with Pope Francis (CNS)
Half a year later, both presidents did just that by announcing on December 17 that the two countries would reestablish diplomatic relations. We can only imagine that in his meetings with Obama and Castro the Pope will congratulate the two leaders on the progress made thus far, but we pray that he will call for continued and speedy normalization together with further collaboration on issues such as health challenges around the world. There's more both executives can do, and the Pope's moral call to action is invaluable.
4. Address Joint Session of the U.S. Congress
While the Pope successfully advocated for President Obama to take executive action on U.S. policy toward Cuba, the embargo is codified in the U.S. Congress.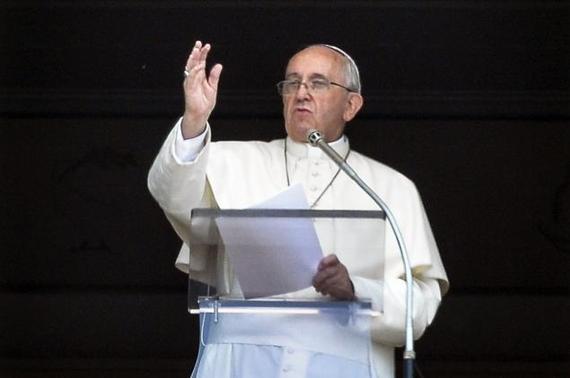 (ANDREAS SOLARO/AFP/Getty Images)
On Thursday morning, the Pope will address a joint session of U.S. Congress. Although there are many issues the Pope will likely raise with our lawmakers, we hope his speech before Congress will remind the American people that the responsibility and moral imperative to lift the embargo and end the travel ban on Americans is the responsibility of our legislators in the nation's Capitol.
5. Conduct meetings in Spanish in U.S.
Né Jorge Bergoglio, His Holiness is originally from Buenos Aires, Argentina. The Pope will conduct several meetings in his native tongue during his U.S. visit, highlighting the ties between the American Latino community and Spanish speaking countries throughout the Western Hemisphere.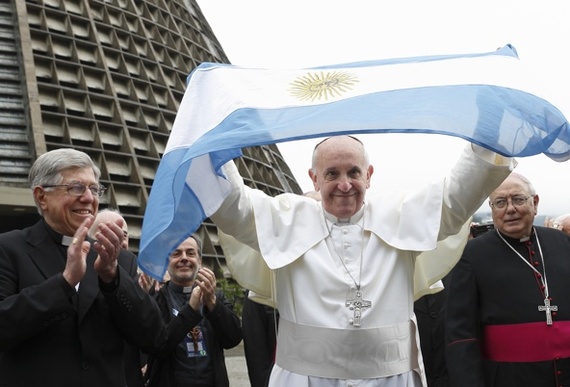 Pope Francis holds up Argentina's flag as he greets a crowd of World Youth Day pilgrims outside the cathedral in Rio de Janeiro July 25. (CNS/Paul Haring)
Many Latin American leaders have voiced their support of the U.S.' new policy toward Cuba and have indicated that their nations will enjoy warmer relations with the U.S. as a direct result of America's engagement with Cuba. We want to see the Pope's affirmation of the close ties that exist between Americans, Americans of Hispanic origin, and our closest neighbors throughout the Americas.
6. Speech at the UN General Assembly

We hope that the Pope will call on the United Nations to look forward and put forth a resolution that acknowledges the growing ties between the United States and Cuba, rather than voting on a resolution best suited to a pre-December 17th world. The UN has the opportunity to look to the future, promoting collaboration, international dialogue, and human rights. The Pope's voice would be a formidable catalyst for constructive discourse.
Calling all HuffPost superfans!
Sign up for membership to become a founding member and help shape HuffPost's next chapter