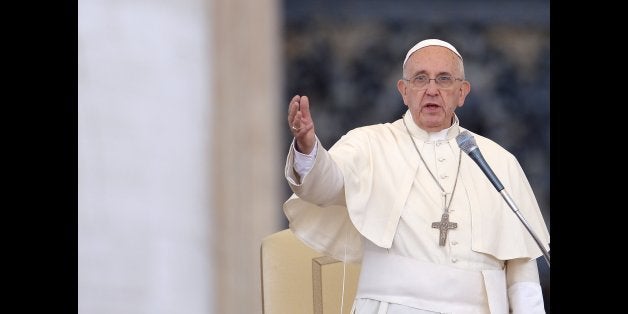 Pope Francis' encyclical on the environment isn't an earth-shattering document. It's instead a timely reminder that humanity has collective rights and responsibilities. As Catholics, the right to life and the responsibility to protect and promote life are of paramount concern. Pope Francis realizes attacks to life come in a variety of forms. Inflicting harm on our common home is one such threat to life.
Through the encyclical on the environment, Pope Francis is reminding the world truths which are self-evident -- that the world we share isn't ruled or owned by anyone and that our time on this planet is limited. If each of us understand these basic truths, the path towards a more sustainable environment will be more fully realized.
First and foremost, Pope Francis' encyclical makes it clear climate change is happening and that humanity has contributed to climate change. Man-made climate change is all the more tragic when the poorest are linked to the increasing fragility of the planet. To better address climate change and poverty, Pope Francis calls on us to end what he calls "a throwaway culture."
While it's true scientific views are constantly evolving, Pope Francis believes the most current, up to date information requires world leaders and individual citizens alike to act on a global scale to combat the worst effects of climate change.
Furthermore, Pope Francis understands meaningful action on climate change won't occur until the wealthiest nations take the lead. Unfortunately, wealthier, more developed countries like the United States largely fail to comprehend the threat faced by climate change due to seemingly unlimited natural resources and material goods. The same cannot be said of underdeveloped nations with limited resources. Furthermore, a global economy which exploits both nature and the poor hampers the full potential of humanity. As Pope Francis states, "When nature is viewed solely as a source of profit and gain, this has serious consequences for society."
All issues, whether it be in relation to abortion or the environment, are rooted in our sense of morality. A culture void of a clear sense of morality will eventually lose both individual purpose and common bond. Pope Francis shares these views when he states, "a sober look at our world shows that the degree of human intervention, often in the service of business interests and consumerism, is actually making our earth less rich and beautiful, ever more limited and grey, even as technological advances and consumer goods continue to abound limitlessly."
Reversing the throwaway culture will require both individual and societal sacrifices. Pope Francis recognizes this truth when he states, "Every effort to protect and improve our world entails profound changes in lifestyles, models of production and consumption, and the established structures of power which today govern societies."
The short-sighted economic goal of nations is of particular concern to Pope Francis. Rather than viewing this an assault on capitalism, Pope Francis desires political leaders to realize providing basic economic rights, such as food, clothing, and shelter, will afford citizens everywhere the ability to pursue their full potential as human beings. Pope Francis states, "economic powers continue to justify the current global system where priority tends to be given to speculation and the pursuit of financial gain, which fail to take the context into account, let alone the effects on human dignity and the natural environment."
I completely agree with Pope Francis when he says, "Humanity still has the ability to work together in building our common home." Each of us must strive to build a common home we can be proud to pass on to future generations.
Popular in the Community