Pope Benedict's first tweet from @pontifex came today reading: "Dear friends, I am pleased to get in touch with you through Twitter. Thank you for your generous response. I bless all of you from my heart."
The Pope's tweet has already been retweeted close to 30,000 times.
He then followed up with two more tweets that asked: 'How can we celebrate the Year of Faith better in our daily lives?'; and answering: 'By speaking with Jesus in prayer, listening to what he tells you in the Gospel and looking for him in those in need'
His first three tweets all came within a couple of hours. Looks like twitter followers might be hearing a lot from the Pope.
VATICAN CITY — Pope Benedict XVI hit the 1 million Twitter follower mark on Wednesday as he sent his first tweet from his new account.
In perhaps the most drawn out Twitter launch ever, the 85-year-old Benedict pushed the button on a tablet brought to him at the end of his general audience Wednesday.
"Dear friends, I am pleased to get in touch with you through Twitter. Thank you for your generous response. I bless all of you from my heart," his inaugural tweet read.
At around the same time the message was sent, the number of followers of Benedict's (at)Pontifex account surpassed the 1 million mark on the eight languages of the handle, adding some 11,000 followers in the last two hours alone.
Later in the day Benedict was to respond to a few questions about faith sent to him from around the world.
The first papal tweet has been the subject of intense curiosity for months. Benedict actually sent his very first tweet over a year ago, using a generic Vatican account to launch the Holy See's news information portal. Someone in his name tweeted daily during Lent, part of the Vatican's efforts to increase the church presence in social media.
A personal Twitter account for the 85-year-old Benedict has been the subject of speculation ever since the Vatican's senior communications official said in February the idea was gaining traction.
Vatican officials have acknowledged the pope won't actually type the messages and that someone in the Vatican's secretariat of state will write them on his behalf. But they have insisted that the words will be his alone, culled from his speeches, homilies or catechism lessons.
As incongruous as it may seem for the 85-year-old Benedict to be on Twitter, Vatican officials have stressed that he is merely walking in the footsteps of his predecessors in using the latest in communications technology to spread the faith.
Pope Pius XI, for example, caused a similar stir when he launched Vatican Radio some 80 years ago to bring the pope's message on radio waves around the globe. The Vatican also has its own newspaper, television service and maintains dedicated YouTube channels and an Internet news portal.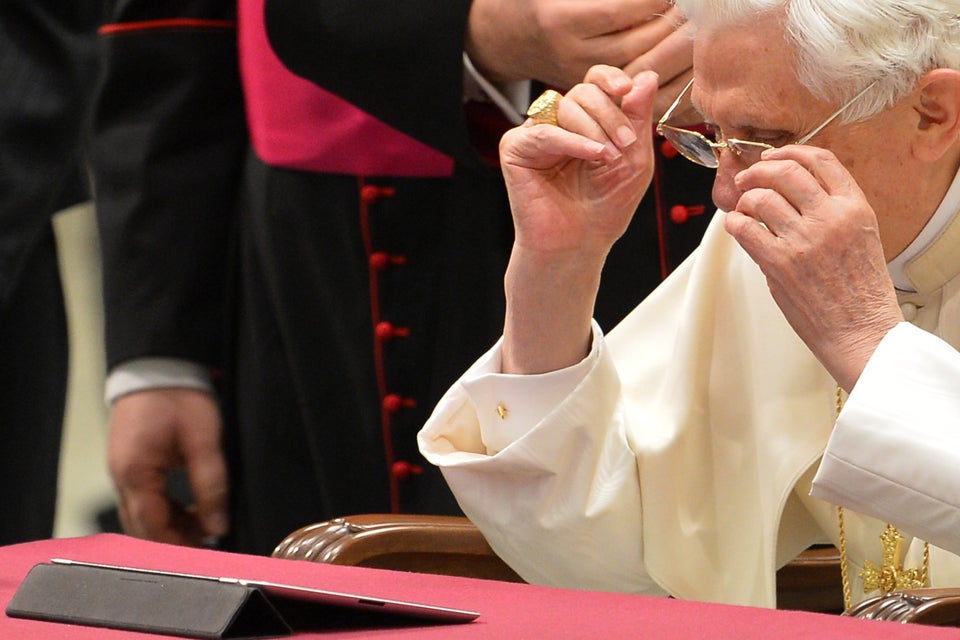 Pope's First Tweet
Support HuffPost
The Stakes Have Never Been Higher
Related
Popular in the Community