The first time I saw a Lipstick Queen display, I didn't know whether it was marketing lipstick or tarot cards.
I held up one of the packages and examined it: on the cover, a naked woman (Eve?) stood in a magical, upside-down garden, a snake coiling up a tree to the left and a monkey skulking to her right.
All of Lipstick Queen's products are like this: trippy voyages to fantastical worlds; these cosmetics seem like jars filled with magical potions instead of lip gloss.
Unsurprisingly, Poppy King, the monarch of Lipstick Queen, is a deliciously idiosyncratic presence herself. Crowned the world's reigning "Lipstick Academic" by Nylon magazine, King takes her product very seriously. For her, lipstick is at once a powerful weapon, a link to history, and symbol of unapologetic glamor.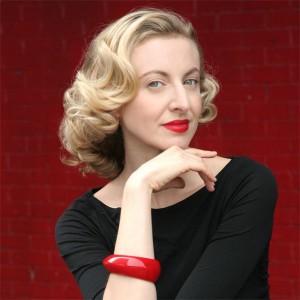 It's no surprise that Lipstick Queen has a cult following, and its members have a reason to be excited: King has just launched a quirky new product for fall, called Jean Queen (which apparently "offsets the blue in the denim and lights up your whole face at the same time.")
I was recently invited to visit the court of the Lipstick Queen herself. Below, Ms. King tells me about her childhood love of make-up, how the mainstream beauty industry gets you to empty your wallet, and why a woman in red lipstick is invincible.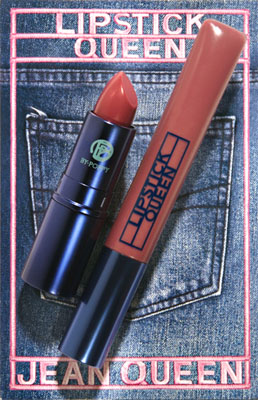 Lesley M. M. Blume: Lipstick is clearly laden with particular symbolism to you. Why?
Poppy King: Because it's not a corrective cosmetic. It's the only cosmetic that's not about covering up, correcting -- yet it's transformative.
LMMB: What does red lipstick symbolize?
PK: Straight away: confidence and exuberance. Whether you have those things or not, it symbolizes them. Red lipstick is to women what a sports car is to men. It is the closest thing a woman can have to a hard-on. Freud would say this is penis envy, but it's a female expression of sexuality. Women's sexuality is all inner.
When you see an older woman wearing it, it's especially fabulous. The virility she's showing can exist at any age. Red lipstick freaks so many women out; this country in particular doesn't know how to cope with sexuality, especially in older woman.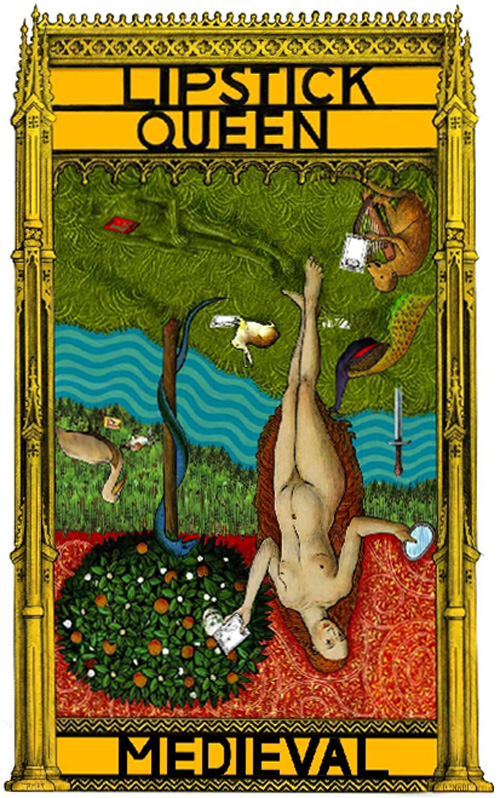 Says King: "This artwork is intentionally upside down to represent how topsy turvy the world has become."
LMMB: What were your earliest encounters with make-up and lipstick?
PK: My mother was an intellectual bohemian and a very stylish woman. She looked like a Jewish Louise Brooks: black bob, green eyes, pale skin. She brought Biba lipsticks, an indie brand from the 70s: very matte, very dark, and -- for want of a better word -- a very fecund looking lipstick. It looks like the stuff that came from the body.
I remember sneaking off at age 6 or 7 with one of those lipsticks; it was a blood-dark red, what my mother wore. I put it on and just literally felt like a superhero, like the best version of myself.
Later, in the 1980s, when I had my own pocket money, I'm walking around department stores, able to buy my own lipstick -- and the cosmetics that I saw there were either about costume-y full-face Chanel, or sanitized Clinique. If this had been a school playground, I wouldn't want to play with any of these people.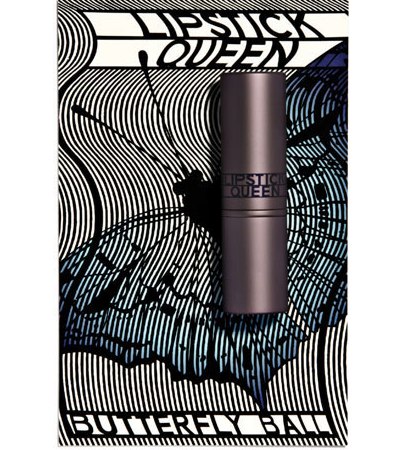 LMMB: What do you think accounted for the change in aesthetics?
PK: In the 1970s there was a lurch toward women's equality while still being female. In the 80s, we had this hard construct of the power woman. It was a very chauvinistic idea of a woman, based on masculinizing the idea of female equality. And part of that was, how about if we make equality being about making you look like a man? It was either that, or the other extreme of looking like you were in drag.
Then, in the 90s, there became this new status in casualizing and dressing down. The blue jeans millionaire.
And today's aesthetics are just becoming so plastic and fembot: no feelings, no flesh. In terms of massive reconstructive surgery, like you see with someone like Heidi Montag, this hyper sexuality has absolutely no internal sexuality.
Makeup is about an internal sexuality. Makeup is messy; it's fleshy; it's more sensual.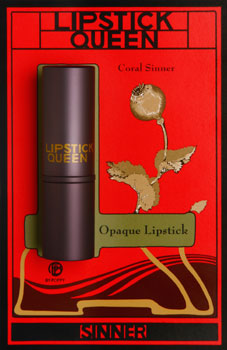 LMMB: This summer, Camille Paglia published a much-discussed article in The New York Times, in which she asserted that middle-class American women have become de-sexualized. You had some strong feelings on the topic: tell me more.
PK: When I moved to New York in 2000 to work for Estee Lauder, the job took me out into the shopping malls of America. The women I met were so scared of lipstick. They kept saying, "I can't do color;" they didn't feel that they had the right.
This terror of lipstick is related to the mute confusion women are having around our own sense of self and sensuality in this century. I feel like there is this mass confusion - what am I supposed to do as a female? Am I allowed to wear a dress or am I not? I don't really know what is expected of me.
Capitalism is also at play here. One reason why lips are so mute in the past decade: you make more money than you do selling five or six eye products than you do one lipstick.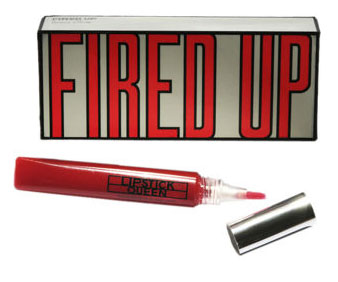 LMMB: Many women I know feel that lipstick is aging.
PK: Well, the funny thing is, [in the malls], the women would tell me that I looked so natural, but I had on full-blown red lips.
[These days,] sophistication is a dirty word, associated with aging. For me, sophistication is about being ready to make your own choices; it is associated with dignity. I just think most women don't feel like they have the permission from themselves, other women, their workplace, to really acknowledge their own power when it comes to choosing what they feel is beautiful about themselves.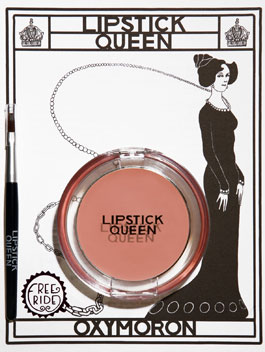 LMMB: Does the beauty industry breed confidence or insecurity?
PK: The beauty industry is on the whole about homogenization. The marketing paradigm you show is an example of standardized female beauty. Then you tell women, "you have a problem," and then you say here is the solution.
In my products, I never use images; it's never about a standardized ideal. I always use graphic art. I refuse to do it any other way. I'm still a little girl in a lot of ways. I see super examples of glamazons, super examples of my gender, and think, "Oh, my God: I am such a shabby example."
I don't want people interfering with women when it comes to whether they should feel good about themselves or not. It pisses me off. When you look at who pulls most of the strings, it's mostly men -- but women are hardest on each other.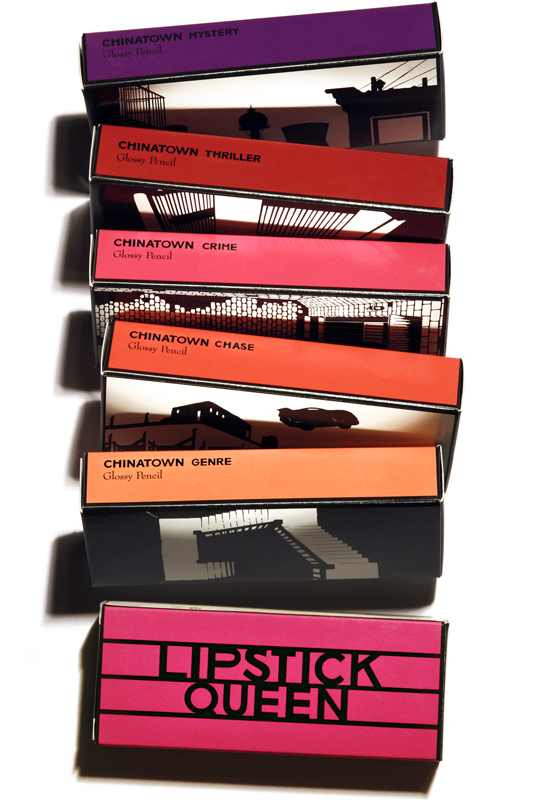 Lipstick Queen "Chinatown" lip pencils and packaging
LMMB: Tell me about your packaging -- which is so creative and pleasing that you hardly want to tear it open.

PK: The overall aesthetic is predominantly Art Nouveau, mixed in with lot of seventies album covers. The logo was inspired by [architect] Frank Lloyd Wright. And with each product, I throw in unexpected elements too.
For instance, with my Chinatown lipstick: I found out that Chinatown means LAPD slang for "chaos." All of the symbolism behind the packaging is seriously layered: it's about the LA idea of Chinatown; it's about displacement; it's about exuberance. All of the art is based on crime scenes, the underbelly of downtown LA ... it's a kooky product. I don't expect my customers to see all of the references; I know I'm overly analytical about it.
But at the end of the day, it's just fun.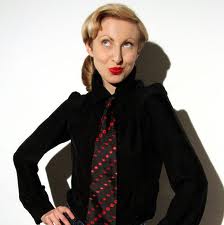 This is an edited transcript of a conversation between Poppy King and Lesley M. M. Blume.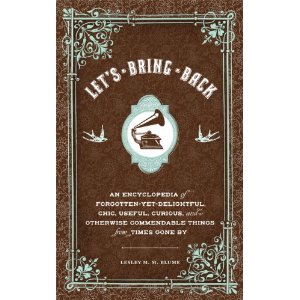 Let's Bring Back is also showcases many old-fashioned beauty rituals - from milk baths to moon-manicures to 1930s pin curls, culled from a wide variety of delightful sources and wise women throughout history.
Like Ms. King, Let's Bring Back also calls for the widespread return of red lipstick - a historical badge of glamor and confidence.