The following three articles deal with the popularity of cash back credit cards but present different viewpoints. Two of the articles discuss the latest findings where credit cards have become the most preferred method of payment over debit cards and cash (a first for credit cards in recent years). The vast majority of this growth has been fueled by credit card rewards, in particular cash back rewards. The last article discusses how pending issues in the credit card industry could reduce rewards for consumers or change how these rewards are funded.
If you are interested in applying for the best cash back credit cards online, click here* for offers from our partner site (it typically takes a few minutes to apply online).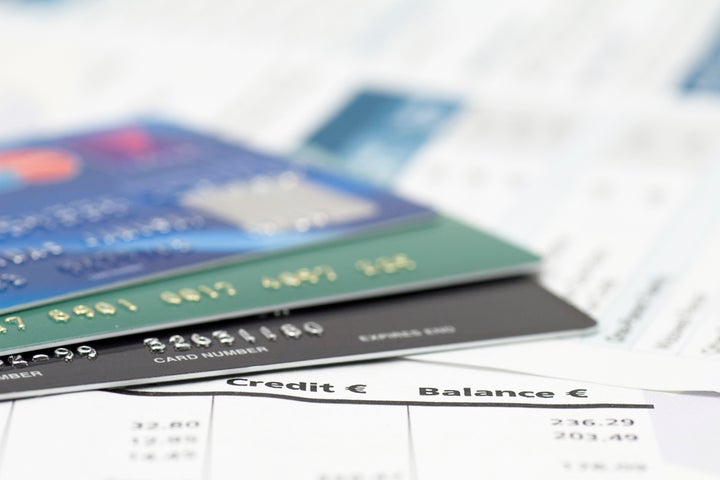 America is hooked on credit cards — and it's pretty clear why
Americans have racked up $1.01 trillion in revolving debt — primarily credit card debt — according to the Federal Reserve. That's the highest tally since the financial crisis in 2008. The credit card is now the preferred method of payment among Americans, edging out debit cards and cash, according to the 2016 US Payment Study by payment processing company Total Systems Services, or TSYS. It's the first time credit cards claimed the top spot in the six years TSYS has been conducting the study.
Our Commentary: When you look at the table showing the levels of outstanding consumer credit, you can see exactly how hooked America has become on credit, as evidenced by credit card debt. When the data was first collected back in 1943, there was about $6.6 billion in outstanding credit, with none of it being revolving debt, the credit typically associated with credit cards. Revolving credit did not make its appearance until January of 1968 where it debuted on the table at $1.3 billion ($1,316.770,000) Now, revolving debt is over $1.01 trillion! It has grown by almost 777 times in 49 years. That means it has grown on average about 15.86 times per year. Have the banks been successful in getting people to spend on credit? You betcha they have, and in a big way. Between cash back rewards and travel points and other rewards, card issuers have wooed the consumer to the point now where their favorite method of paying for things is credit cards. Let's not forget the non-revolving debt (examples are student loans, auto loans and mortgages). It has increased over the same time from 1968 from $105.46B to $2.81 trillion or 26.65 times over 49 years and by about 426 times since 1943 ($6.6B back in 1943).
The Credit Card Rewards War Rages. Are You the Loser?
Issuers have loaded up their high-end credit cards with travel perks and other rewards. It seems to be working. In a survey of U.S. consumers conducted every year by card processor Total System Services, Inc., or TSYS, the popularity of debit has been falling for several years. In 2016, credit overtook debit as Americans' favorite form of payment.
"You have issuers offering better rewards to try to get the attention of the consumer," said David Robertson, publisher of the Nilson Report. "There's a war on among the top players."
The companies have slowly made it easier to qualify for credit cards, nine years after the global financial crisis. Consumers are also feeling less inhibited about taking on debt, Robertson said. And how they love their rewards. Asked in the TSYS survey about the favorite feature on their credit card, 59 percent cited rewards. That makes rewards about twice as popular as any other card feature. While generous travel benefits are the main perks of premium credit cards, the vast majority of consumers are more focused on getting cash back.
Our Commentary: When looking at the chart, it is clear that Americans prefer the cash back perks of reward credit cards. Cash back cards are at about 70%, the next one down is a version of cash back, gift cards, at around 37% and then travel rewards (air miles, for example) comes in around 35%. Cash back rewards have been more generous over the past few years (some cards offer up to 5% cash back), and in my opinion, it's just easier to collect cash back rewards than travel or gift card rewards.
Travel cards require a little more research and work on the cardholder's part to maximize their rewards, although with special offers, those rewards can be more lucrative. For example, there is currently a card offering up to $625 in travel credit for spending $4,000 within 3 months (also, if you are looking for a travel card, you may want to consider the Discover it Miles* card where you can match all earned miles at the end of the first year, effectively doubling your rewards). I can't recall a cash back bonus quite so tempting right now. Most cash back card bonus offers pay in the $100-200 range. You typically only have to spend about $500 to $1000 to qualify for a $100-$200 bonus. But, at the end of the day, bonus money is always appreciated and if you were going to spend the money any way, you may as well earn a bonus along the way.
Credit Card Rewards Come Under Threat, So Long Cash-Back?
With their flashy bonuses and hefty cash-back payments, credit card rewards have become as American as apple pie. In most other developed nations, by contrast, cards are about as flamboyant as, say, mortgages and bank accounts.
Currently, the entire rewards ecosystem in the U.S. is essentially financed by merchants and business owners. Specifically, rewards are funded by the interchange fees merchants pay when they accept your credit card at their store.
Some of the same forces that have made cards so subdued outside the U.S. now threaten to bring America's card-rewards party to an abrupt end. The causes lie in several legal threats. One of those perils threatens the funding of rewards through interchange fees, while the other could see consumers essentially paying upfront for the rewards they subsequently receive for using their cards by paying these fees to merchants at the time of purchase (instead of the merchant paying).
The merchants' lawsuits seek a reduction in the level of the fees, which can be upwards of 2% per transaction. It's not difficult to imagine what U.S. credit card rewards would look like if the interchange fees weren't as high as they are. In countries like England and Germany, regulations prevent credit card companies from charging interchange fees of more than 0.3% (much less than in the U.S.). When the EU Parliament first passed these restrictions back in 2015, Capital One Bank immediately responded by severely gutting their cash back programs in European countries affected by the new interchange limits.
Our Commentary: This article is out at the same time as the other articles reporting how much Americans love their cash back rewards and how credit is now the most preferred spending method. It makes me wonder whether we are at the peak of popularity of cash back rewards right now. You never know. This battle may be raging on for quite some time. The sobering thought is that other countries have drafted regulations preventing credit card companies from charging higher interchange fees, so it could definitely happen at some point. We currently pay about 7x what these other countries pay in credit card merchant, also called interchange fees. As shown in the article's example, as soon as this restriction hit, cash back programs were cut back immensely.
If you are in the market for a new card, take advantage of the best rewards you can right now as legal pressures could eventually result in less generous credit card rewards. It is worth noting that such legal threats have existed for years and so far debit card merchant fees have been restricted by the 2010 Dodd-Frank law. According to NerdWallet, the benefit of the law for consumers has been questionable and hasn't necessarily resulted in lower costs for consumer goods and services. Does this finding mean interchange fees will not be regulated in the near future? Who knows? Only time will tell.
*Disclaimer: BestPrepaidDebitCards.com is an independently owned and operated, advertising-supported financial product comparison service. Many of the credit card offers that appear on linked sites are from companies from which BestPrepaidDebitCards.com receives compensation.
Co-written by Curtis Arnold, a nationally recognized consumer advocate and founder of CardRatings.com, the pioneering website that started posting the first credit card ratings online around 20 years ago, and Shane Tripcony, personal finance blogger and web marketing consultant. Curtis and Shane are the founders of BestPrepaidDebitCards.com, which provides ratings and reviews of prepaid cards and credit cards.
Popular in the Community