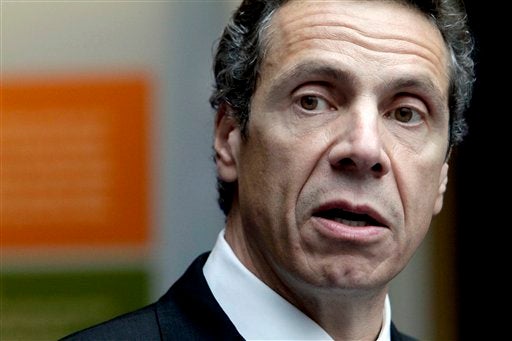 New York could become the next state to legalize gay marriage if a media and lobbying push launched Wednesday and spearheaded by Gov. Andrew Cuomo can succeed where previous efforts have not.
After weeks of closed-door meetings in Albany, the Democratic governor and his staff have assembled a roster of A-list political strategists and wrangled sometimes-warring gay rights groups into a single coalition, called New Yorkers United for Marriage, that aims to pass gay marriage legislation this year.
Supporters of gay marriage say advocates want to avoid the poor legislative and political planning that doomed a similar bill two years ago.
Cuomo campaigned for governor last year on a promise that he would shepherd same-sex marriage into the statute books. In his first state of the state address, Cuomo declared, "We believe in justice for all, then let's pass marriage equality this year once and for all."
Officials close to Cuomo would not speak on the record about their efforts to coordinate a media and political campaign on the issue. The governor's spokesman, Richard Bamberger, said, "This is an important issue for the administration, and the governor is committed to working with New Yorkers to get the marriage equality legislation passed."
In 2008, when Cuomo was New York attorney general, former New York governor David Paterson order state agencies to recognize same-sex marriages performed in other jurisdictions.
But when a bill to legalize gay marriage came to the legislature in Albany the next year, it passed the Democratic-controlled Assembly but was defeated in the Republican-led Senate by a vote of 38 to 24.
Since then, Cuomo has made marriage equality "almost a mission," said Richard Socarides, a former New York lawyer who now runs the Washington-based gay advocacy group Equality Matters.
[Cuomo] "feels this is part of where New York should be -- at the forefront," said Evan Wolfson of the group Freedom to Marry. "The governor will use the bully pulpit but he also will talk in one-to-one conversations to legislators."
Five states -- including neighboring Massachusetts, Connecticut and Vermont -- and the District of Columbia allow same-sex couples to wed. California briefly did until voters passed Proposition 8, which defines marriage for the state as between a man and a woman. A federal judge in San Francisco overturned Prop 8 last August, but the decision has been appealed and will likely be decided in the U.S. Supreme Court.
"This is a very high-stakes play for Cuomo," said Socarides, who is among activists who have met with the governor about the issue. "If he is successful, he will be a hero and he will work very hard to get it. But if success is just not possible, he'll have to lower expectations quickly and expectations among insiders are already extremely high."
The new push in New York comes after Cuomo's recent triumph in delivering on time a budget full of cuts that nonetheless was passed by the legislature. Local media called that close to miraculous at a time when protesters have besieged other state capitals over spending.
A new Siena College Poll pegged Cuomo's approval rating at a hefty 73 percent and said he started his second 100 days as governor with "rock star status."
The same poll found much wider support for gay marriage than just two years ago, when a bare majority were okay with gays and lesbians getting married. Today, 58 percent of New Yorkers support marriage equality for gays while only 36 percent opposed.
The national landscape around gay marriage rights has also changed. A slight majority of Americans now say same-sex marriages should be recognized. Congress has repealed the military's "don't ask, don't tell" policy. And the Obama administration's Justice Department has announced it will no longer defend the Defense of Marriage Act that bans federal recognition of gay marriage and allows states to ignore the validity of same-sex marriage licenses granted in other jurisdictions.
"There has been a sea change in public opinion just in the last year and a half," said Brian Ellner, who heads the national Human Rights Campaign's marriage efforts in New York.
There also has been a new appreciation among advocates that they must not repeat the mistakes of 2009.
"The last time around there were miscalculations, miscues among the advocates and with the legislative leadership that really doomed the effort," said Socarides. "No one was really responsible, no one knew who was responsible for what and the whip counts (of legislators) were not good. Gov. Patterson's role was unclear at best. You had a ship without a captain."
Socarides said the governor has issued marching orders to the groups that they must cooperate with each other or face defeat again. "He brought the Jets and Sharks together," he said, referring to the rival gangs from the Broadway musical West Side Story.
The new umbrella group, New Yorkers United for Marriage, includes Washington's Human Rights Campaign and three state-based groups: Empire State Pride Agenda, Freedom to Marry and Marriage Equality New York. Those groups have clashed in the past, but now, with a popular governor championing their cause, they seem determined to put their differences aside to achieve their goal.
Jennifer Cunningham, a long-time Cuomo confidante and one of New York City's most powerful lobbyists, was hired to head up the media campaign and help convince skeptical state senators in Albany. Her firm, SKD Knickerbocker, includes Hillary Rosen, a member of the Human Rights Campaign Foundation board and a long-time power player.
SKD Knickerbocker co-founder Josh Isay also is on board. He has been a go-to guy in New York Democratic circles ever since he managed Sen. Chuck Schumer's upset win over Republican Senate incumbent Al D'Amato in 1998.
The strategists and their allies plan to send organizers into at least 15 legislative districts belonging to Republicans and moderate Democrats upstate, on Long Island and in New York City.
Supporters of gay marriage estimate they netted two more favorable legislative votes in the last election when they targeted lawmakers who voted against them.
Ross Levi of Empire State Pride Agenda said several state senators who voted no last time are now reported to be on the fence and will get special attention from advocates. They include New York City Democrats Joseph Addabbo Jr., and Shirley Huntley and Republican James Alesi from the Rochester area.
"We are going to garner all the resources we can," Levi said, adding that he looked forward to coordinating efforts with the other groups. "A strong united community working together is going to be a great asset in accomplishing our goal," he said.
Pushing through gay marriage could also be an asset in attracting progressive primary voters in any future Cuomo for president campaign. For now, though, the governor and his allies just want to see the first marriage ceremonies between same-sex couples performed in the state by this summer.
"New York is clearly the biggest prize in this battle so far," Socarides said. "Right now, with the situation in California tied up in a lawsuit that looks like it will take years to resolve, New York is the biggest prize that remains and if we can win in New York, it will be an important turning point in the marriage effort."
Calling all HuffPost superfans!
Sign up for membership to become a founding member and help shape HuffPost's next chapter