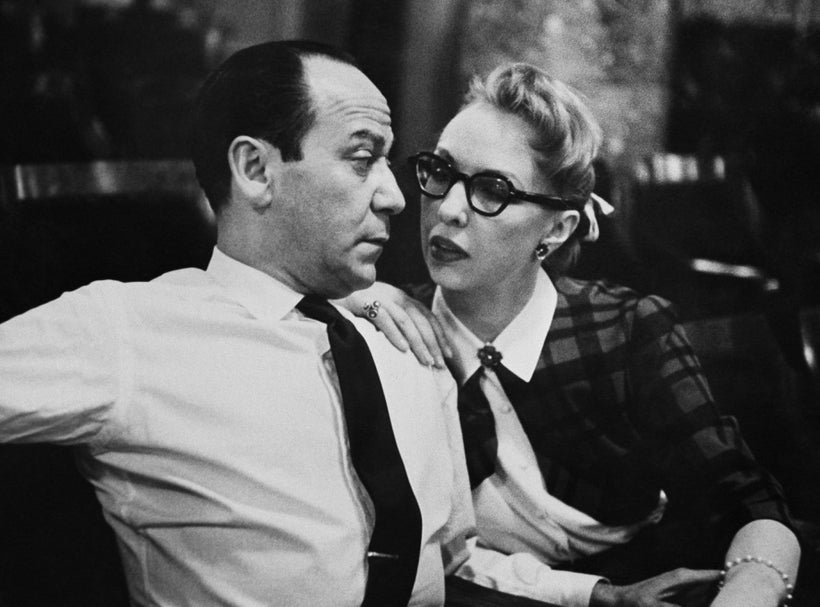 The popular male lyrics from the Christmas standard "Baby It's Cold Outside", penned by Frank Loesser, and over-played by every holiday radio station from Thanksgiving through New Years, was fired today on charges of sexual harassment. "For 63 years the male lyrics in this song has preyed on the female lyrics, silencing my client's voice and shutting down her requests to leave the song of her own free will. Now finally her complaints can be heard without the male harmonies and accompaniment silencing her," said lawyer for the female lyrics, Martin Chalsaw. This comes as a relief of many listeners who for years have complained that the song crossed an inappropriate line.
Performed in the film Neptune's Daughter, "Baby It's Cold Outside" earned Loesser an Academy Award in 1949 for best original song. But as decades passed, the song became a burden to male and female listeners alike who felt the female lyrics were trapped in an increasingly dangerous trap throughout the eight verses. Detractors say It has sometimes been called the most 'rapey' Christmas song ever written. "The female lyrics were endlessly forced into a repeating refrain against her will every time she attempted to leave the song," her attorney continued. Notably, many women report complaining about these same exact endless refrains in the workplace every day.
Chalsaw noted that twenty two clear requests by his client to leave the song were endlessly shut down by the accused, including the male lyrics responses of: 'I'll hold your hands,' 'beautiful please don't hurry,' and 'no cabs to be had out there,' and continuing through 'gosh your lips look delicious,' 'how can you do this thing to me,' and 'you'd freeze out there.' "It's pretty clear what was going through his mind. Fortunately this song was recorded and measure by measure we can establish a clear pattern of harassment and predatory behavior."
Chalsaw continued that it didn't matter that there seemed to be a consensual moment by the door in the first lyrical line. "AABB rhyme scheme does not require the accused to 'rhyme' a harassing response. The male lyrics should never have rhymed "no, no, no, sir," with 'can I get closer?' No is always no, and this predatory behavior of women in music must come to an end."
Lawyers for the male lyrics point out that at the time of its first success, the song was considered a call for female empowerment. In the 1940s single women weren't allowed the freedom to be unescorted at night with a gentleman. Supporters of the song point out that the female lyric's concern in the song is more about what others would think due to scandal, rather than about any complaints she has about the man. They suggest she is actually exercising her freedom in choosing to stay.
But lawyers for the male lyrics released his statement at the court house. "There are no words to express the pain and regret I feel from my lyrics, and I certainly don't remember the song in the same way, but I send my deepest apologies for any unpleasantness or harm I might have rhymed."
The male lyrics has also stated he will now take time off from being in any songs at all to reflect on his actions. He reportedly will partake in double meaning and innuendo rehabilitation classes as well. Lawyers for the male lyrics also presented as part of a plea bargain to get a reduced sentence, the male lyrics replacement responses he has provided to avoid continuing litigation. He has offered to change his part in the Christmas standard to the following:
Baby It's Cold Outside - 2017
I really can't stay (Can I get you a cab?) I've got to go away (Can I recommend Lake Arrowhead?)
This evening has been (crowded and public) So very nice (thank you, I enjoyed our talk too.)
My mother will start to worry (Can you send her a text?) My father will be pacing the floor (Well let me call you a Lyft!)
So really I'd better scurry (In fact, better if I leave first.) But maybe just a half a drink more (Not until I see your ID first?)
The neighbors might think (Yes, this is already on Twitter) Say what's in this drink? (Fruit smoothy with vitamin D!)
I wish I knew how (to do lunch next week?) To break this spell (and better if we do it on Skype?)
I ought to say, no, no, no sir (I'm actually live on Periscope now) At least I'm gonna say that I tried (Look around, I walked you outside!)
I really can't stay (And it stopped snowing) But baby, it's cold outside
I simply must go (Great, your car just pulled up) The answer is no (And I'm happy to pay for it.)
Your welcome has been(Distant and unemotional?) So nice and warm (Damn! I have to work on that.)
My sister will be suspicious (She's in the car I sent for) My brother will be there at the door (He's in there too)
My maiden aunts mind is vicious (Trust your elders, she has your best interests at heart) But maybe just a cigarette more (No, just ran out of Vape fluid)
I've gotta get home(Well, your whole family's in the car) Say lend me a coat(And take these gloves and an extra scarf)
You've really been grand (So far I've spent that much on coats and carfare) But don't you see? (And every penny is worth it!)
There's bound to be talk tomorrow (We're already trending; hashtag #ListenToHer) At least there will be plenty implied (Nope, no double meaning here. Nothing happened)
I really can't stay (And neither can I!) Cause Baby, it's cold Baby, it's cold outside
REAL LIFE. REAL NEWS. REAL VOICES.
Help us tell more of the stories that matter from voices that too often remain unheard.
This post was published on the now-closed HuffPost Contributor platform. Contributors control their own work and posted freely to our site. If you need to flag this entry as abusive,
send us an email
.