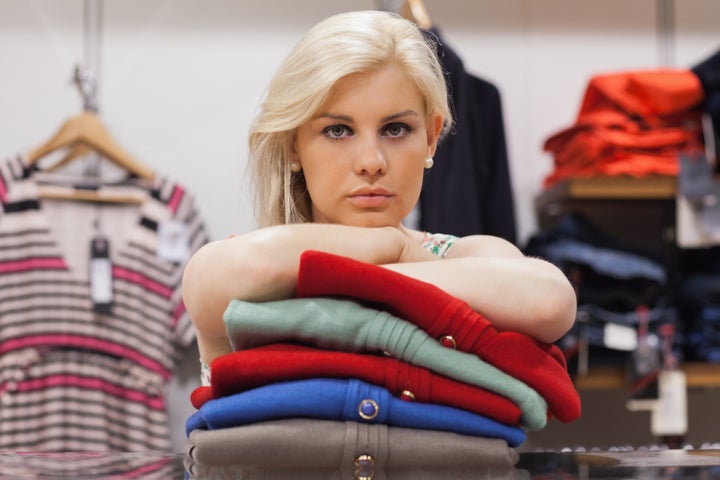 In the retail industry, where a store may have a line out the door one minute and barely a single customer the next, who gets to demand more flexibility -- the employee or her manager?
That's the key question in the debate over controversial scheduling practices in which big companies require their supply of employees to ebb and flow with customer demand.
On Wednesday, the attorneys general of eight states and D.C. sent form letters to a number of retailers they believe may engage in "on-call scheduling," which requires employees to be available even when they aren't getting paid to work. The letters request that retailers respond by detailing their scheduling practices.
"These attorneys general are making clear that this is a public policy issue," Michael Wasser, a senior policy analyst at Jobs With Justice, an advocacy group for economic justice, told The Huffington Post. It means that retail scheduling is "not just an individual person or individual workplace issue," he said.
Many suburban mall favorites got the letters, including American Eagle, Aeropostale, Payless, Disney, Coach, PacSun, Forever 21, Vans, Zumiez and Uniqlo. Attorneys general from the states of California, Connecticut, the District of Columbia, Illinois, Maryland, Massachusetts, Minnesota, New York and Rhode Island signed the letters.
""On-call shifts are not a business necessity, as we see from the many retailers that no longer use this unjust method of scheduling work hours.""
In 2015, New York Attorney General Eric Schneiderman began an inquiry into on-call scheduling. As a result, Urban Outfitters, Victoria Secret, Gap and other retailers announced an end to the practice. Some, however, ended on-call scheduling only in their New York stores.
A statement from Schneiderman's office on Wednesday states that "[o]n-call shifts are not a business necessity, as we see from the many retailers that no longer use this unjust method of scheduling work hours."
While the attorneys general are focusing on on-call scheduling for the moment, it is simply the worst of a range of haphazard staffing optimization methods that keep employees from being able to plan their lives properly, according to Wasser.
Retailers can also reserve the right to change schedules at a moment's notice or break up shifts into two parts with a short break between. Employers can also shorten shifts, sending employees home after just a few hours, even if they were scheduled to work a full eight-hour shift. However, they get paid only for the time they worked.
As a result, retail employees end up having to carve much more time out of their schedules than they are actually paid for. These scheduling practices can make it nearly impossible to find childcare, have a second job or go to school.
A recent survey from JDA, one of the makers of retail scheduling software, found that about half of retailers still do some form of on-call scheduling. But scheduling software isn't usually rearranging shifts at the last minute — it's mainly done by the humans who manage the schedules. "Among respondents who practice on-call scheduling, only 20 percent are using automated software, with 80 percent claiming store management handles it directly," the report says.
"Really what [retailers] are doing is trying to push the business risk onto the backs of their employees," said Wasser. "But the employees have no chance at the rewards that come with that risk."
When contacted about the practice, the National Retail Federation, a trade group that represents the industry, directed HuffPost to past comments about the issue. A brief on the group's website says, "Retailers need flexibility to adapt to changing conditions in a store, and they don't need the government telling them how to do what they do best – run their businesses."
But not all retailers agree.
In its announcement that it was ending its on-call practice worldwide, retail giant Gap said nearly the opposite: It's the employees who need flexibility. The statement says, in part, that "work-life integration enables all employees to reach their full potential and thrive both personally and professionally. We recognize that flexibility, inclusive of consistent and reliable scheduling, is important to all of our employees."
More broadly across the business world, there isn't a ton of support for the practice of making employees remain on-call.
A recently leaked survey of 1,000 business executives across the country conducted by Republican pollster Frank Luntz shows that 78 percent of business leaders support scheduling systems where employees know when they'll be working, while only 11 percent oppose it. (Eighty percent also support increasing the minimum wage.)
HuffPost reached out to all 15 retailers who received letters, and will update the post as we hear back from them. So far, representatives from Payless and Forever21 told HuffPost the company does not engage in on-call scheduling.
American Eagle Outfitters told HuffPost that the company advised stores to stop using on-call shifts in November 2015, and is "taking steps to reinforce and assure adherence to this policy across our store fleet."
Here's an example of one of the form letters the attorneys general sent out Wednesday: