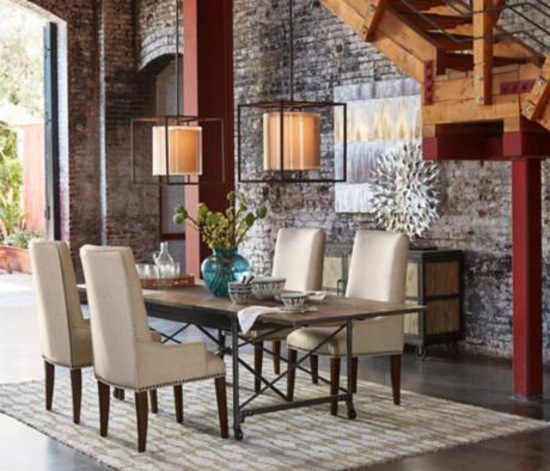 A popular interior design style right now is Industrial Chic.
An Industrial Chic interior doesn't require steel columns, exposed beams or brick to work. Any space can take on the Industrial Chic look with the right combination of lighting, furniture, and home décor.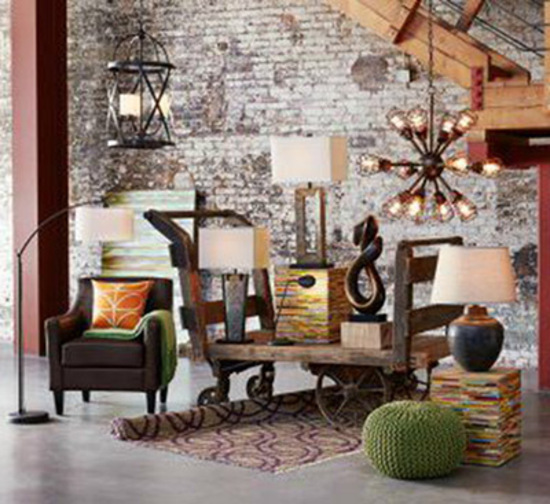 Choose utilitarian-looking industrial-style fixtures and lamps to bring some Industrial Chic into your space. An industrial-looking chandelier with exposed filament bulbs is a great way to create a focal point in your space.
Furniture with an industrial vibe or simple lines is a key element in this look. Pieces made from reclaimed wood or have a matte metal finish are perfect in an Industrial Chic interior. A bookcase with salvaged wood shelves or a metal coffee table with rivets are great places to start.
It's important to bring in some soft silhouettes and furniture with more traditional lines when decorating in this style to soften the hard edges of the other furnishings. Add a comfortable leather arm chair or natural colored slipcovered sofa create a cozy atmosphere.
As with any style space, the right mix of accessories will really bring a room together.
Texture is very important in the Industrial Chic style as the color palette is very neutral. Layer in some decorative pillows made of different materials and textures to bring both visual and tactile interest into your space.
By using the above ideas for lighting, furniture and accessories you will be well on your way to creating a chic, industrial style space.
For more Industrial Chic inspiration check out the video below:
So, how will you be incorporating this trend in your home? Leave a comment below!
Related