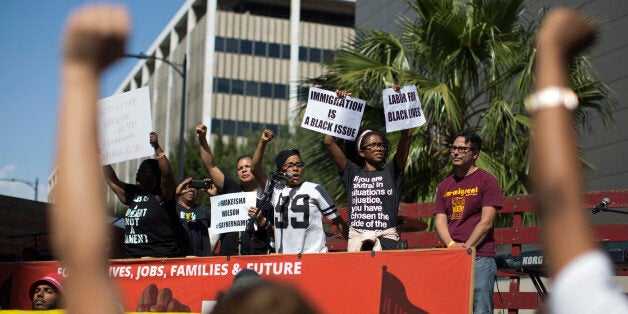 The police officer who shot and killed Philando Castille in Minnesota, Jeronimo Yanez, was Latino. That shooting added to the narrative of yet another white officer killing a black man. In Dallas one police officer killed with four others by Micah Johnson, was also Latino, Mexican-American Patrick Zamarripa.
He was targeted by a black man who reportedly wanted to kill white police officers in retaliation. Both officers were initially reported as white adding to the complexity of reporting about the nation's largest racial/ethnic minority. In December 2015 in Yonkers, New York an unarmed black man was killed by police when he ran into the woods after a car chase. The excellent police shooting database reported by The Washington Post listed the victim, Miguel Espinal, as black. Each of his relatives named in all of the local reporting had Spanish-surnames, as does he -- an Afro-Latino who lived in a country still stuck in a black -- white binary. And just this month in the days that enveloped the shootings in Baton Rouge, Falcon Heights and Dallas five Latinos were killed in police encounters with barely a ripple of media attention. Raul Saavedra-Vargas, 24, in Reno; Pedro Villanueva, 19, in Fullerton, California; Anthony Nuñez, 19, in San Jose, California; Vinson Ramos in Los Angeles; and Melissa Ventura, 24, in Yuma Arizona.
One was allegedly armed with a gun, two with a knife and two were killed while driving. Maria Teresa-Kumar got it right in stating that mainstream media segregates us into neat categories: police abuse is a black issue, immigrant abuse is a Latino issue. Thus the absence of accurate coverage. All true but there's a lot more nuance here. Frankly, from the outside Latinos appear to be a lot more complicated. But at least on one front it's not complicated for Latinos who live in urban America. The solidarity that Latinos have shown, and continue to build, with black America on policing, criminal justice, and drug policy reform is premised on a simple fact: we are black too. Afro-Latinidad, as Yara Simon notes in the Remezcla website, is an integral part of who we are.
Historically, well over 20 times more enslaved Africans reached Latin America than reached the U.S. Michael Eric Dyson recently noted how whites in America are given binoculars at birth "to see black life from a distance, never with the texture of intimacy." The binoculars equate to privilege, he said. For the majority of Latinos who share space with African-Americans and Afro-Caribbeans in urban America our common agendas were forged decades ago.
In New York City alone the first activist to spark an organized response to the racist Stop & Frisk practices of the NYPD was Puerto Rican, Richie Perez who teamed up with the Center of Constitutional Rights. And Richie was a light-skinned 'Rican at that. Mind you, solidarity here is not always operating in a straight, direct fashion. Racism within the Latino community continues to halt the progress of Afro-Latinos within Latino social, public and private spheres. And its systemic effects across generations require constant vigilance for the sake of true reform. And yet this still does not address the invisibility of a Latino collective response to policing and criminal justice reform. In this regard, what is more of a challenge is the heretofore anemic response from Latino leaders and organizations to police violence - although that finally appears to turn a corner in 2015 at least with the membership of the National Hispanic Leadership Agenda.
Or the silence of the Catholic Church to police killings in places like Los Angeles, compared to the black church everywhere else in the country. Or the way all Latino activism keeps getting cabined into immigration reform. Or the proportionate share of Latino police officers in Los Angeles County that changes the dynamics of us versus them in that part of the country. Finally, another factor that contributes to the lack of media coverage is the lack of data. It was only as recently as 2013 that the FBI Uniform Crime Reports (UCR) finally inserted a field for Hispanics. Submission of UCR's are notoriously haphazard since all of it appears to be voluntary for police departments throughout the country.
In fact, in 2015 eleven states either failed to report out how many Latinos were arrested or incarcerated in their systems by continuing to report only in black and white terms or they failed to issue any demographic data whatsoever. In 2016 you would think that by now the federal government would have devised a better way to condition federal law enforcement grants in return for better data collection.
Not yet. This abysmal lack of accountability permeates mainstream media reporting on Latinos affected by the criminal justice system. It even compromises the demographic profiles of even the best intentioned reformists many of whom report on all facets of the punishment industry in a black and white binary even in 2016.
All of this has to change.
Popular in the Community