Up to this point, what we've heard from Brett Dennen is a young man with dreams, breaking through the surface with his art.
At the embrace of "Por Favor," (his sixth album, available May 20) all sides of the man, now 36, would change - one to the next, then to the another, and to the one after that, toppling like dominoes. The entire makeup of the man turned inside out.
"Por Favor" establishes the point of singularity and Dennen didn't hold back when it came to the emotional beats. Indeed, it's a thrill to hear Dennen go through this process, uncovering self-truths and forming new questions along the way. "Por Favor" paves a redemptive journey into a heart that's not always happy and draws a portrait of a maturing artist mired in shadow pining for daylight.
In this clever collection of hopeful renewal, Dennen runs and doesn't tire; sometimes serene and sometimes fierce, "Por Favor" nourishes healing assertions and sounds.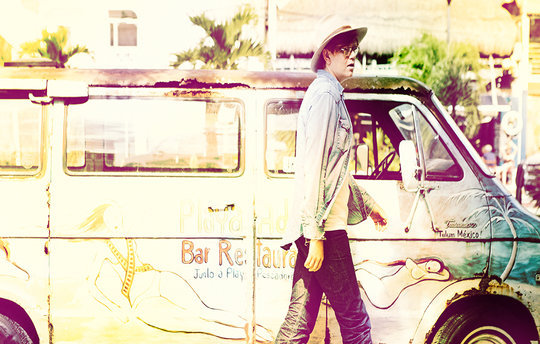 The call of the music drove him to the place where he finally understood he could not outrun himself. And the beauty here is that no matter how much disappointment has cast a spell, and, no matter how much he doesn't believe in himself, Dennen perfectly presents his unsettled life. While lyrics rise as a storm behind his eyes, the music serves up soothing grooves to the air of an indomitable voice.
"I've never thought about the big picture, about what's at hand before," said Dennen. "Yet, more and more, I have the understanding of it, because I have 5 previously released albums now. I am more in the moment when I sit down and write. It doesn't have to be my 'rhythm and blues' record, or my 'country' record, or my 'Christmas' album. It's simply in the moment. But you've got to keep turning the page and moving on. I've learned that when writing and recording to be specific and true to yourself in the moment.
"I think I needed to grow and change and explore different directions, explore the melody and concepts and influences of different genres. I am trying out different places with my voice. It's a progression and I'm expanding my voice more and more. I have no vocal training or vocal coach, just figuring it out as I go, keeping it in the range that feels good."
Dennen's latest album is not only a cogent document that shepherded him through tenuous times, but a rendering of the perfectly incomplete allegory of art.
"I think there is an understanding that an album can never be complete and there is the tendency to want to make it better, and by attempting to make it better, you run the risk of taking away the natural authenticity that would be there if you had left it alone. I am of the mindset of celebrating the incomplete nature of the world of art. It's undercooked just enough and still in its raw tender state enough to be good. That's a hard place to figure out. There were times when I felt my vocals didn't sound confident, but (producer) Dave Cobb was great at getting the song done. Cobb is great at the art of working quickly and getting rid of the bullshit."
Producer Dave Cobb and Dennen met through a mutual friend; Cobb said that he heard Dennen's demos and was hooked.
"I love Brett,' said Dave Cobb. "He's a lineage of Paul Simon and I love Paul Simon. There is truth with his pen. He has the humor and wit and weight all in one fell swoop. He's doing it for the right reasons and what you hear is him being him. The record has a world aspect to it and it embraces that - African and Jamaican rhythms that play up on his story and get to know his story as a human being. The album plays to his strengths. In his darkest songs, he still has a light. He sees and hears the good in humanity. Even the really slow stuff creates uplifting and danceable songs."
As much as we'd like to ignore or suppress it, heredity and upbringing unmistakably rule our actions. Dennen didn't experiment with the guitar until his early teenage years. Unconfined by the tight parameters and way-too-defined expectations of institutionalized schooling, Dennen was home schooled and he whittled away the hours drawing, painting and writing poems.
"I was also comfortable at being creative and home schooling helped me identify myself as an artist," said Dennen. "I played little league baseball and I remember thinking, 'What else do I do really well?' I focused more and more on being an artist. No one taught me how to paint or play guitar, it's mostly figuring it out on your own. Adults tell themselves they can't do it or they can't pick up playing a guitar or the piano and some have turned off the gene firing in their brain, and the instinct to figure something out. Many have lost touch with that. What I like about working with kids is that it is always a reminder that the kids are the teachers, and they don't even know it."
Indeed, Dennen's sound has roots in the undeniable California charm of his upbringing.
"For sure," said Dennen. "For example, there is an energy to a place like Nebraska, right? It's desolate, and that has an impact on the soul. We are all born into a certain legacy. California is vastly diverse. Yet there is a certain kind of newness to California. I grew up in a farm town and I was also a part of the mountains, close by the Sierras, and near the ocean, in Santa Cruz. A lot of the minds that move to California are looking for something, if it's a goal or self-renewal, looking for something fresh, and California has a full source of energy to tap into.
"The spirit of California has a strong connection to the landscape. The mountains are a strong presence, green, and full of life, the energy is quiet. At home in Venice Beach, I try to get in the water every day and the ocean is constantly crashing and a constant rejuvenation. Sunshine makes it all feel chill and laid back. Music in California is rich, the heyday of California music, Joni Mitchell, Crosby Stills and Nash, The Eagles, Cat Stevens in Malibu. Whatever it has, it is something I gravitate toward for my own creativity."
Dennen harnessed and tapped into his internal energy and used it to advance the cause of "Por Favor." The upshot is the vibrant feel of the guidance of a good friend at a critical juncture.
"The album came from a time of vulnerability," said Dennen. "Who you think you are is always up for change. There are times when I'm a real confident person, and, at times, I'm insecure. When I first started writing, I was a little more shy, insecure, and naïve. I've tried to strengthen my own identity through being an artist. Art is creating the person I want to be through it and creating the world I want to exist in. But there have been curveballs. Losing a friend. A rocky relationship. Losing things in a fire. Losing a childhood home. Getting to the age where mentally and physically I've changed, and asking myself is it all worth it? Traveling a lot, while it is inspiring, it begs the question of whether or not I'm making a life that has meaning or not.
"There is the self-pressure of living up to the songwriting standard, the standard I've set for musicianship, and of pleasing the fans. The process of songwriting - asking is it good enough as it is, are the lyrics or music good enough - even without saying anything, is scary. These are slippery places to put myself in, and it's a very vulnerable place I've been in for a long time. It's me asking for help and asking people to take me as I am."
Dennen's sentimental groans gush forth like waters in a flood, his voice marvelously soft and pliable. His aspirations for certainty make the album poetic, especially on tracks such as "I'll Be On Your Side," which rings with the rawest of Dennen's power.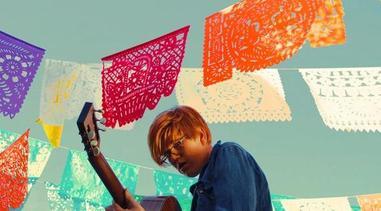 "The trend of this album was a lot of really sad songs, a rainy day record, a little slow and moody, and some of them made it on the record. Some others were happy sounding, with a tinge of the sadness of complexity. That is pretty much my general nature. That's the mark I want to leave on the world, for sure. Those few happy songs -all of them made it on the record. It was soothing in helping myself feel good."
Owning a catalogue of upbeat songs is helpful to Dennen when he is on the road touring.
"There are musicians who go through a breakup, or something bad happens to them, and they crank out an album," said Dennen. "But I've never been one to be on the stage while people are commiserating with me. I like to see them sing along and dance. Then, maybe every 3, 4 songs, I do something that will break their heart. But I bring them back in. I want them to leave feeling better than they did when they got there. Performing 300 shows a year, it really helps when the music and the people that drive you and, who you attract, are positive. I'm 12 years into this, and 12 years of anything is a career. It's not going to get easier and I need to keep pushing myself to write and perform and stir up those things inside of me that I need to express, and I'll be alright."
Dennen bends all purposes to the process of seeking, finding, becoming, and serving his art.
"I use to dream of being the musician who has a tortured soul, and lives in torture, and I tried to write that way. But you've got to come up for air. It's more now about writing as a way of figuring out who I am. I'm not a great communicator or good at talking with friends or family about the hard stuff. Writing stirs up the emotions that I have, like tapping into the tree and letting a little bit out. It gives me a better understanding as to how I handle emotions in my own life."
Dennen said that when recording he finds himself in a different body, so to speak, and he can now decompress a slight bit and enjoy and share the bounty of "Por Favor."
"When I'm making a record, it's a different mode that I inhabit. It is the constant state of asking, of reflecting, and of thinking, and of questioning myself. I'm proud of this record and I know fans will like it. There is enough subtle complexity that it's going to creep into people, grow on them, and get them keeping the faith."
Photos courtesy Brett Dennen.

Brian D'Ambrosio's latest book, "Life in the Trenches," earned an independent book award for non-fiction. It offers 37 narratives and stories of modern day trench warriors - including Stephen King's favorite folksinger (James McMurtry); a Greco-Roman wrestler and MMA forefather from the Midwest (Dan "The Beast" Severn); entertainment wrestlers so convincing as villains that they repeatedly put their own lives in danger (Ivan Koloff, "Rowdy" Roddy Piper).
REAL LIFE. REAL NEWS. REAL VOICES.
Help us tell more of the stories that matter from voices that too often remain unheard.