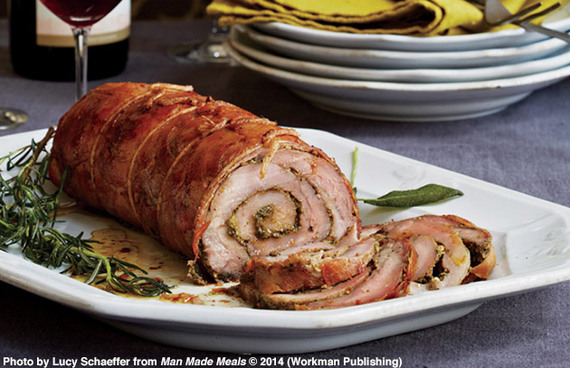 Porchetta (pronounced "por-ketta") is a spectacular roulade of pork -- whole hog traditionally, or shoulder or loin -- rich with crisp belly fat, blasted with garlic, herbs, salt, pepper, and citrus zest. Ancient cookbooks housed in the Vatican library suggest porchetta, which was traditionally spit-roasted over juniper wood fires or roasted in pits, originated in the Roman town of Ariccia as early as the 13th century. Today, porchetta is a popular street food in the city, hawked from white vans and typically sliced and served on panino.
Porchetta came to North America via Italian immigrants in the early 1900s. In Philadelphia--a town that knows a thing or two about sandwiches--porchetta is simply known as "roast pork"; it is served on a crusty roll with melted provolone and sautéed broccoli rabe or spinach. (Order it at Reading Terminal Market.) Another North American porchetta hub (where it is spelled porketta) is Sudbury, Ontario. Brought to this remote region by Italian nickel miners, locals still play "Porketta Bingo" on Saturdays. The prize? A pound of sliced dill-inflected porketta. Count me in.
While porchetta does make amazing sandwiches, its highest calling (IMHO) comes when it's served whole. Your friends will gasp with admiration when you slice through the mahogany-colored crackling-crisp pork skin to reveal luscious layers of meat and pork fat, then shingle it on a large platter with grilled oranges and sprigs of fresh herbs. It's perfect for the holidays--relatively inexpensive, easy to slice, and a guaranteed crowd-pleaser.
One good place to start if you're a porchetta virgin is with my recipe in Man Made Meals. Instead of a whole pig, my less intimidating version begins with a butterflied pork loin and exchanges pork belly for pancetta--Italian uncured bacon.
SIGN UP for Steven Raichlen's UP IN SMOKE newsletter to learn more about barbecue!
Steven Raichlen is the author of the Barbecue! Bible cookbook series and the host of Project Smoke on public television. His web site is BarbecueBible.com.