"They just don't write 'em like that anymore!"
That classic turn of phrase kept running through my head watching Porchlight Music Theatre's seductively charming production of Pal Joey -- a classic yet rarely produced 1940 musical comedy. Set in late 1930s Chicago, the musical, written by John O'Hara with music and lyrics by Richard Rodgers and Lorenz Hart, presents the life of Joey Evans, a charismatic, second-rate nightclub performer who uses his manipulative charms to win over the wealthy and married Vera Simpson (or, it could be argued, Vera sees through Joey's tricks and traps him as her toy).
Either way, Joey and Vera get what they need from each other -- she some good sex and a few laughs, he a chance at a flashy nightclub career. Both learn that engaging in such dangerous risk taking is bound to result in hard knocks. But as someone who's dusted himself off and started from scratch dozens of times before, Joey's game for anything. And Vera? Well, she knows how to play the game.
Yes, the story is slight (aside from a limp blackmail subplot, there aren't any real high stakes at play), but that's not the reason to see this excellent production. Under Michael Weber's direction supported by Brenda Didier's delightfully period choreography, Porchlight captures the mood, tone and excitement that drives this musical's vintage heartbeat. It's a quintessential Chicago production that celebrates the working class nightlife that once permeated that "great big town on a great big lake."
As the wealthy man trap Vera Simpson, Susie McMonagle knows exactly who this woman is. Confident, fearless and more than a touch lonely, McMonagle's smoldering Simpson is a woman to reckon with. She delivers the show's most well-known number, "Bewitched, Bothered and Bewildered," with a come hither playfulness -- and, of course, it's exquisitely sung. In the title role, Adrian Aguilar captures Joey's naive charm and misdirected manipulation. And in a breakout performance, newcomer Callie Johnson owns her cameo second act standout song, "Zip" -- a number which helped make stage icon Elaine Stritch a star in the 1952 Broadway revival production.
Doug Peck's music direction makes great use of the rag-tag pit band, relying heavily on a well-worn upright piano to add some vintage credibility to the tuneful Rodgers and Hart score.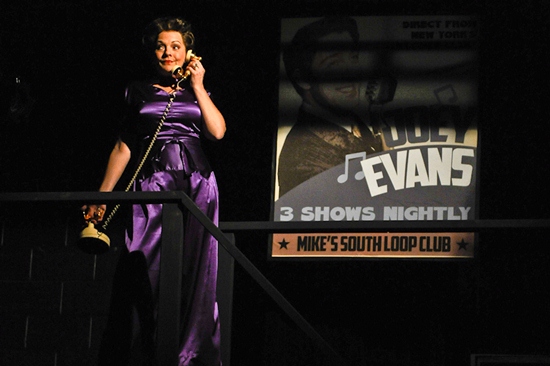 Susie McMonagle in Porchlight Music Theatre's "Pal Joey"