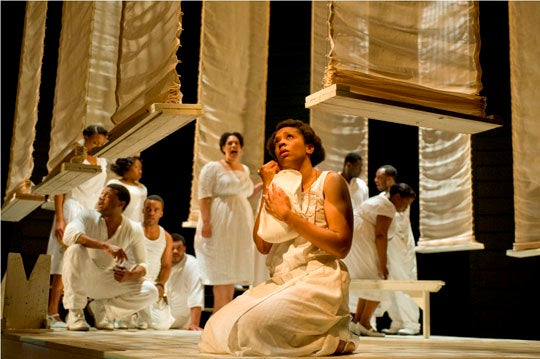 My main experience with Porgy and Bess has been listening to the Miles Davis album. I first came across it soon after discovering Miles early in high school and like many of his albums, I can pick it up after years absence and hear something new.
Being so familiar with one interpretation of Gershwin's groundbreaking score, I suppose it's fitting then that my first performance of the show be another adaptation. There's been a lot of controversy surrounding Suzan-Lori Parks' adaptation and Diane Paulus' direction, so I was surprised that there was nothing too radical about the production.
It's solid, if a little sleepy in parts. The score is heart breaking, and Audra McDonald and Norm Lewis deliver as they usually do. Together, they have a heartbreaking chemistry. David Alan Grier as the hustler Sporting Life, though, just about steals the show, exuding charm in his every move. He can carry a note too. Still, there's something that's preventing the show from accelerating to its full potential. I couldn't help but think how powerful Dubose Heyward and Ira Gershwin's lyrics must have been to the first audiences that glimpsed Porgy and Bess in 1935 and wished we could have felt more of that.
Athol Fugard's 1988 play, The Road to Mecca (currently being revived at the Roundabout's American Airlines Theatre), has subtle charms that are hidden behind layers of exposition. The first act drags a bit as almost all of the action between the characters, Helen (Rosemary Harris) and Elsa (Carla Gugino), is talked about rather than lived, but if you hang on, you're rewarded with a deeply affecting character study about an artist and a teacher struggling to express themselves in Apartheid South Africa.
Harris is stunning as the artist who realizes her work is complete, and Gugino exudes thoughtful passion as the schoolteacher who believes there's a truth outside the textbooks her students deserve to learn. The have great chemistry together as two unlikely friends bound together by shared ideals. The excellent Jim Dale rounds out the cast as Marius Byleveld, a minister who holds up the status quo. When the three are on stage together in the second act, it's positively electric. Fugard twists our expectations and uses political undertones to complex questions of human motivation.
The Lower East Side cocktail lounge 1534 packs a lot of warmth in a little space. Oozing tropical vibes, the bar serves up potent potables (a gin, lime juice and cardamom mixture was particularly memorable) and tasty bites. At their recent one-year anniversary party, I munched on croque monsieur bites, lamb meatballs, cod fritters, and Alsatian tarte. While all were quite good, I kept looking out for the girl wielding trays of the meatballs. They were perfectly moist, slightly gamey, and positively addictive. I can't wait to go back for more.
As the weather dropped to freezing last week, I decided to check out Jeremy Bearman's new winter menu at Rouge Tomate. With a classic ambiance that belies its former life as the Copacabana club, the restaurant teeters on the line between festive and tranquil. The menu itself embodies the understated extravagance of Bearman's cooking. Amuses containing lobster, caviar, a quail egg, and an oyster don't overpower as their ingredients would suggest, but rather open the palate for the treats to come.
First, a crudo with avocado and cuttlefish melts in the mouth and pairs nicely with a 2008 Riesling from Burklin Wolf. Next is butternut squash soup that opens its arms and embraces you with layers of silky comfort. My favorite dish might have been the black truffle risotto. It's delicately cooked and paired with Portuguese Madeira from 1973. Those two could make a fine meal alone, but the squab that follows is not bad either. I could skip the pear and dulce de leche desert that followed but the accompanying organic cognac from Paul-Marie & Fils that it came with was an ideal way to cap off a 3+ hour meal.
I found a different kind of fullness at St. Ann's Warehouse the other night where Daniel Kitson spins tales with a mathematical precision in his latest one-man show, It's Always Right Now, Until It's Later (running through the 29th). He traces the lives of two people, William Rivington and Caroline Carpenter, who share an accidental moment midway through their lives. The meeting, though, doesn't come until nearly the end and most of the 90 intermission-less minutes are spent talking about the smallest details in their individual lives along with some monumental events such as the time Caroline fell off her bike while flying down a hill.
What's interesting about that moment is Kitson focuses on the moment before she crashes and has to go to the hospital for stitches. He acknowledges the inevitability of this, but then he freezes time to savor the moment when she is wrapped in weightlessness and the joy of endless possibilities. Using a series of light bulbs strung across the stage to represent all the moments he illuminates for us, Kitson takes us through their lives from birth to death just not in that order. As in his previous show, The Interminable Suicide of Gregory Church, Kitson weaves a story that's so oddly specific it feels terrifically universal.

REAL LIFE. REAL NEWS. REAL VOICES.
Help us tell more of the stories that matter from voices that too often remain unheard.