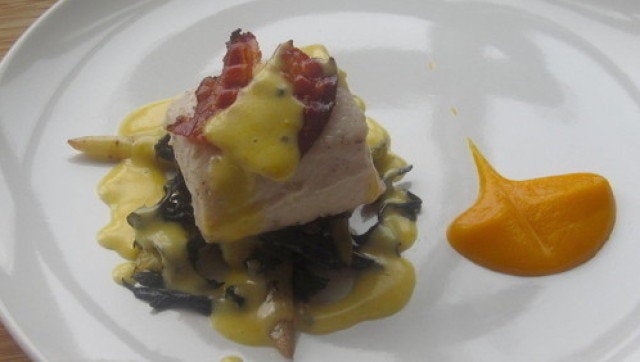 In so doing, I entered the Forbidden Food Zone several times over, through at least three different gateways. One: I was raised in a kosher household where pork was reviled, except the barbecued spare ribs that we secretly bought from a Chinese restaurant and ate on paper plates. Two: I was a vegetarian for twenty years and I still neither cook flesh at home nor order it in restaurants, but eat it only when doing so is required for work, which makes me either a hypocrite or a prostitute or a wishy-washy unprincipled flexitarian. Three: I was anorexic on and off for ten years before becoming a vegetarian, during which time I scrupulously avoided eating anything at all during daylight hours, and certainly not desserts, and certainly not pork desserts.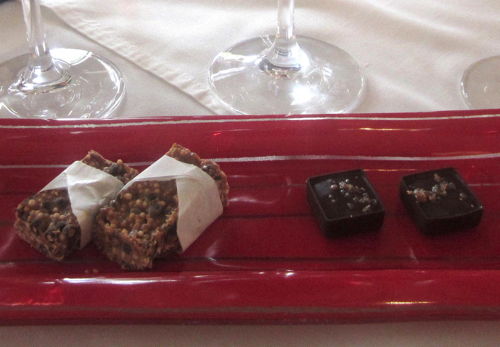 So yeah. One day two weeks ago at Dry Creek Kitchen in Healdsburg, Calif., I ate rich, chewy, bacon-studded chocolate-chip candy bars and aromatic, melt-in-the-mouth chocolate truffles topped with pulverized chicharrones. (Both are depicted above. See recipes below.) Hey, it was for a good cause.
The truffles and bars were the final course in a lunch previewing Charlie Palmer's Pigs & Pinot, an annual wine-and-pork celebration at which much-laureled restaurateur and hotelier Palmer (who is DCK's Executive Chef) along with his fellow celebrity chefs and master sommeliers pair wildly famous and obscure, hole-in-the-wall Pinot Noirs from all over the world with pork dishes, on the premise that pork and Pinot share far more than just a P. Set this year for March 22-23 at the Hotel Healdsburg and h2hotel, the weekend is surrounded by a full month of special events. All net proceeds benefit scholarship funds, local charities and Share Our Strength, a nonprofit that feeds hungry kids.
Eat pork desserts to help the poor? Heck yeah.
The afternoon started around the corner from the restaurant in the demo kitchen of Relish Culinary Adventures, where Palmer and DCK Chef de Cuisine Dustin Valette prepared versions of the entrées that we would be served later that day, both of them appropriately porky: One was local Duroc pork "porchetta" with baby-turnip purée, escarole and Pinot Noir jus. The other was bacon-poached swordfish with house-made bacon "chips," bacon fat Béarnaise and black trumpet mushrooms, hand-foraged on the wild Pacific coast. In the first dish, the escarole was dotted with ham hock, whose braising liquid augmented the jus. In the second dish, blocks of local swordfish were compressed with rendered house-made bacon and sous vide.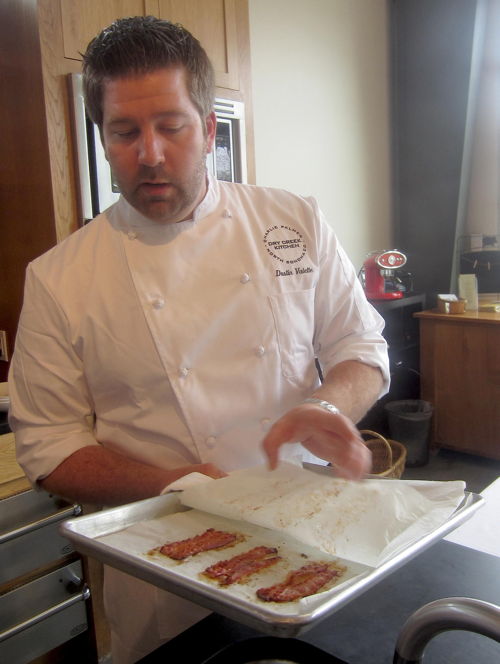 "Swordfish and Pinot go together. It's all about the smokiness and the floral aspect of Pinot," said Valette, seen above examining the bacon that would be used in the dish, which he dubbed "Bacon to the Third Power."
"Pinot Noir is one of the most versatile wines," Palmer mused, preparing the pork tenderloin which had been marinated in chili, garlic and toasted cumin and wrapped with raw pork belly sliced paper-thin. "It doesn't go with salad. It doesn't go with steak. But it brings pork dishes to a whole new level with its bright, fresh, upront fruitiness."
Pigs & Pinot was born a few years back when Palmer (seen below) and his friend, local winemaker Daryl Groom, "had a discussion over too much wine," in which the pals decided that "one of the greatest combinations in the world is pork and Pinot -- so let's come up with dishes that go with Pinot, and every dish is going to have pork in it. Not over-the-top pork, but pork -- maybe in a subtle guise such as bacon dust or stock."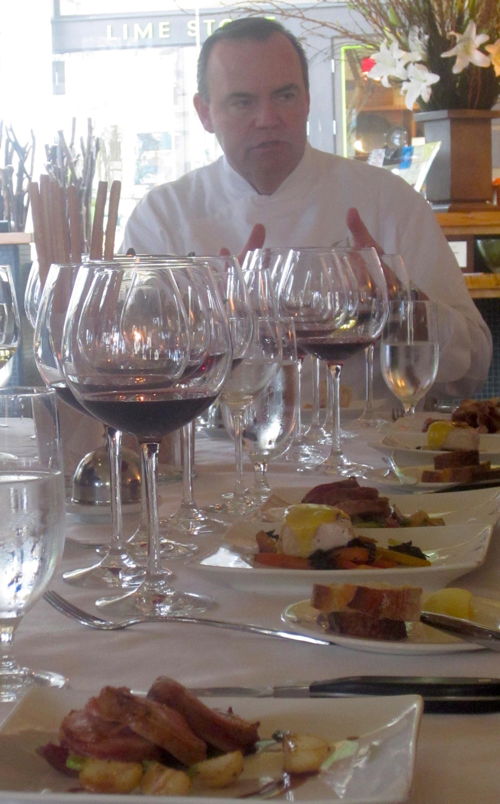 The finished swordfish entrée looked like this: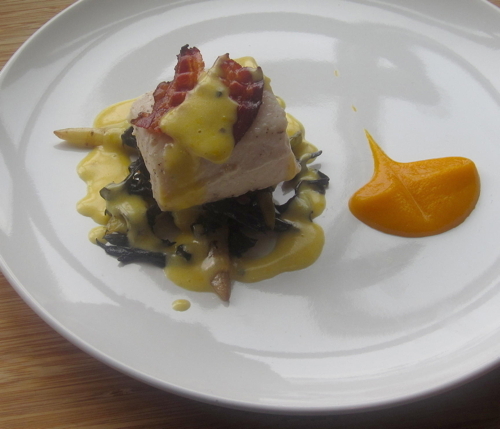 I asked Palmer whether he had ever eaten anything which the presence of pork had worsened, not improved. He replied that a blood-orange panna cotta sprinkled with bacon dust was one of the "worst ideas I've ever tasted." He explained that if you're going to use bacon or bacon flavor, you must ensure that it will either enhance or contrast appropriately with its fellow ingredients.
Asked the same question, Valette said he thinks everything gets better with bacon. He couldn't think of anything into which he couldn't incorporate its streaky, meaty smokiness.
DCK pastry chef Andrew Di Clementi shared with me his recipes for both desserts:
Pinot Truffle with Chicharrón
1 c Pinot Noir
1 c cream
1 T + 1 t corn syrup
7 oz bittersweet chocolate
5 oz milk chocolate
1-1/2 oz butter (room temperature)
1 t vanilla extract
Finish the Truffle
Bag of pork rinds
Cocoa powder
Bittersweet chocolate
Method: Reduce Pinot over low heat in small pot until about 1 tablespoon of liquid is left. Set aside to cool. Cut butter into small pieces; set aside to reach room temperature. Place chocolate in a heatproof bowl; place the bowl on top of simmering water and melt chocolate until smooth. Remove chocolate from heat; set aside. Bring cream and corn syrup to boil over medium heat. Add hot cream to chocolate; stir from the center outward until it is smooth and silky. Add butter pieces to ganache, stirring until all the butter dissolves. Finish ganache by adding the now-cooled reduced Pinot and vanilla extract.
To finish the truffles in the restaurant, we fill hollow truffle shells. If you can't get your hands on these, do the classic truffle look with a twist. Let the base cool in the fridge for a few hours until it is set. Using a teaspoon (or -- my favorite -- using a teaspoon- or tablespoon-sized ice-cream scoop), scoop ganache onto wax paper and roll into balls. If the ganache starts getting too soft, replace in fridge and wait 30 minutes before continuing. Now for the truffle coating, place some of the pork rinds in a zip-lock bag and smash into a powder. Add a few tablespoons of cocoa powder to the bag, mix it all together and pour mixture into small baking dish. Melt the chocolate as you did before in a heatproof bowl over simmering water until smooth. Remove from heat and, using a fork, place a few ganache balls into the chocolate, rolling them around to coat. Place the now-coated ganache balls into the cocoa-powder mixture and roll them around using a clean fork until coated. Remove from cocoa powder and place on clean wax paper on a tray. Repeat the process until all ganache balls are coated. Place in fridge until fully set, then refrigerate in an airtight container until ready to serve.
Ingredients:
4 oz white chocolate
4 oz Valrhona's Caramélia (milk chocolate)
8 oz peanut butter
7 oz Valhrona chocolate pearls
3 oz Rice Pearls
8 pieces bacon, thinly sliced
Method: Prep an 8" x 8" pan with wax paper, making sure to have extra strips of paper lying over the edges to help with removal later. Place bacon on sheet tray and bake in 325 degrees Fahrenheit oven until crispy; let cool before chopping into small pieces. Melt the chocolates in heatproof bowl over simmering water until smooth. Remove from heat and add peanut butter. Now fold in the chocolate pearls, rice pearls and bacon and mix until fully combined. Pour mixture into prep pan and smooth out into an even layer. Place bar in fridge to set up. Once set up, remove from pan and cut into 1 inch or 1 1/2 inch pieces. Store in an airtight container in the fridge until ready to serve.