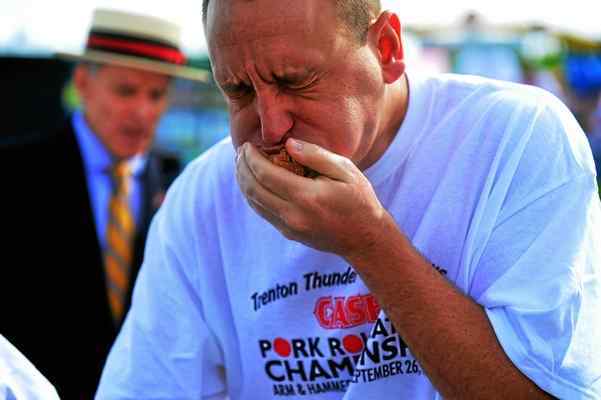 Crazy Legs Claudius Here - heading into my third year battling my greatest adversary - Pork Roll Ham(Let) at the Trenton Thunder World Famous Case's Pork Roll Eating Championship. Why compare this Major League Eating event with a most difficult food and myself to Ole Billy Shakespeare's two fiercest rivals? Well, Cliff Notes is now available online (where most of the literary info has been gleaned for this post) and my battle with Pork Roll goes far beyond the Hatfields and the McCoys or Trump vs America.
As Claudius, (according the professor of Cliff Notes), I am socially adept, with great charm and can turn mourning into celebration (you should attend an afterparty to see this magic happen.) Pork Roll Ham(Let), recognizes that his "offense is rank" and "smells to heaven," [Cliff Notes, internet page…well, cliff notes]. He is fine with his actions and will live with his consequences (a lot of disturbing burps.) Pork Ham(Let) kills in the light of day and suffers the pangs of his conscience (Pork Roll as a sentient being - I shutter.) As Claudius, I subvert my conscience and refuse to ask for divine forgiveness (or Alka-Seltzer.) The final quote from Cliff Notes on the subject (really like a George Shea intro, but George never buries the lead:)
"Hamlet seeks contrition and absolves himself of guilt before he dies; Claudius receives no absolution and seeks none. Hamlet will spend eternity in Heaven; Claudius will burn in Hell."
So there you have it. This epic battle will take place at 3.30pm Eastern, on Saturday, September 30, 2017 at the home of the Trenton Thunder, ARM & HAMMER Park, 1 Thunder Rd, Trenton, NJ 08611. While "Cutthroat" Carmen Cincotti attempts to obliterate Joey "Jaws" Chestnut's Pork Roll record of 43 sandwiches in ten minutes, I, Crazy Legs Claudius, will attempt to simply get to double digits. I have separated the hardened bologna slices from the rigid roll, I've ripped and dunked the sandwich, it's immunity to softening liquid like Gortex in rain. I've squashed, mashed, mooshed, and manhandled the so called NJ delicacy - and the Pork Roll(Hamlet) has simply killed me. It's smiling mascot, less like a pork product, and more like a red angry pulsating zit, dances joyfully on my grave amidst spilled Gatorade, breadcrumbs, and the rubber strands of uneaten pork roll rinds.
REAL LIFE. REAL NEWS. REAL VOICES.
Help us tell more of the stories that matter from voices that too often remain unheard.
This post was published on the now-closed HuffPost Contributor platform. Contributors control their own work and posted freely to our site. If you need to flag this entry as abusive,
send us an email
.