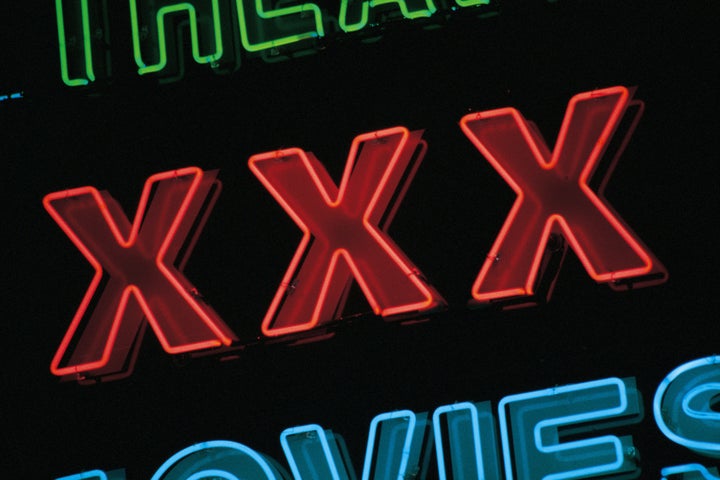 He may have been the world's most wanted terrorist at the time he was killed, but it turns out Osama bin Laden was also a typical man. Evidently, bin Laden had an "extensive" stash of porn at his compound in Abbottabad, Pakistan, according to officials.
There's no way to know if the Mrs. -- or the three Mrs. he was evidently living with -- approved of it or even knew. Most people are secretive about their porn habits. Perhaps they may have watched with him although that's doubtful; although more women are watching online porn than ever -- some 13 million American women were checking it out at least once each month in the first three months of 2007 -- they have yet to come close to guys. Women tend to favor cybersex chat rooms -- we like to talk -- while men go for the visuals.
Face it -- if there's a man in your life, he's most likely watching porn and if you're a woman, you're most likely not too happy about it.
I happen to like porn, but a lot of women get tweaked by porn in part because they think their partner is comparing them to Jenna Jameson and other porn stars; we can be competitive -- or insecure -- when it comes to other attractive women, and there's just no way most of us are going to have perfect breasts and butts, and the sexual responses a porn star does. Nor are we necessarily going to be open to all the positions and, uh, broad-mindedness of porn stars (although I'm guessing few of us would turn away, say, a Brad Pitt-George Clooney threesome; I sure wouldn't).
Polls show that we're pretty evenly divided on whether porn is just part of the package when it comes to men and if it's demeaning to women. We're also equally divided on whether porn is bad for relationships, although if you've been involved with someone who's lost interest in having sex with you because he'd prefer to jack off to some online porn, you're pretty clear on the damage it does.
Still, that's a small percentage of porn watchers. The majority of people view their porn watching as some good, not-quite-so-clean fun, according to the late researcher Alvin Cooper, the former head of the San Jose Marital and Sexuality Center. Only 15 percent of the respondents to Cooper's study said their porn watching actually led to behaviors that interfered with their lives.
But what if you happen to be married to someone in that 15 percent? Is that a good reason to dump him? What about the "recreational" porn watchers?
If you read many of the online advice boards, it seems that a lot of women are fed up with their partner's porn watching and wonder if they should get a divorce. According to research by Patrick F. Fagan, senior fellow and director of the conservative Center for Research on Marriage and Religion, pornography is a "quiet family killer."
Not only does watching porn contribute to infidelity, but a spouse's porn obsession was a factor in 56 percent of divorces, Fagan says.
Divorce attorneys tend to agree with Fagan's findings. At a 2003 meeting of the American Academy of Matrimonial Lawyers, two-thirds of the 350 divorce lawyers noted that the Internet was playing an increasing role in marital splits, with excessive online porn watching contributing to more than half of the divorces. According to Richard Barry, president of the association, "Pornography had an almost nonexistent role in divorce just seven or eight years ago."
Others aren't so sure, but know something's amiss. "The attention paid to the connection between porn and infidelity doesn't translate into anything like a consensus on what that connection is," writes Ross Douthat, a senior editor at the Atlantic, in "Is Pornography Adultery?" "But if you approach infidelity as a continuum of betrayal rather than an either/or proposition, then the Internet era has ratcheted the experience of pornography much closer to adultery than I suspect most porn users would like to admit."
But is the problem porn itself or a guy's obsession with it? Or is there something else going on?
No man in a healthy sexual relationship would choose porn over bonking his flesh-and-blood partner, says San Francisco Bay Area sex therapist and America's War On Sex: The Attack on Law, Lust, & Liberty author Marty Klein. Emphasis on "healthy." So, if a guy's watching too much porn -- whatever "too" much is and who gets to decide that -- a couple now has an out; they can say he has a "porn addiction." "If a wife claims that porn use is infidelity, if a girlfriend claims that porn use means he isn't attracted to her, a disease is a good place to hide," Klein says.
So what typically happens is she puts her foot down -- "Porn or me!" -- and he promises that he'll stop watching. And some guys actually do stop, Klein says. "The rest will do what they did when they were 14 -- they'll do it in secret, feel bad about it and hope they won't get caught. And so a life of lying about sex continues. You can imagine what that will do to the couple's closeness."
Not help it, and I imagine that's how many couples find themselves divorcing over "porn addiction." What about you?

Related