Porn Takes The No. 1 Spot In Top VR Sites By Monthly Visits
Unbeknownst to many, pornography has been the catalyst that has launched many technological innovations. From the printing press to 8mm film, instant cameras, pay-per-view, VCRs, HD and 3-D, the adult industry has always driven technological innovation. Yes, the military actually created the internet, but it was the adult industry that was the early adopter and pioneered streaming video, tracking devices and online credit card transactions. It gave birth to the concept of e-commerce, which included monthly site fees, and continues to drive the demand for bandwidth.
With every new advancement in technology, the seldom-spoken truth has been that whatever the platform, the adult-entertainment industry is one of the first to adopt it and eventually drive its growth. The industry which makes a majority of its profits from online content, is littered with adult-entertainment companies and as such, must stay on the cutting edge of technology to survive.
One such recent innovation, the emergence of VR...In 2012 the Oculus Rift promised the "first truly immersive virtual reality headset for video games," and that it would change the way you think about gaming forever." It did just that by enveloping users in an immersive and life-like experience never seen before. The adult industry saw this growth and began to realize that being immersed in the imaginary and fictional world provided by VR is what porn is truly about.
Companies like Pornhub, xHamster and Naughty America, along with dedicated VR adult websites, began producing content promising fans a true life-like and imaginative experience that is currently altering the way we look at VR. As one of the early adopters of VR in adult content, BaDoinkVR has been a trailblazer in VR porn the past couple of years and has helped in the, "explosive growth of the new method to experience adult content and how it has changed the way people engage with our content," says Xavi Clos, Head of Production, BaDoinkVR.
VR has opened an exciting new channel for adult entertainment and as proven by the infographic below – with 60% of the top VR websites being porn-related and traffic up over 50% in three months – is a clear driving force for the merger between immersive technology and entertainment. This infographic provided by VRPorn.com shows the growth of VR in the adult industry – which has been able to achieve this quick success due to the development of the open specification WebVR, which allows users to access virtual reality content directly through their browsers without having to download anything. One surprising find is that VRPorn.com recently surpassed Oculus.com to take the No. 1 spot in top VR sites by monthly visits (more here).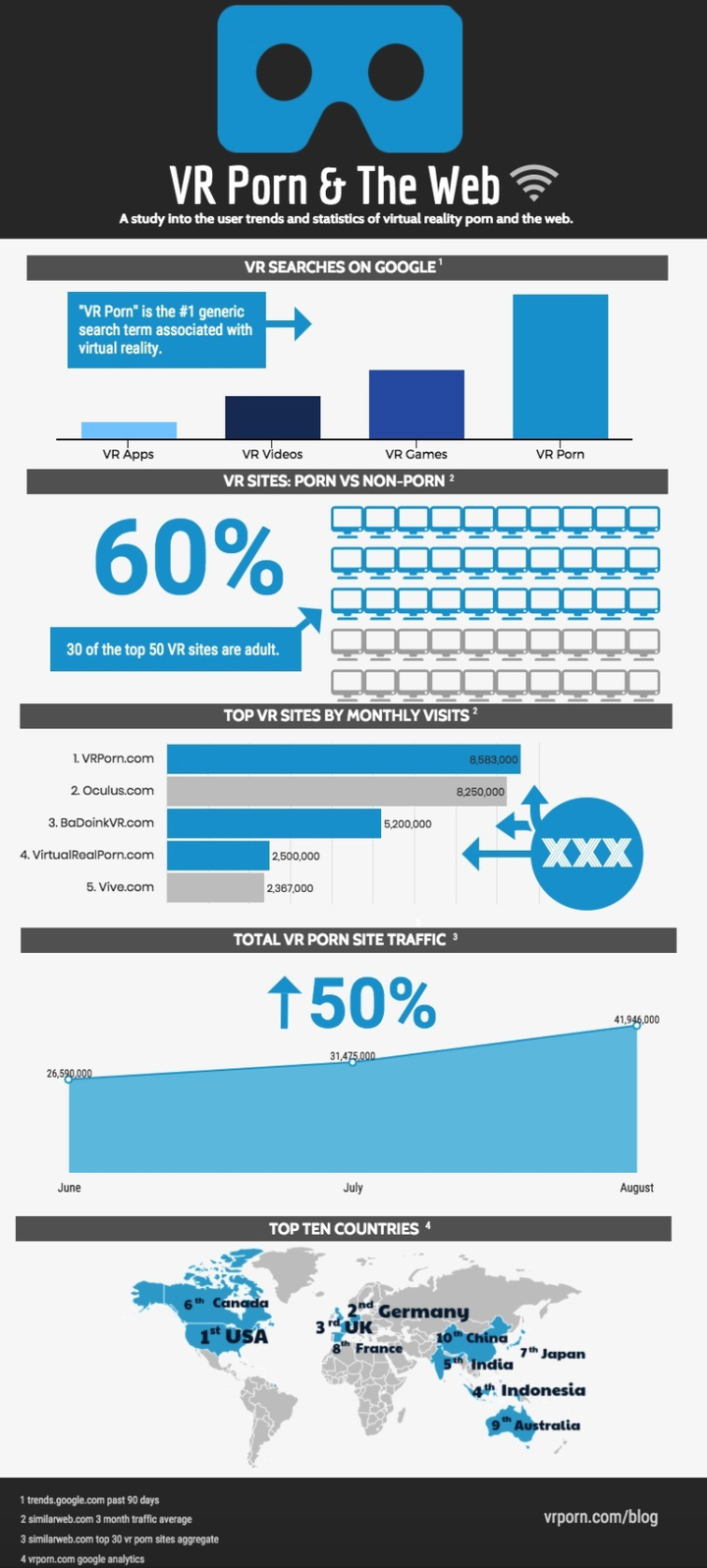 Although Brian Shuster, CEO of HoloGirls VR – the winning studio of every VR porn award ever given out at any major adult industry awards show – wasn't previously aware of this study, he wasn't surprised by its results. According to Shuster, VR porn has allowed its producers to, "innovate and develop filming and CG techniques for a real customer base, and the result is that VR porn companies are years ahead of non-adult companies in our understanding of what customers want in VR, and how to create it. In turn, VR porn is the biggest thing in adult entertainment since the Internet itself."
Due to this early adoption of the technology and massive success, VR porn companies are years ahead of non-adult companies in their understanding of what customers want in VR, and how to create the content. Ian Paul, CIO at Naughty America said, "VR porn was something that we always dreamed about. It started in 2015 after we tried an Oculus Rift prototype and that summer we released our first VR scene and we now release two VR scenes per week." And with the recent announcement of the new Oculus Go headset and its $199 price point, Naughty America expects the rise of VR in all industries, especially porn, to continue. Paul expect sales of the new Oculus Go headset to, "add fuel to the fire of VR porn in 2018, as porn is one of the first types of content users who buy a headset seek out."
And it isn't only the producers of the content that are cognizant of the demand for content, top stars also see VR as the future of adult entertainment. "It provides the user a truly unique and intense experience as the viewer is brought into the scene and made to feel that each word and action is personal. The viewer's computer screen becomes the room in which the activity is happening. When we point to them or reach for them they feel the sense of our closeness. It is a very one on one, or two or three - LOL! – experience," said Brandi Love, adult entertainer. And Ela Darling, VR Content Manager of CAM4, said that VR porn, "creates a higher level of intimacy and a stronger sense of reciprocal attraction while viewers in virtual reality, tend to be kinder and more conscientious as they feel they are present in a performer's bedroom with them." Dillion Harper said that she loves VR porn and how it, "has been able to broaden the horizons of the adult industry. Bringing fans into the scene and making them feel they are right below, on top, or even right beside me." Carmen Valentina adds that VR has led to both a, "boom for the adult industry" and also made it harder for, "people to pirate videos (which is a problem in the industry) as companies put their logos on a TV screen or a picture frame in the room that way no one else can say it was theirs if they stole it."
Daniel Peterson, founder VRPorn.com concludes that VR is growing exponentially and is excited that, "we get to be on the front lines" once again of this new technological advancement.
Related
Popular in the Community