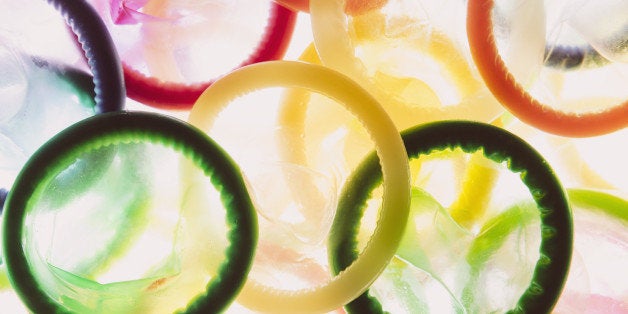 The adult film industry failed to come together and acted too slowly to fight against a Los Angeles County measure that made condoms in porn mandatory, those who work in the X-rated and erotica sector said Thursday.
The acknowledgement by performers and filmmakers came during a panel discussion on the issue on the second day of the XBIZ 360 conference held in Hollywood.
Since 2012, latex has obstructed the adult film industry's ability to produce some pornographic material after Measure B won voter approval. The Los Angeles County law requires performers to use condoms while shooting intimate scenes, over the objections of those who work in the industry. They have argued their own testing standards for sexually transmitted drugs works better.
Christian Mann, the general manager of the production company Evil Angel, said the industry should have spent more money fighting against supporters of Measure B, and especially against the way the performers were being portrayed to the public.
"It's clear to me that the method that was used to get this on the ballot was disingenuous and dishonest and I really think we already lost when it got on the ballot," said Mann, who is a board member of the Free Speech Coalition, the trade association for the industry.
"I do believe if we had gotten involved sooner, before it got on to the ballot we could have won," Mann said.
Measure B was coauthored and supported by the AIDS Healthcare Foundation, whose executive director, Michael Weinstein, has said he crafted the ordinance because all workers in California have a right to be protected while on the job, and that performers are bullied and told if they use condoms they can't work.
But performer and director Jessica Drake, who works for Wicked Pictures, said she resented the image of being portrayed as a victim. Wicked Pictures, she said, has been a pro-condom production company since the 1990s.
"When I got into the industry, I was fortunate enough to come into a group of people who were very straightforward with me about what to expect," she said. "I really felt, and I still do feel, that I was in control of every decision. When I got into the industry I made the decision to only shoot scenes with condoms, but I'm very much of the mindset that it should be a personal choice."
Drake said the adult film industry needs to educate the public more about performer testing standards. Performers are tested every two weeks for HIV, before they are allowed to work.
Adult performer and activist Nina Hartley, who has championed sexual freedom for 30 years, said public perception continues to stigmatize porn stars, which is why she believes Measure B passed.
"We're also fighting against sexuality in our culture," she said. "We represent a low risk to the general public."
Since Measure B passed, Dan Leal, owner of Immoral Productions, said he had visits by the LAPD, the Los Angeles County Department of Public Health, and Cal-OSHA, all because of complaints that performers don't use condoms. He said the federal and state laws have given him little choice if he wants to keep his company in Los Angeles.
"If you want to be compliant, you have to use condoms," he said. "But I think what we need to do as an industry is to educate the general public about our testing policies."
Vivid Entertainment filed suit in late 2012 challenging Measure B, and while a federal court judge denied its request for an injunction, he also delivered a mixed ruling saying that making actors wear condoms during porn shoots doesn't violate the First Amendment, but enforcing such a law raises constitutional questions. Vivid filed an appeal and a ruling is pending.
Will Ryder, the producer and director for X-Play, said when he receives pitches from performers who say they want to work in condom-only scenes, he doesn't reply to them.
"In all honesty, I have really mixed emotions on the subject," he said.
At least three production companies have moved to Las Vegas, where no mandatory condom law exists. Those three companies produce at least 60 percent of all porn, Leal said.
But Nevada has no law protecting porn. Adult films are protected under the Freeman decision of 1988, when the state of California tried to prove that Harold Freeman, a producer and director of adult films, was pimping actors. The California Supreme Court disagreed. As a result, the making of hard-core porn was allowed in California. Only New Hampshire has a similar law.
If the adult film industry moves to Nevada, there could be more government intervention, warned attorney Allan Gelbard.
"It is a very dangerous thing to take a company out of California," Gelbard said. "It could become an issue at the federal level."
The three day XBIZ 360 conference, which focuses on the business behind X-rated content, will end today with discussions on how to expand into digital media, including mobile phones and the use of 4K HD. For more information, go to XBIZ.com ___
(c)2014 the Daily News (Los Angeles)
Distributed by MCT Information Services
Popular in the Community