LAS VEGAS -- Imagine a world where you could customize your own porn.
The woman or man on the screen would wear what you want, do what you want, and, best of all, they'd be uttering your name at that key moment of ecstasy.
OK, you can stop imagining now -- because that's exactly what Tim Stokely has done with Customs4U.com.
His new website is one of many fresh ideas to hit the AVN Adult Entertainment Expo floor this weekend, as porn stars and their production companies converge on Las Vegas to bring a flatlining industry back to life.
At the industry's largest gathering, the AVN Adult Entertainment Expo, it's not about sex anymore. It's about business. Actors pass out free swag to pump up their brand, while exhibitors vie for attention. An industry that once swelled with pride has gone flaccid and is trying to rise again.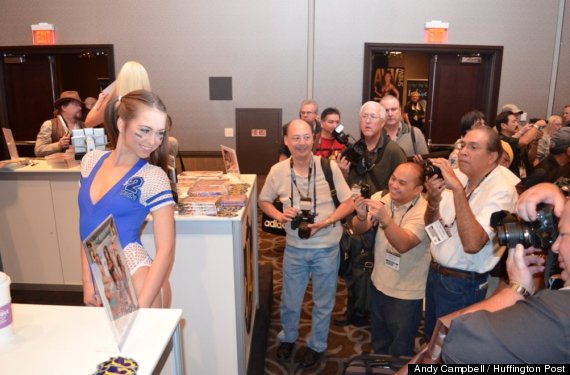 Who will save the porn industry? Short answer: Nobody knows. But there are many ideas out there.
Give Them What They Really Want
Stokely's custom porn site basically acts as an agent for porn stars. It gives them a platform to post videos, and it allows consumers to ask for exactly what they want. Plus, the stars can set their own prices and get complete ownership of their work.
"Basically, Joe Blokes would pay, say, $100 for his own personal movie, where the star is saying his name and doing what he wants," Stokely said. "The model can name her own price ... She logs in and could say, 'I want to receive $100 for a five-minute video and $200 for a 10-minute clip,' or even more if its a fetish clip."
Stokely doesn't take a cut, but he charges the customer a 35 percent markup. For example, he says, if the model wants $50, the video would cost you $67.50. It's pricey, but it's also a one-of-a-kind product.
Netflix changed the way we rent movies, and SkweezMe.com hopes to be your "Netflix of porn," according to its president, James Kirby. When the site launches on Monday, 99 cents will get you 24 hours of access to the site's war chest of full-length videos.
Kirby told HuffPost Weird News that he hopes "fresh, original content" -- like the kind Netflix provides from time to time -- and the affordable daily rate will keep customers coming back. But he had to admit, he can't tell if this thing is actually going to work.
"We're the guinea pig -- we're taking the risk," Kirby said. "If we can't convince people to pay a dollar for content, then we won't be in business very long. But we're banking on the hope that we can."
Of course, with so much free product in the marketplace, that is a big "if."
This Is Why We Can't Have Nice Things
Fighting piracy is one of the porn industry's biggest weapons in this death struggle.
Nate Glass, who runs TakeDownPiracy -- an organization battling porn copyright infringement -- says his newly launched "Nemesis" tool can essentially search through porn clip websites and find video that infringes on his clients' copyrights.
Since he started the Nemesis program, aggregators like PornHub.com and RedTube.com have seen their unique monthly visitors drop by more than a million each. That's bad news for the free porn folks, and good news for porn producers.
Porn isn't going to die any time soon, but piracy and the lack of a reason to pay are watering down the product. With any luck, these guys can help thicken it up again.

Support HuffPost
The Stakes Have Never Been Higher
Related
Before You Go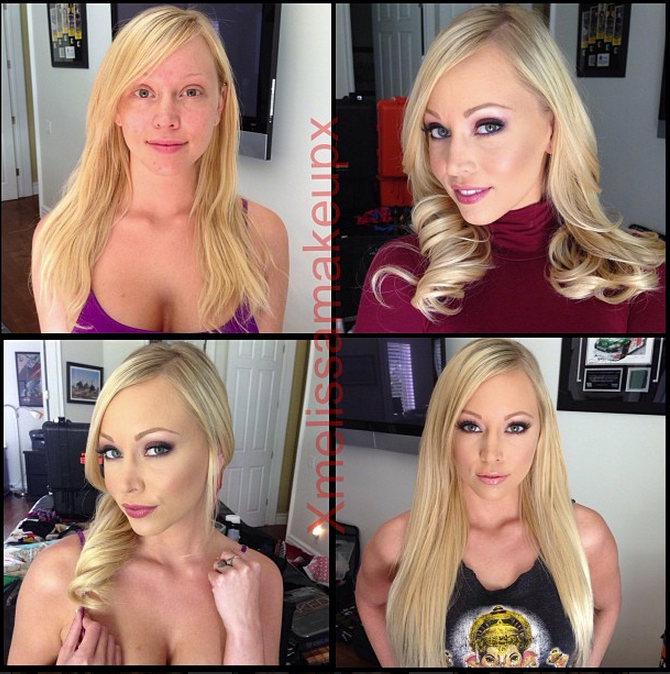 Porn Stars Without Makeup
Popular in the Community