Do they like it hot and heavy New Orleans? Does the Big Apple prefer big -- never mind.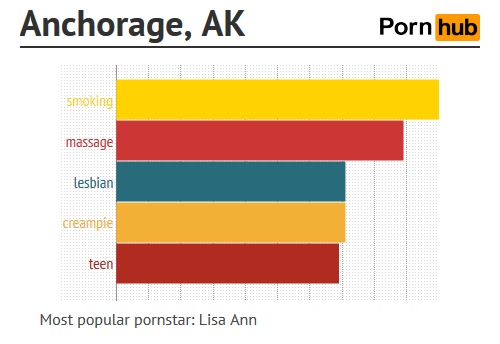 Porn Searches Of U.S. Cities
HuffPost Weird News asked PornHub if the fact that this data is based only on search terms -- and not on people clicking on links and categories from the homepage -- skews the results at all.
"We've done in depth usability tests and concluded that users either browse by homepage, categories or by search results," Corey Price, Vice President of PornHub, told The Huffington Post. "When we look at the most popular categories in each city, they are incredibly close, if not identical to the top searches."
So what's with all the "massage" searches? Price told HuffPost via email that even PornHub employees themselves were surprised at the frequency of that term. "We weren't expecting that to be such a popular term across so many of these major cities," he wrote.
Other stand-out search terms include "yoga" in hipster capital of the world, Portland, Ore., and "Hawaii" for Honolulu, where people apparently take the term "self-love" to a new level.
And why the overwhelming popularity of Lisa Ann, who was the most-searched porn star in 18 major cities?
"Lisa Ann has been in the business since the early 90's," Price wrote. "Her longevity in porn has definitely been a factor in her popularity. In the past several years she's fit the MILF category, which is one of the most popular on the site."
Popular in the Community