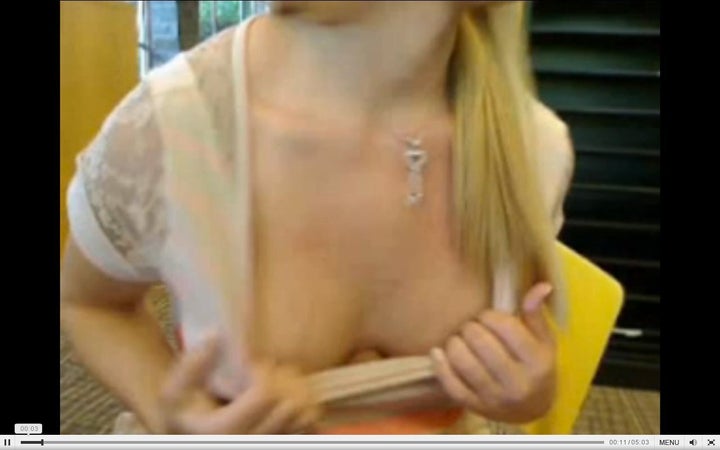 Libraries--they're not just for studying anymore. At least, not in Carpenter Hall, a library at that bastion of elite Ivy League academics otherwise known as Cornell University. On Monday, a discerning viewer of porn website xhamster.com was astonished to discover that a very NSFW webcam performance posted to the site appeared to have been filmed in the Engineering School library. The viewer then helpfully pointed this fact out on Ezra Hub, an informal message board for Big Red co-eds.
"This video is clearly filmed in Carpenter," writes user mash-agl;hgdaslhk. "You can go to that exact spot and look around, even the chairs are the same as in the video. My question is, what the poppycock? She's facing a window (the one by the bike racks) and it's broad daylight. And at one point you can see people behind her studying."
The talented Girl Next Door from the film was identified by Gawker as amateur model and aspiring Playboy model "Cameron Knight," a 22-year-old from Syracuse, New York who loves dogs, coffee and her smartphone. The talented Knight's one woman show has racked up 242,766 views since its posting in mid-August with the tagline, "She loves the thrill of almost being caught ;)"
While certainly not condoned by the university, sex in Cornell libraries (or "sex in the stacks" as CU students commonly refer to it) is a storied part of school lore.
A popular list of things to do before graduation, "161 Things Every Cornellian Should Do," is published every year in The Cornell Daily Sun, and begins with the item, "Make the library into your bedroom and have sex in the stacks."
The xhamster video, however, was presumably posted in the summer, a time when campus is mostly deserted. Having sex in a library during this "offseason" is less laudatory, however, according to a2010 Daily Sun feature on the phenomenon.
This is the second time in as many weeks that Cornell has tested the theory that all publicity is good publicity. Last week, The New York Times found itself embroiled in a mini brouhaha over a trends piece on the school's bar hopping habits was found to have quoted several Cornell undergads who gave fake names.
Calling all HuffPost superfans!
Sign up for membership to become a founding member and help shape HuffPost's next chapter