A cluster of syphilis diagnoses threatens to temporarily shut down the porn industry in Southern California.
Adult Production Health & Safety Services, a resource for actors in the adult film industry, first sounded the alarm Thursday in a blog post about "recent unsubstantiated rumors of a syphilis incident among adult performers." Because of the rumors, APHSS opened up their semi-annual syphilis testing immediately instead holding off until the original September date.
The Los Angeles County Public Health Department confirmed the small cluster of positive syphilis tests to the Los Angeles Times the next day. Peter Kerndt, director of the county's Sexually Transmitted Disease programs, told the Times that the department had received at least five cases in the last week, and are working to pinpoint the original source.
CLICK HERE OR SCROLL DOWN FOR UPDATES.
"Whenever there is a cluster like that it may be the tip of the iceberg," Kerndt said to the Times. "It is a concern. It is a serious health risk to workers in this industry."
APHSS has since called for a temporary moratorium on adult film production until all performers get tested for syphilis, and the non-profit AIDS Healthcare Foundation is also expected to hold a news conference Monday morning in response to the possible outbreak. The organization is expected to say that the current system of frequent testing and self-policing doesn't do enough to prevent STD outbreaks, reports ABC-7.
AHF is an advocacy group known for leading the charge to collect 371,000 signatures for a ballot measure mandating condom use in porn films. Come November, LA county voters will decide whether or not film permits should be tied to the use of condoms during sex scenes.
Statewide among the general population, syphilis rates are on the rise, according to a report from the California Department of Public Health. Syphilis infection rates jumped by 18 percent from 2010 to 2011, and there was also a five percent increase in chlamydia and 1.5 percent increase in gonorrhea cases.
Syphilis is a bacterial STD that initially manifests itself in sores or sometimes presents no symptoms. If the infection isn't treated immediately, people who have syphilis can go on to suffer rashes and lesions, hair loss and flu-like symptoms like muscle aches, fevers, sore throats and fatigue. Without treatment, syphilis could last for years and go on to damage internal organs and cause stillbirths. If caught early, the infection is easily treated with antibiotics such as penicillin.
The best way to prevent contracting syphilis is to refrain from having sex with an infected person. Condoms can decrease the risk, but only if the affected areas are covered by the latex, according to the Centers for Disease Control & Prevention.
UPDATE: At least one performer has tested positive for syphilis, said Joanne Cachapero, a spokeswoman for the Free Speech Coalition. The person's sexual partners are all being notified, reports the Associated Press.
Because of the possible outbreak, FSC has released a statement calling for a temporary moratorium on all adult film production. It's not clear how long the moratorium will be, especially considering that syphilis has a long incubation period and tests can't determine whether or not someone is contagious.
FSC explains the syphilis tests in more detail:
A negative test does NOT mean the performer is approved to work. It is important to note that this test has a large window period -- as much as 90 days -- and therefore cannot be relied upon to diagnose an acute (recent) syphilis infection. More importantly, a person with an acute infection can be contagious and still test negative. We cannot rely on these tests alone to determine a performer's availability to work. This test only provides our doctors a baseline from which to base further testing or treatment options.
Because of the uncertainty surrounding syphilis testing, FSC is calling for all adult film workers to come forward and receive a prophylactic shot of antibiotics. Once the shot is administered, the performers can return to work in 10 days.
The AIDS Healthcare Foundation emphasized the same need for a pause in production in a press conference earlier Monday.
"There's strong evidence to indicate that syphilis has started in Europe from European shoots and now has come over to the United States, exposing our community, exposing our citizens," said McGrath.
The film production moratorium won't affect LA-based Vivid Entertainment immediately. "Our next production is scheduled for mid-September," said founder and CEO Steven Hirsch to the Huffington Post. "We'll make a decision based on events at that time."
This isn't the first time that the porn industry in Southern California has undergone self-administered moratoriums. AP has more on porn's previous public health scares:
In 2011, major porn producers stopped filming for nearly a week after an adult film performer tested positive for HIV, which causes AIDS. The Free Speech Coalition said the case was later determined to have been a false report.

In late 2010, porn actor Derrick Burts was diagnosed as HIV-positive, and his case was confirmed, briefly halting production.

In 2004, at least five performers tested positive for HIV, prompting another brief self-imposed moratorium.
Related
Before You Go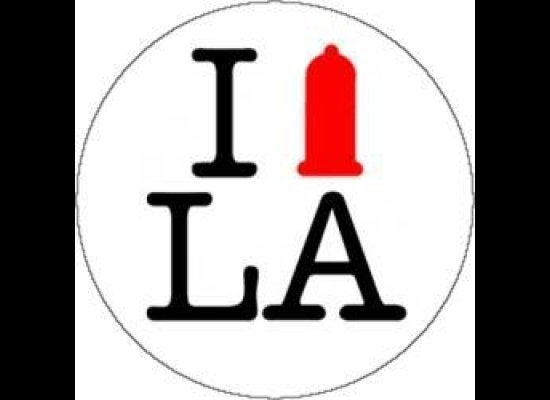 Finalists In The LA County Condom Design Contest
Popular in the Community