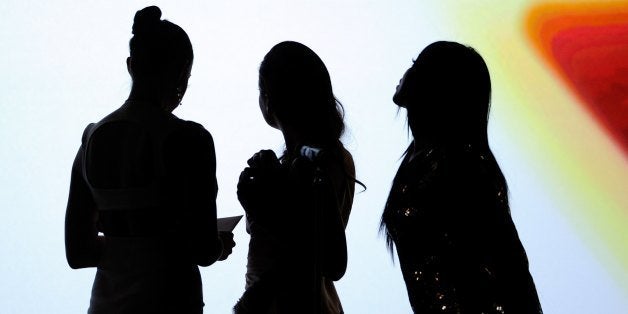 Chanel Preston was in college and performing at strip clubs around the country when she met a woman who asked if she'd ever considered doing porn.
Preston, who was 23 at the time and living in Hawaii, had been in and out of college for about three years, refusing to take out loans and only attending when she had the cash to cover tuition. She considered herself "open-minded and adventurous" but not necessarily a "very hypersexual person." Nevertheless, she decided to give porn a shot.
In early 2010, Preston filmed her first porn scene for Vivid Entertainment. Within a year, her career took off. She nabbed four Adult Video News award nominations and left school behind.
Today, Preston is one of the most well known actors in the adult film industry. She was a 2012 Penthouse Pet and has more than 250 adult films under her belt. But many of her fans want to know more -- specifically, her real name.
"I don't know why they can't understand this is a fantasy and we're not here to be your friend," Preston told The Huffington Post.
"Chanel Preston" is the performer's stage handle, not her birth name. Preston doesn't feel like she's in danger if people know her real identity, but like many porn stars, she would rather be known by her stage name to protect her individual privacy and separate what she does on film from her off-camera life.
Preston is hardly the first or last woman to do sex work in order to pay for school. "College" and "teen" are among the most popular porn categories (although not every actor who appears in "college"-themed porn is actually enrolled at a school). And pornography can be lucrative -- as a category, it accounts for more Web traffic than Netflix, Amazon and Twitter combined.
However, college women performing sex work rarely share that information on campus. Many of them fear the kind of backlash that Duke University student Belle Knox has dealt with in recent weeks.
Nineteen-year-old Knox (her porn name) struggled to maintain her privacy after a fellow student outed her as an adult performer in January. In the weeks that followed, Knox's birth name, along with the names, work and school locations of her family members, were blasted across the Internet, while Knox dealt with threats of violence against her on Facebook and Twitter -- all for seemingly no reason other than the fact that she does porn.
"People look at me like this messed-up, naive little girl," Knox told HuffPost. "They want to shame me and terrorize me ... It's analogous to being dragged through the street."
This sort of thing has happened before, and can have lasting effects. A few years ago, a woman at a large state school was outed as having appeared in a porn film, flashing her university ID in it. The campus went into an uproar. When HuffPost reached out to the woman recently, she not only declined to participate in an interview, but asked that HuffPost not even link back to the existing stories or specify what school she attended for fear of more harassment.
Melissa King resigned her crown as Miss Delaware Teen in 2013 after word got out that she had appeared in a porn film. Like Knox, King initially didn't reveal that she did porn. Rather, she was outed by local news outlets.
"Porn is viewed and placed in the dark light of society and seen in negative ways, so people who engage and work in this industry are almost considered an outsider to someone who wouldn't necessarily do the same," said King, now a University of Arkansas student. "People are even more curious to find out who these people are to compare them to their own lives because they are seen as different."
King (her real name) said she is regularly inundated by messages -- she hears from everything from strip clubs and porn sites to random fraternity members asking her to socials. For a student with 18,300 Twitter followers, privacy is a challenge.
"We are all human, we are all curious, and we all want to know," King said of the fixation some people have with Knox's real identity. "Even I am guilty of doing some detective work to find out who she really was, for my own reasons and the obvious similarities between us."
Adrienne Graf, an administrator at Portland State University who heads the school's Student Sex Worker Outreach Project -- a unique program that advises students on campus working as strippers, porn actors and escorts -- told HuffPost that privacy is among her clients' most important concerns.
Graf explained that the students she works with are afraid people "are not going to care for them, and we're going to stigmatize them." She recalled one student who was living on campus and working her first job as a stripper downtown. The student agreed to take promotional photos for the venue, and they ended up on the back cover of a weekly city magazine that the student came across while getting food in the cafeteria a few weeks later.
"By the end of the day it had been slipped under her door a few times," Graf said.
Like Knox, Preston had her whole family's addresses posted online in connection with her porn career. "It's fascinating they're not satisfied with knowing your fake name," said Preston, who today takes online classes from Northeastern University.
There are multiple studies about society's obsession with celebrity worship, but no substantial body of research about the public's relationship with porn stars. In the absence of anything scientific, several women working in porn speculated in interviews that some fans become preoccupied with knowing their real identities because it's a level of intimacy the average fan doesn't achieve.
"They want to be as intimate with an adult performer as possible," said Jessica Drake, another woman who starred in porn films while attending college. "Anyone can see us have sex, but they want to have this extra layer of intimacy with us. Fans feel like they already know us in a different way."
In 1999, Drake was working as a stripper while enrolled at El Paso Community College, avoiding telling anyone on campus about her job as a sex worker, let alone that she would soon transition to adult films. It was only once her movies were about to appear on premium cable that she began telling people about her work in porn. Even then, she said, it was only close friends.
As her career began, Drake started getting emails, phone calls and texts from people who knew her in real life.
"They ranged from 'Oh my God, I can't believe you would do something like that,' to 'Are you on drugs?' Just things they have in their heads about what the industry is," said Drake. Ironically, she added, many of these same people would later reach out to her on Facebook asking for copies of free porn or Ron Jeremy's autograph.
For her part, Preston says she doesn't plan to abandon porn. She recently launched a website to help people explore their attitudes about sex. Preston hopes it can help "deconstruct our ideas about sexuality in America."
"I think especially with people in porn, the sex isn't the most intimate thing," Preston said. "People may not recognize that when they get into it. Sex isn't the most intimate thing you can do or share with someone. Your mind obviously goes much deeper than your body."
Support HuffPost
The Stakes Have Never Been Higher
Related
Before You Go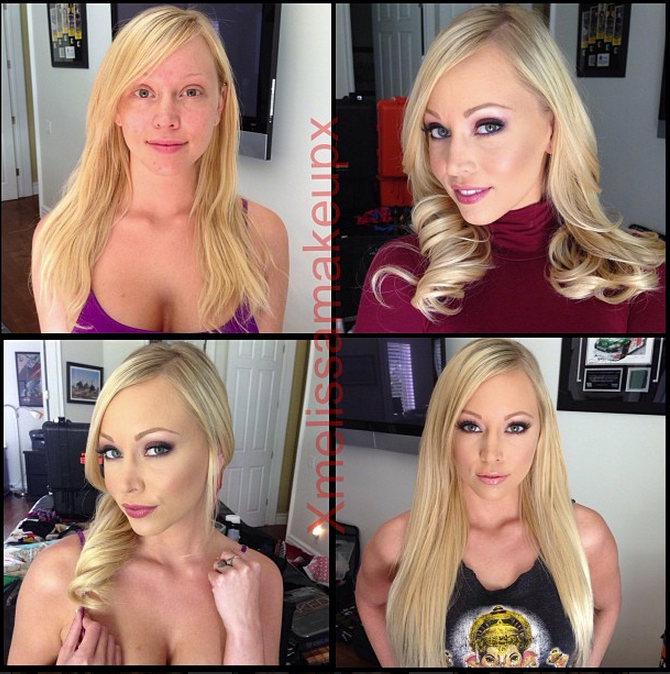 Porn Stars Without Makeup
Popular in the Community