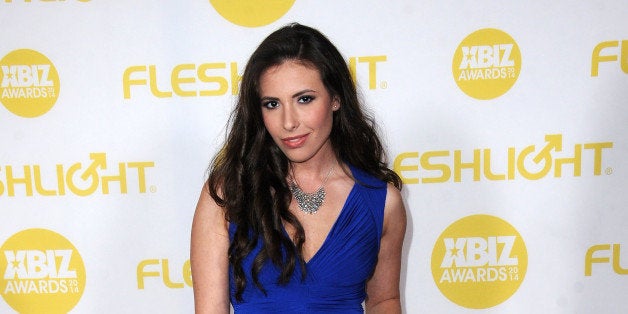 It's a fact everyone knows. Porn stars are stupid, airheaded, and irresponsible. Porn stars are desperate, selling their bodies only because they need to support their scumbag boyfriend, or kid, or drug habit, and fucking on camera pays more than a job at McDonald's. These are the only jobs they have the intellect to do. The few exceptions to these rules must have been molested as children.
It just doesn't make sense, then, that Belle Knox, an upper-middle-class college student and porn star, exists. And that's what this is all about, isn't it? That's why she's become a tabloid sensation. Everyone wants to gawk at the anomaly.
Except she's not the only one.
I am also an adult performer, and also college educated. I graduated magna cum laude from the University of Florida with a degree in Film Production. That makes two of us, but there are many more.
On April 9th, I conducted a very informal Twitter survey asking for names of girls who are either still in college or have graduated from a university. I came up with 39 women who are actively performing: 27 with diplomas and 12 still in school. I also got the names of three female directors, all with degrees.
And yet, Belle Knox has become the de facto voice for my industry. The media have been captivated in their communal cognitive dissonance -- that a smart young woman would choose to do porn. And in their efforts to make sense of the situation, they've given her a voice. And yet, there are women on my list who have been in the business for years, not months. Women who have dedicated their careers to feminism and empowerment. Women who chose to be here.
In her blog post titled, "I Don't Want Your Pity: Sex Work and Labor Politics," which was published in The Huffington Post on April 14, Belle states that she was asked in a classroom environment if she would still do porn if she didn't need the money. She replied that she wouldn't, following it up with, "I wouldn't do labor for free. No one would."
I was asked that exact question when I lectured at the University of Toronto, in Canada. The question is not, "Will you do your job for free?" Twisting it that way seems like a deliberate ploy to not answer the real question. The real question is, "If money were no object, do you love your job enough to continue doing it?" Belle's answer, plainly, is no.
Because Belle is seen as the voice of our profession, her answer implies that all of us are here solely for financial reasons. But that is not the case at all.
Porn stars, like every other subset of people, are individuals. A few are victims of sexual abuse. A few are drug addicts, or supporting a family. And frankly, some are just plain stupid and are working in porn because it pays the most for the least amount of thought. But many of us do porn because we want to.
After I graduated from college, I wasn't sure what I wanted to do. I considered medical school, or getting my Ph.D., but nothing called to me like sex work did, like sex work always had. I entered porn for the freedom -- the freedom of choice, the freedom of expression, the freedom of being an open, sexual person. I can't speak for my peers' experiences, but I know I made the right decision. I am happier now, here, than I have ever been.
Many of us do porn because we love it.
Casey Calvert is a prominent adult performer, writer, and sexual educator. Her blog website can be found at www.caseycalvert.com.
Related
Popular in the Community