You've seen them without their clothes -- now see them without makeup.
See The Photos (story continues below):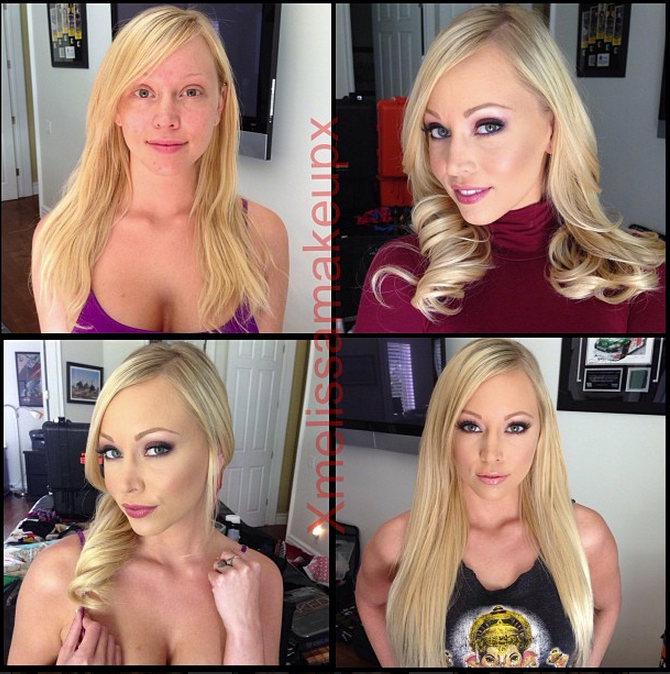 Porn Stars Without Makeup
Murphy, who has been a makeup artist for eight years, says there's not a huge difference between doing makeup for adult film actresses and for brides on their wedding day.
"If you're going to make a woman beautiful," she told HuffPost Weird News, "you're just going to make the woman beautiful."
A makeup artist on a porn set needs to be extra careful that everything is going to stay in place, but Murphy, 35, pointed out that she would do this anyway.
She began posting before-and-after photos on instagram a few months ago, and says she never expected the images to become an overnight viral sensation. "I am grateful to all the models who have allowed me [to use their photos]," she told HuffPost.
So which porn stars make the best makeup clients?
"Joanna Angel," Murphy told HuffPost, is "one of my favorites … She gives me a lot of creative control and she works on really interesting things … she pushes me to do things I've never done before."
CORRECTION: A previous version of this article suggested that the gallery includes only adult film actresses. The gallery includes both adult actresses and nude models. Liz Ashley, who is strictly a nude model and does not appear in adult films, has been removed from the gallery. Also previously included was actress Brenda Moreno, who is not involved in the porn industry.
Related
Popular in the Community