WASHINGTON ― The personal attorney of the president of the United States acknowledged this week that he paid an adult film star $130,000 just before the 2016 presidential election. The bombshell admission would have almost certainly rocked any previous administration, raising a whole host of questions, like, "Did this in any way violate campaign finance law?" and, "Dear God, why would the president's lawyer ever pay a porn star?"
Republican lawmakers, however, said on Wednesday they had no interest whatsoever in the matter. They ducked and dodged questions about the payment, explaining they were not closely following a story about a president and a porn star. Some begged off inquiries by saying they were wholly engrossed by this week's ongoing debate over immigration in the Senate.
"That's the least thing on my mind right now," Sen. Lindsey Graham (R-S.C.) told HuffPost.
Graham, who was one of the House prosecutors in the impeachment trial of President Bill Clinton, added he was "not remotely curious" about why the lawyer paid a porn star $130,000 shortly before Donald Trump won the White House race.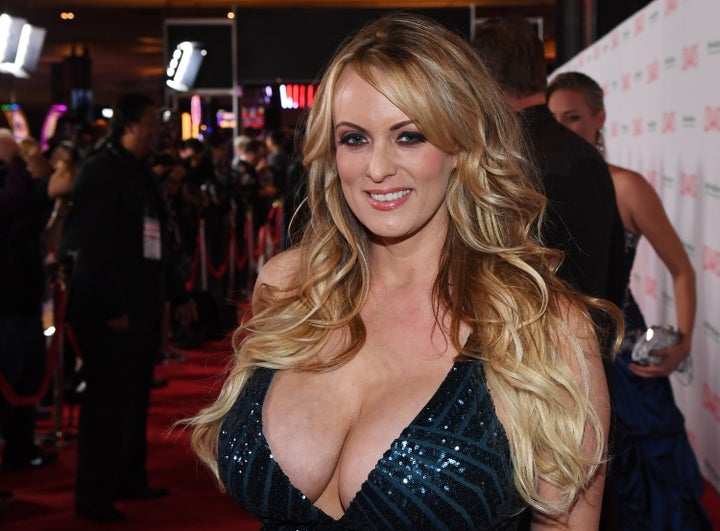 Trump's long-time lawyer, Michael Cohen, told The New York Times on Tuesday that he paid Stephanie Clifford, the adult film entertainer known as Stormy Daniels, out of his own pocket and that "neither the Trump Organization nor the Trump campaign was a party to the transaction."
"The payment to Ms. Clifford was lawful, and was not a campaign contribution or a campaign expenditure by anyone," Cohen said in a statement to the Times.
The statement did not address whether Trump himself had anything to do with the matter. Nor did he answer questions about whether Trump had been aware of the payment, why it was made or whether Cohen had made similar payments to other people in the past, according to the Times.
Last month, The Wall Street Journal reported the payment was made to Clifford to keep her quiet about an alleged affair with Trump in 2006, the year after he married his third wife, Melania, and a few months after the birth of their son, Barron. Daniels was reportedly paid to sign a non-disclosure agreement and keep silent about the affair.
Cohen and White House officials have previously denied the affair occurred. In his Tuesday statement about the payment, Cohen said, "Just because something isn't true doesn't mean that it can't cause you harm or damage. I will always protect Mr. Trump."
After initially denying the affair and the payment, Clifford over the past month has been silent or given coy answers about her relationship with Trump.
But on Wednesday Clifford's manager, Gina Rodriguez, said that she believes the porn actress is now free to discuss her alleged sexual encounter with Trump because Cohen had invalidated the non-disclosure agreement by publicly discussing the payment.
"Everything is off now, and Stormy is going to tell her story," Rodriguez told The Associated Press.
If Clifford does end up revealing more information about her alleged relationship with the president ― including why she received the $130,000 ― GOP lawmakers can expect additional questions about whether it had been made properly during the campaign. Common Cause, the government watchdog group, has argued the payment was an in-kind contribution to Trump's campaign. 
I'm going to leave those inquiries to others

Sen. Ted Cruz (R-Texas)
For now, however, most Republican senators seemed more comfortable simply punting on thorny questions about the subject.
"I would think that that'd be something — instead of you asking me — I would expect if it's a campaign issue, that the Federal Election Commission would be looking into it," Senate Judiciary Committee Chairman Sen. Chuck Grassley (R-Iowa) told HuffPost.
Other GOP senators similarly said it was someone else's job to investigate the matter.
"I'm going to leave those inquiries to others," Sen. Ted Cruz (R-Texas) said. He added that he was chiefly focused on "substance and policy" on issues like health care and immigration.
Sen. Mike Rounds (R-S.D.) said it was simply "not a high priority at this time," while Sen. Richard Burr (R-N.C.) said he wasn't sure "whether there's congressional interest" in opening an investigation.
Sen. Richard Shelby (R-Ala.), on the other hand, conjectured that the "press will do more than investigate it." Asked if he was personally curious why a lawyer for a president would ever pay such a large sum to a porn star ― or anyone, for that matter ― Shelby demurred.
"I don't know why a lot of things happen around here," he said.
Several Democratic senators, meanwhile, suggested that it wasn't too hard to figure out why an attorney for a former reality television star who once proudly graced the cover of Playboy magazine would pay a porn star just before the election.
"I think it's pretty obvious why he did it," Sen. Patrick Leahy (D-V.t.) said before walking into an elevator.
Sen. Tim Kaine (D-Va.) said Republicans would be more interested in investigating the story if a lawyer for a Democratic president had made a similar admission.
"Congress would do nothing other than that for a year," he said.
Calling all HuffPost superfans!
Sign up for membership to become a founding member and help shape HuffPost's next chapter