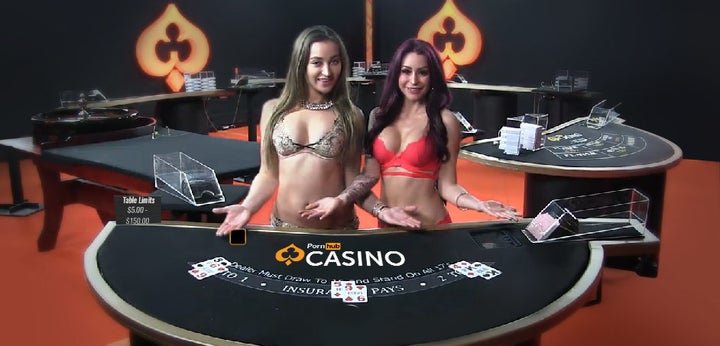 A popular porn portal is thrusting into a new venture -- online gambling.
On Monday, Pornhub.com officially opened the aptly named Pornhub Casino, an online gambling casino where participants can play roulette, Blackjack and even strip poker.
Most of the croupiers are Costa Rica women, but occasionally well-known porn stars like Monique Alexander or Dani Daniels are expected to fly down and work the roulette wheel or blackjack tables.
The idea of combining sex and gambling is a long time coming for Pornhub, according to vice president Corey Price.
"Our users know a thing or two about having a good time online, so when a casino company approached us with an opportunity to blend gambling with porn, we had to consider it seriously," he said by email. "We decided to take a gamble --pun intended -- and go ahead with the idea."
The carnal-themed casino's focus is getting members to spend their wad rather than blow it, but there are some allusions to Pornhub's main business.
The croupiers occasionally flash their breasts to players who ask nicely through a chat box. Also, a win on the online slot machine results in a quick scene from an adult movie.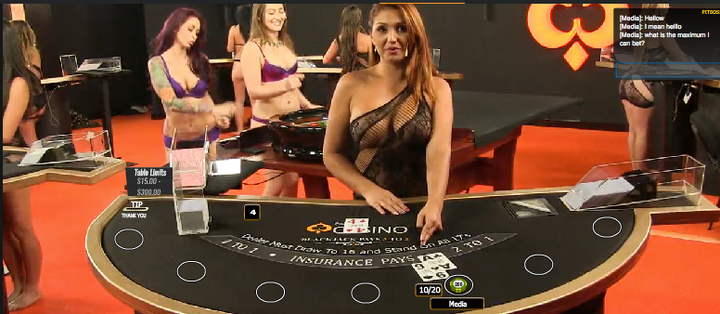 One of the selling points the casino is using to attract players is the online video strip poker.
"It's available in two options: public tables and friend's tables," Price said. "Our public tables are viewable by all players and anyone can join. Our friend's table section includes those that only people in your friends list can access.
"We use webcams so everyone can see each other and speak to one another as though you would in a real setting. So yes, people who play will be visible."
The Huffington Post attempted to play strip poker, but a spokesman said the company is in the process of hiring more dealers for that particular game.
Can an online casino cum porn website work? Braden Perry, an attorney familiar with the regulatory procedures governing online gambling, says there's nothing inherently illegal about the Pornhub Casino business model.
However, the connection to porn might arouse the attention of regulators.
"Companies that add new, novel, or distinct services or products can get in the crosshairs of regulators," Perry said. "They will likely face regulatory scrutiny and should have very strong know your customer policies."
Price doesn't seem concerned.
"The timing for this is perfect," he said. "At Pornhub we are constantly looking at ways to penetrate additional industries, grow our global community and expand our brand recognition.
"This is a wonderful opportunity for us to enter an industry that is experiencing exponential growth and we're excited to make our mark."
Alexander Kostin, of BetterCollective.com, an organization that advocates for transparency in the gambling, says Pornhub's plan is "a really smart attempt to prohibit its core audience from leaving the site after they have accomplished their sexual goal."
However, Kostin sees one big problem for the consumer.
"From my personal players' perspective, I can say that it might be tough to focus on a roulette strategy while live dealers are taking their bras off," he said.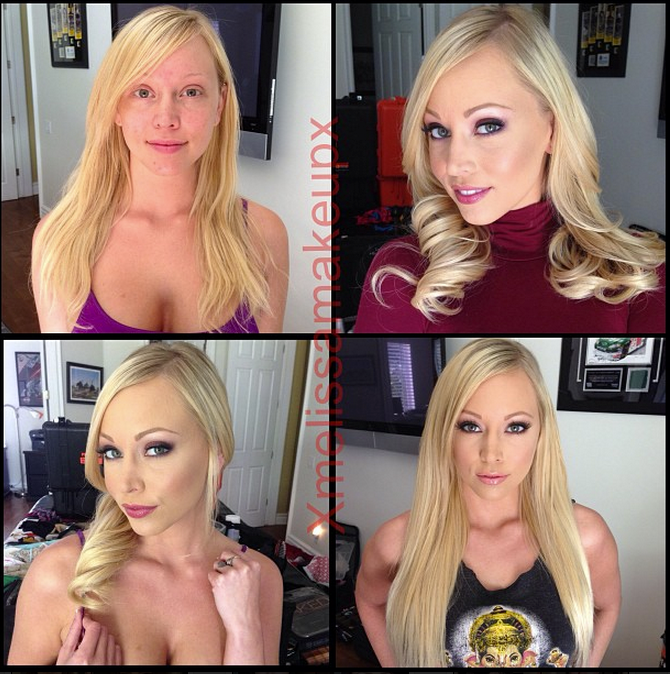 Porn Stars Without Makeup
Popular in the Community