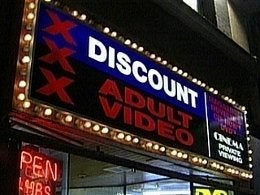 There are a whole host of little lessons one learns when working in First Amendment law: What is vulgar to one person might be poetic to another, occasional offense is a small price to pay for a pluralistic democracy, without a free press there can be no meaningful democratic process, etc.
But one of the more entertaining lessons one learns is: If you don't want to help someone spread their message, don't attempt to censor them.
Case in point: Maryland State Senator Andrew P. Harris' recent attempts to ban University of Maryland students from showing Pirates II: Stagnetti's Revenge, a pornographic tribute to the Pirates of the Caribbean films.
Harris' threats to cut off all of University of Maryland funding if the school allowed students to show the film on campus has garnered international attention for the film. The story has been picked up by Fox, ABC, CBS, The Washington Times, The Washington Post, The Baltimore Sun, and even TIME (in which the author points out this very same phenomenon).
Harris and his colleague Senator Janet Greenip claim colleges (yes, colleges) are supposed to provide a "wholesome" environment for students. But guess what? Students went ahead and showed parts of the film anyway.
Indeed, I suspect many of those in attendance probably showed up simply because they resented the legislature's attempt to legislate morality, not because they particularly wanted to watch a pornographic film. Of course, students themselves spoke to this point in this interview with MTV News:
According to the Washington Post, the Maryland General Assembly has now decided to require a review of the university's policies with regards to pornographic films, though it will no longer be attaching it to the total state funding of the university.
Students are taking little comfort from this toned-down threat. As one put it: "Generally when the legislature gets involved with mandating who can say what, how or why, it never turns out good." I agree.
Of course, a great recent example of legislative interference with speech on campus was the Oklahoma State Legislature's foray into investigating a lecture by evolutionary biologist and noted atheist Richard Dawkins, something for which the legislature has still stalwartly refused to answer.
But,
, Harris is also attempting to use more direct threats:
Harris said in an interview, however, that he was prepared to push today for a more restrictive measure when the full Senate debates the state's capital budget. Harris said the measure should restrict construction funds for universities if they do not adopt acceptable policies on pornography by July 1, the start of the state fiscal year.
Even if we assume that the film was unprotected obscenity (a debatable point), it is not illegal for adults in the state of Maryland to view pornography. Passing a law intended to single out college students at the University of Maryland is not just a waste of legislative time--it also fails to recognize that colleges and universities are places where it can be part of someone's job to study material that others might consider offensive. (Indeed, sometimes precisely because it's offensive.) But this and many other well-reasoned points are apparently lost on the state senators of Maryland, with the notable exception of free speech champion turned State Senator Jamin Raskin. (Raskin perhaps put it best when he told reporters that the whole business was "utterly absurd" and that it "should not be up to politicians to try to dictate to the citizens what movies they are going to see.")
Maybe this will get through to Senator Harris: Senator, if you don't want to be known forever as the greatest promoter for Pirates II: Stagnetti's Revenge in history, stop trying to ban it.

Popular in the Community