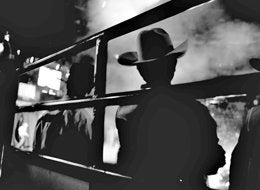 When a mother in my small Ohio town told me she had just been arrested for child pornography, I had exactly the wrong response: I laughed. I certainly didn't imagine that I would spend years writing a book -- the just-published Framing Innocence: A Mother's Photographs, a Prosecutor's Zeal, and a Small Town's Response -- about her prosecution.
I knew Cynthia Stewart was a passionate photographer -- she wore her Nikon around her neck like other women wore jewelry. I also knew that she was a devoted mother: her only child had been born when she was nearly 40, and her "post-partum elation" at becoming a mom had never worn off. My eight-year-old son and her eight-year-old daughter were pals. Cynthia was the parent at soccer games and recitals who was always snapping pictures; she passed along her double prints to other parents -- like me -- who always seemed to forget our cameras.
To think of Cynthia as a pornographer struck me as absurd. "You must be joking!" I laughed. But Cynthia's face remained grave. Absurd or not, she had been handcuffed and hauled off to the county jail the day before. She now faced two felony charges and the threat of 16 years in prison.
Cynthia had taken nearly 35,000 photographs since the birth of her daughter Nora. The dozen pictures she had shot during a recent bath time -- including a few of Nora rinsing with a handheld shower sprayer -- were, for Cynthia, simply part of the vast photographic record she was keeping of her family's life. But when a photo processing lab sent her prints to the police, the county prosecutor looked at those pictures and saw a young girl performing a sexual act. That leap of prosecutorial imagination launched Cynthia and her family into a legal ordeal that would consume 1½ years, cost $40,000, and send emotional aftershocks through their lives for a decade.
Framing Innocence chronicles the events that threatened a good family and galvanized our community. The story is populated with real characters who have a high stake in the outcome of the case: the embattled family, the determined prosecutors, the lawyers for whom the case was a crucible, and the many townspeople -- Republican and Democrat -- who put their reputations on the line by writing letters, calling the prosecutor, holding rallies, arranging backchannel meetings, and talking to the local and national press.
One person who played a dramatic role in the case -- and one of the unlikely heroes of the book -- was the court-appointed guardian for the child, Virginia Behner. A self-described fundamentalist Christian and anti-porn zealot, she roared in with a mission: to send Cynthia Stewart to jail. Virginia would never have taken nude pictures of anyone, much less a child ("In my community, we're still working on the graven image thing!" she told Nora's father). But Virginia surprised everyone, including herself, by what she found when she looked at Cynthia's pictures and what she understood when she investigated the family. Virginia was able, without compromising her own principles, to make room in her mind for another family's truth. And in so doing, she put the well-being of the child before any crusade of her own.
Framing Innocence implicitly raises questions about photography and parenting and the watchful eye of the government on family life. In a digital age when images fly from the family camera onto Facebook, those questions are more pressing than ever. But my book, I hope, raises larger questions about ideological zeal and the damage done when fiercely held assumptions and rigid principles become more important than people's lives.

Calling all HuffPost superfans!
Sign up for membership to become a founding member and help shape HuffPost's next chapter