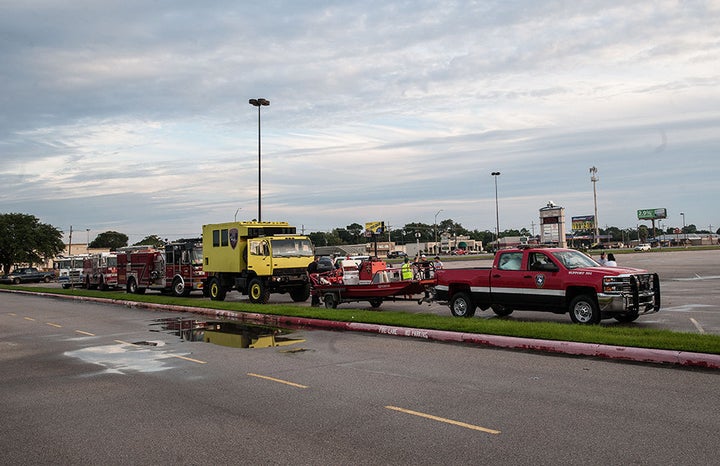 PORT ARTHUR, Texas ― Despite tough conditions, rescue efforts are still underway in this east Texas city overwhelmed by flooding in the wake of Hurricane Harvey.
After the city's main shelter flooded Tuesday night, forcing evacuees to relocate to another shelter that lacked food and other supplies, police were relying on volunteer rescue efforts to find and aid survivors. 
John Henry Foster, 70, identified himself as one of the people spearheading the volunteer rescue efforts through the group Veterans on Patrol. He spoke to reporters at the Central Mall in Port Arthur, where volunteer rescuers organized with boats, lifted trucks and four-wheelers. Rescuers were out until the early morning responding to calls. Some slept in tents or leaning against vehicles in the parking lot.
"It's been difficult, but the people are nice and they're grateful," Foster said, adding that volunteers have traveled from as far away as Colorado. "We've pulled about 1,600 people out this week between Katy and here. We put them in the boat, get them to dry land and then someone else picks them up and takes them to the shelter. The process is complete, aside from them rebuilding their lives. That's the tragedy of it."
Despite the inherent sadness of the situation, there have also been moments of levity. At one point, Foster said he saw a real-life cowboy rescuing horses.
"I don't see him here now, but yesterday he had his lasso on the boat and there was a horse swimming around in a circle," Foster said. "He threw his lasso around it and pulled him ― he was swimming ― and they got him on dry land. Doggone cowboy brought his lasso out to the flood."
Port Arthur, located just west of the Texas-Louisiana border, was hit hard by the storm earlier this week, leaving residents desperate for help. Local authorities, inundated with distress calls, were forced to temporarily pull back first responders Tuesday night due to dangerous conditions.
"There's nothing we can do," Jefferson County Sheriff Zena Stephens told local news channel KDFM. "We can't take the boats out right now. The water is rising and it's coming there and [there's] no way to get to them."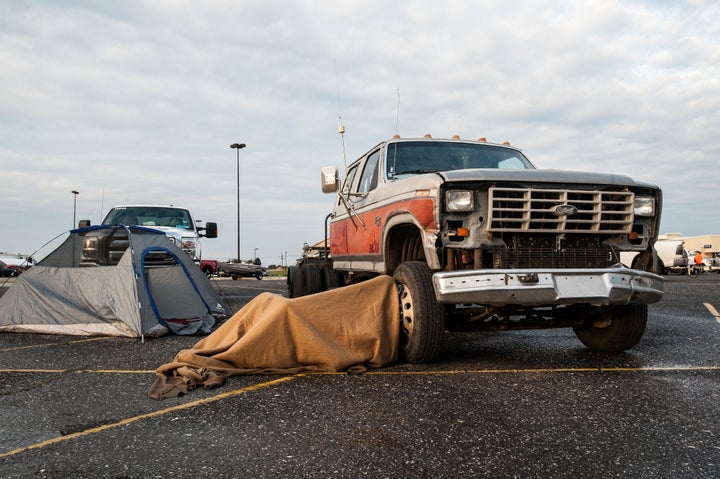 "We're using the volunteers and their boats to get to those individuals [trapped by high waters]," Marcus McLellan, a public information officer for the Jefferson County sheriff's office, told HuffPost. "To do this on our own, we would have to have a fleet of several hundred boats. ... That's just not feasible for a city or county to constantly have."
Foster said that his group has around 25 boats, manned by armed security guards due to fears about boat thefts. The Coast Guard and the Port Arthur Police Department told HuffPost that they had not received any reports or calls about attempts to hijack boats.
Many of the boats were out until the early hours of the morning on Thursday, and Foster said his group would be continuing efforts later in the day. Port Arthur Mayor Derrick Freeman told ABC News that volunteers and first responders plan to go door-to-door on Thursday to check for survivors.
"We got about 20 inches of water in about 24 hours, and it devastated our city," Freeman said. "There's some parts that it's receded, it's gone down, but we still have people in 3 to 4 [feet of] water in some homes." 
This article has been updated with additional comment from Foster. 
REAL LIFE. REAL NEWS. REAL VOICES.
Help us tell more of the stories that matter from voices that too often remain unheard.