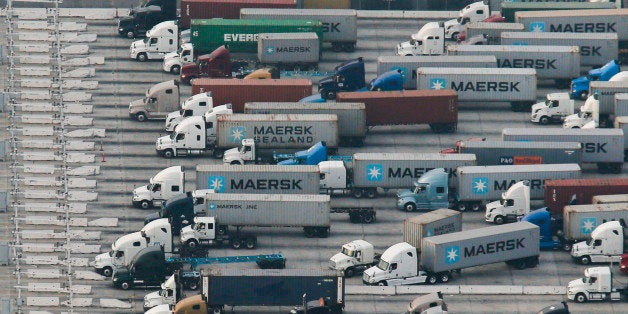 Over the last 18 months, port truck drivers at the twin ports of Los Angeles and Long Beach have dramatically escalated their decades-long struggle against trucking companies. These employers have misclassified them as independent contractors, which is just a wonky way of saying they engage in wage theft. But after going on strike on five separate occasions, something remarkable is happening to these drivers backed by the Teamsters -- they're winning.
In the last month alone, drivers for Pacer Carthage and Shippers Transport Express (STE) have had their concerns validated and are now being recognized as company employees under the law. Seven Pacer drivers won a $2 million claim against the company in San Diego County court, while STE agreed to classify drivers as employees. After voting to join Local 848, the union reached an agreement with STE management and drivers ratified their first union contract.
These are two important positive steps -- but the war is far from over. During recent labor unrest involving the longshoremen, for example, the Pacific Maritime Association shut the twin ports down temporarily. But misclassified drivers still had to keep paying their employers' business expenses like truck leases, maintenance and insurance. That dug these workers deeper into an economic hole.
The port truck industry is highly fragmented, poorly organized and grossly inefficient. Deregulation has forced trucking companies to engage in cutthroat competition. Consequently, many are gearing up to fight the efforts of drivers and the Teamsters to organize and receive a fair wage. Luckily, more and more decision makers are beginning to side with workers.
Port truck drivers in California have benefitted from state and local government officials who are increasingly siding with workers instead of corporate interests. The Teamsters have allies in both Gov. Jerry Brown and Los Angeles Mayor Eric Garcetti, for instance. But there are signs that others elsewhere are also seeing the light.
Earlier this year, the New Jersey Supreme Court issued an important ruling that limited the ability of companies to misclassify workers in the state. The ruling affects not only port truck drivers, but any workers whose employers deemed them independent contractors. And a bipartisan collection of lawmakers in Georgia are currently working to strengthen the misclassification rules on the books there as well.
That is important, because the issue of low pay is not just a port truck driver problem -- it is an American problem. This nation's descent into a country sharply divided by income not only hurt those receiving less in their paychecks, it hinders the U.S. economy. It is in everyone's best interest to having a thriving middle class, but that won't happen unless workers are treated fairly.
In the port trucking industry alone, a report released by the National Employment Law Project, Change to Win and others last year found that two-thirds of the workers in the sector were being misclassified as contractors. That's 50,000 workers nationwide. The failure to treat these people as permanent workers resulted in a loss of $1.4 billion in tax revenue a year.
Southern California drivers, fed up with being treated as orphans in the global supply chain, have reached out to educate government officials on their rights as workers. With the backing of the Teamsters, the Los Angeles Alliance for a New Economy and other community groups, over the past few months drivers have won unemployment benefits after being laid off from their jobs. Drivers are also winning disability and workman's compensation cases, back pay for illegal deductions, and even their jobs back when they were illegally fired.
The LA/Long Beach port truck drivers fight is just one example of how the Teamsters and our allies are pushing back against the war on workers. It shouldn't have to be this difficult. But it shows how hardworking Americans, when united and committed, can bring fairness and justice to the workplace.
Popular in the Community