"Our dream is to deliver the best world book capital ever..." she said, with a smile on her face, as we rounded up our conversation. Port Harcourt's reign as UNESCO world book capital officially came to an end on 22nd April, 2015 and I had an exclusive conversation with Koko Kalango, Director of the Port Harcourt World Book Capital City Project, and founder, Rainbow Book Club. It was a bright sunny day in February 2014; hopes were high and we were all in smiles, but one year after that, how did Port Harcourt fare as World Book Capital, and what lessons are there for other nations in Africa and around the world?
Meet Koko Kalango
Very unassuming and always with a smile on her face, Koko's ascent to global-literacy-activist status started with a little wish to help kids in rural Niger-Delta communities develop a reading culture. Her parents and childhood experiences also helped in shaping her into the adult she is today.
In course of our conversation she told me, "I come from a family that values education. My father was a lawyer, and he later became a judge. My mother started one of the oldest nursery schools--which later became a primary school--in Port Harcourt."
She founded Rainbow Book Club, started the Get Nigeria Reading Again Campaign, and organized--and is still organizing in collaboration with the Rivers State Government--the then Garden City Literary Festival, now Port Harcourt Book Festival, which brings the biggest names in the Literary world to Port Harcourt every year, and all this she did to inspire her community and champion the course of reading and literacy.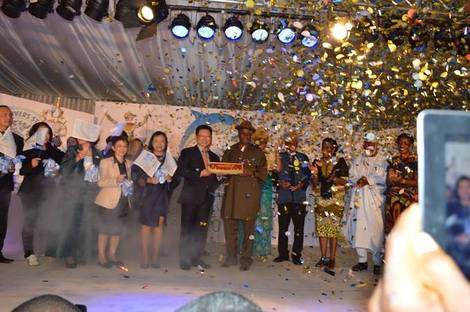 (The Deputy Governor of Bangkok--2013 World Book Capital--handing over the World Book Capital Title to the Governor of Rivers State while other dignitaries look on. April 23, 2014)
First World Book Capital City in sub-Saharan Africa
In her congratulatory message to Port Harcourt, the UNESCO Director-General, Irina Bokova said, "I extend my congratulations to the city of Port Harcourt for the quality of its proposed programme, which provides for extensive public participation and aims to develop reading for all..."
Port Harcourt beat 10 other contenders including Oxford and Lyon to clinch this prestigious title. Koko described this as "...a very exciting thing. An incredible opportunity that throws a challenge which we are not daunted by; we are not shying away from..."
Fast forward 12 months after the celebration and festivities, what went down? The views vary, and to be honest both sides have strong arguments. In course of her speech during the handover ceremony to Incheon, South Korea, as 2015 World Book Capital City, Mrs Kalango said Port Harcourt "...had a rich and varied array of programmes for a wide reach and maximum impact. There were programmes for children and youth, arts and culture, library and community development and deliberate plans for sustainability beyond the World Book Capital year..."
Some of these programmes listed on the Port Harcourt World Book Capital website include; the formation of book clubs in Primary and secondary schools in Port Harcourt, donation of books to libraries, monthly book readings, adult literacy programmes, residency programmes for writers, to mention a few.
The other side of the argument will ask about the impact of all this beyond Port Harcourt; especially considering that Rivers State is made up of 23 local government areas. Some NGOs have also complained about the lack of involvement and collaboration in programmes during the world book capital year. If true, this is something the organizers will have to look into when planning subsequent events and programmes.
However, all this will not take away the fact that, Port Harcourt has inked her name in the history books of the literary world, and like Nobel Laureate Professor Wole Soyinka puts it, "I congratulate the city of Port Harcourt for this honour which they have brought not only to the nation, but to the African continent..."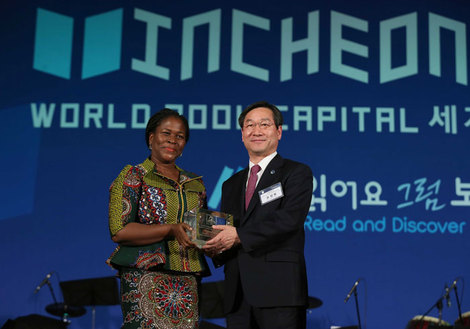 Koko Kalango (Founder Rainbow Book Club and Project Director PHWBC 2014) handing over to Yoo Jeong-bok (Mayor of Incheon, World Book Capital 2015
Challenge to other African Cities
As good as Port Harcourt's feat is, one may ask, what is the true state of literacy on the African continent? Is it still true that if you want to hide a secret from an African you can put it in a book? What percentage of our national budget is allocated to education and literacy? These are questions we, Africans, alone can answer. We also hope that just as it took Africa 12 years between Cairo World Book Capital 2002, and Port Harcourt World Book Capital 2014; it wouldn't take another dozen years to get the next world book capital on the continent, amen.
(Images Credit: Hay Festival, Port Harcourt World Book Capital, Korea.net)
REAL LIFE. REAL NEWS. REAL VOICES.
Help us tell more of the stories that matter from voices that too often remain unheard.