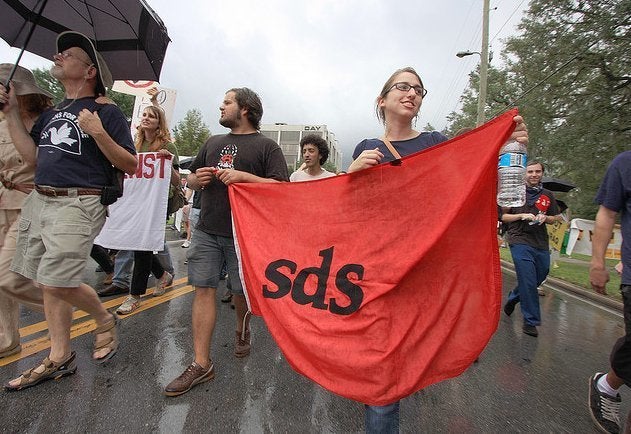 The Port Huron Statement, a pivotal document that gave force and focus to the student movement of the 1960s and helped spark a reinvention of the American Left, turns 50 this week.
Although younger film buffs may know it best from a reference in the "The Big Lebowski," students of politics remember the 25,000-word Students for a Democratic Society (SDS) manifesto for its articulation of a vision of participatory democracy during an era when Cold War conformity ruled of the day.
Alan Haber, of Ann Arbor, Mich. is one of the original architects of the documents. He's celebrating its anniversary this week in a manner very much in stride with its original intention. He's organizing a participatory conference, which he's calling "an invitation to think together," to help create a Port Huron Statement for the 21st Century.
"The call for participatory democracy needs to be reaffirmed time and time again," he told The Huffington Post while setting up for the event Thursday. Although he said a dialogue of this nature is difficult and almost unheard of these days, he thinks the times require it.
"The politics [today] seem kind of locked and defensive. This political system is so retrograde, counter-revolutionary, counter-creative and full of hatred," said Haber. But he added that he's optimistic about developing a different vision for the future. "We might actually precipitate some intellectual cognitive advance."
Unlike the original document, which was edited over five days at a UAW retreat near Port Huron, Michigan from a draft by Tom Hayden, the new document authors will start composing from scratch. Haber said there will be plenty blank writing pads for those who attend and he's very interested to hear what people will write on them.
The Port Huron Statement of 1962 was a product of its time. The young SDS members who wrote it were activists, many of them deeply involved in the struggle for Civil Rights that was then taking place in the American South. The manifesto they wrote reflected these experiences and their views on the issues of the day -- challenging Cold War conformism, liberal anti-communism, racism and the nuclear arms race.
As to his thoughts on what is needed today, Haber is reluctant to share them in advance of the conference.
"I have my own thoughts but our decision was not to start with some draft, but to really let this be open," he said.
His hope is that whatever emerges won't just be analysis of today's problems, but will -- like the original statement -- serve as a rallying cry to build alliances and challenge the political status quo.
The results of the gathering will be presented at an academic conference taking place from Oct. 31 to Nov. 2 called "A New Insurgency: The Port Huron Statement in Its Time and Ours" at the University of Michigan.
Haber said he's inspired by the recent emergence of the Occupy movement and a new generation of student activists inspired by the legacy of SDS. His hope is that several different generations will take part in the gathering, and that the energies from all those different movements will converge.
"This is basically for concerned citizens who see this world's in a terrible condition, to use our knowledge together and to be open to new thoughts, because the old thoughts aren't working well enough," he said. "The door is open to anybody whose heart can resonate to this intention."
REAL LIFE. REAL NEWS. REAL VOICES.
Help us tell more of the stories that matter from voices that too often remain unheard.
BEFORE YOU GO