A Florida man who turns bread trucks into food trucks is using his skills to build mobile shelters for the homeless.
Bruce Hicks, owner of Food Truck Heaven in Davie, Fla., was inspired to construct the 8-foot by 5-foot aluminum shelter on wheels after learning of a formerly homeless man in Utah who had succeeded in doing something similar, the Sun Sentinel reported.
After completing the prototype –- which cost him about $500 to produce –- he and his partner, businessman Jeff Norton, are going to take the pod to local shelters to see how they can be used. The inventor's primary goal is to sell these pods to FEMA and relief nonprofits so that they can be dispensed to people who become displaced after natural disasters, Hicks told CBS 12. He would also like to ship a number of pods to Haiti to help the homeless population there.
Norton, who presented the idea to Hicks, was determined to pursue the concept after he found out about Gary Pickering, according to the Sentinel. The Utah man, who once lived on the streets, wanted to give back to those less fortunate when he got back on his feet by constructing small portable "micro-houses," KSL reported in July.
Though Pickering's bright yellow pods are just a few feet wide, he told the news outlet that for someone without a roof over their heads, even just a bit of space can make a world of difference.
Though Hicks' invention isn't all that spacious either, it does provide many of the comforts of home.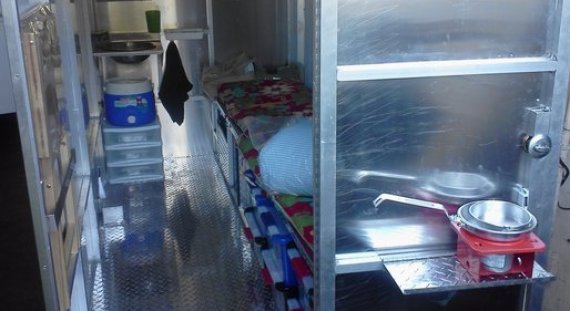 It comes equipped with a bed, toilet (which empties into a plastic bag) storage space and a place to cook outside.
"It's nice to go to bed peaceful and wake up the next day in peace," Hicks told CBS.
REAL LIFE. REAL NEWS. REAL VOICES.
Help us tell more of the stories that matter from voices that too often remain unheard.
BEFORE YOU GO
PHOTO GALLERY
Food Truck Builder Designs Mobile Homeless Shelter