The third entrepreneurs into the Shark Tank this week were presenting their business Rinse Kit and they were seeking $250k in exchange for 5% of the business. They have developed a portable shower system that stores the pressure that comes directly from the hose bib outside your house. It's a two gallon tank that will release water from the nozzle at the same pressure you would get from your garden hose. As surfers, they originally designed it for use at the beach, but quickly discovered its uses for things like camping, fishing, sports, and more.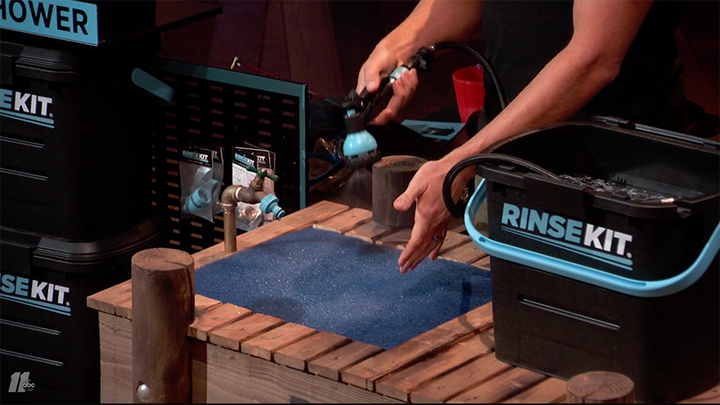 As for the numbers, the entrepreneur who developed the product put in $75k of his own money to start the business. He currently owns 60% of the business. He also had an old client give him $75k in startup money in exchange for 10% of the business. As well, his partner in the presentation is part of a company that owns 10% and also gets commissions on their sales. There is currently $550k in debt on the business. Their current sales are just under $800k. It retails for $89.99, wholesales for $45, and their margins are in the high 40's. They project to sell $2.1Mill to $2.3Mill in this calendar year and will make about 5% of that in EBITDA (Earnings Before Interest, Taxes, Depreciation and Amortization). They also spend about 10% of their gross revenue on marketing.
As the Sharks started to weigh in, it didn't look pretty at first. They were concerned about the shockingly low amount of gross revenue they were making from such high sales. They also didn't like how high the valuation was considering it seemed like they were no where near the kind of revenue to make sense of it. The sales were there, but the ability to actually make money was not quite there. The only real exit in this situation is if someone were to buy the business. Distributions would not get them their money back.
The Sharks were interested though. Robert got it started by offering $250k for 20% of the business. Kevin then jumped in with a $250k loan for 5% and Lori followed that up with a $250k loan for 5% but she wanted the same commissions that the other partner's company gets on sales that she brings them. Robert then changed his offer to $350k for 20%. Finally, Daymond came in with $250k for 7.5% and commissions on any retailers that he brings to them.
So let's run through all this for a second! First of all, they already have $550k dollars in debt on the company. When you are pulling in gross revenue at such an alarmingly low rate as them, you don't want to keep going in on debt deals! They definitely made the right decision to not go with those offers. As for Robert's deal, such a high percentage of the company at that price would be a mistake to give up. The owner would be diluted below a controlling stake, and if their projections are correct Robert would be getting an insane discount on that equity. Then finally there is Daymond's offer. He came in at a reasonable counter to the original amount of equity they were looking to give up and structured it in a way with the commissions that they are already familiar with and obviously willing to do. Sometimes it really pays to sit back, listen to the responses that the entrepreneurs make to the other Sharks, and then swoop in with something you know they will like!
I'm actually really excited for them! This is one of the best deals I have seen in the history of Shark Tank. They got extremely close to exactly what they were asking for in terms of investment and equity, and Daymond only gets the commissions if he is willing to work and able to deliver on getting them more sales!
With this kind of partnership, the future definitely looks bright for Rinse Kit! Good luck to them and Daymond in making this product a household name. It's definitely an impressive product and they deserve the chance to put it in every house across America!
Related
Popular in the Community