Hace 17 años, Brooke Gibson –la damita de honor encargada de las flores– y Adrian Franklin –portador de los anillos–, que entonces tenían 5 años de edad, unieron sus brazos y caminaron hacia el altar en la boda de los amigos de sus padres en Gastonia, North Carolina.
El pasado 19 de septiembre, volvieron a caminar juntos por el mismo altar en la Church of God de South Gastonia, pero esta vez en su propia boda.
Más de 300 personas asistieron a la unión matrimonial, incluyendo la novia de la boda en la que participaron hace 17 años.
"Ella nos trajo las fotos a la iglesia un domingo, más o menos un mes antes de la boda", le dijo Brooke a The Huffington Post. "Nos habíamos olvidado de ese día pero cuando nos mostró las fotografías, los recuerdos nos inundaron".
(La nota continúa después del video)
"Fuimos juntos a la escuela y siempre trataba de jugar con él en el patio y a él no le interesaba nada de eso", le dijo Brooke a WBTV.
"No era fan de Brooke en ese entonces", le dijo Adrian a HuffPost. "Yo era un niño tímido y quería pasar desapercibido. Pero Brooke no. Ella era extrovertida y parecía siempre determinada a encontrar la forma de estar cerca de mí".
A pesar de ir a la misma escuela e iglesia, no fue sino hasta la secundaria (middle school) que el romance empezó a cuajar.
¡Felicidades a la bella pareja!
Before You Go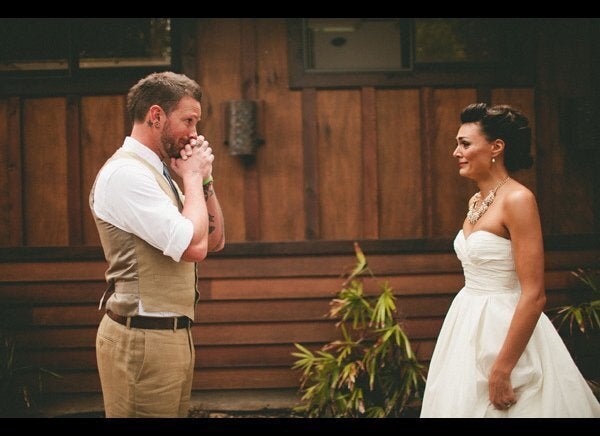 El novio ve a la novia por primera vez